History of Fashion – The 1940s
The 1940s was a unique decade in the 20th-Century fashion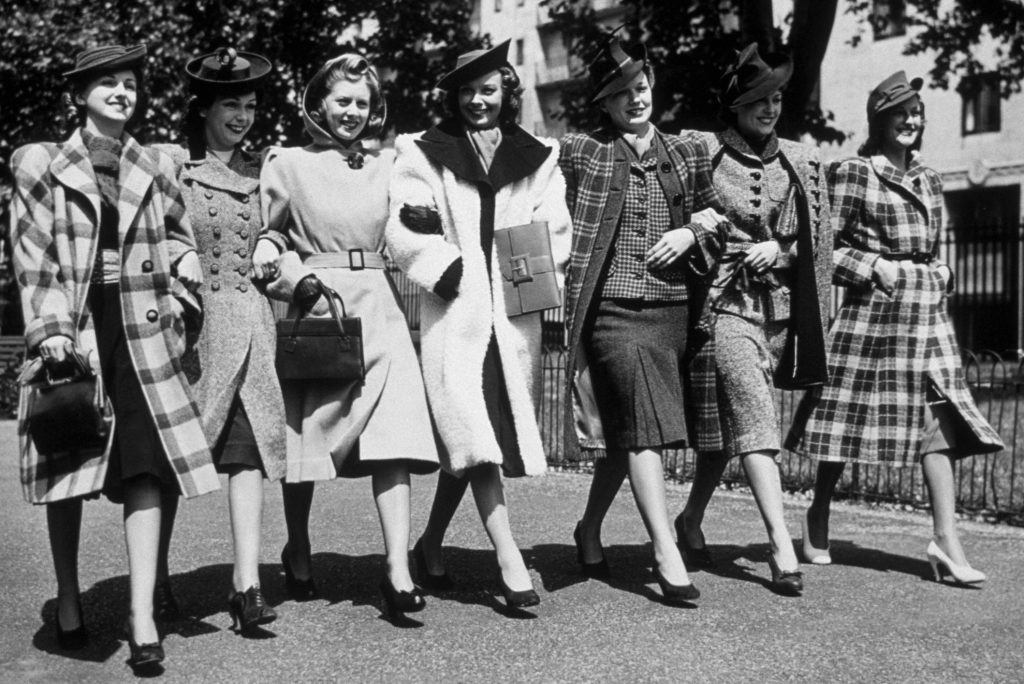 Autumn 1940 – Fashions were still designed for women whose lives had not been too affected by war.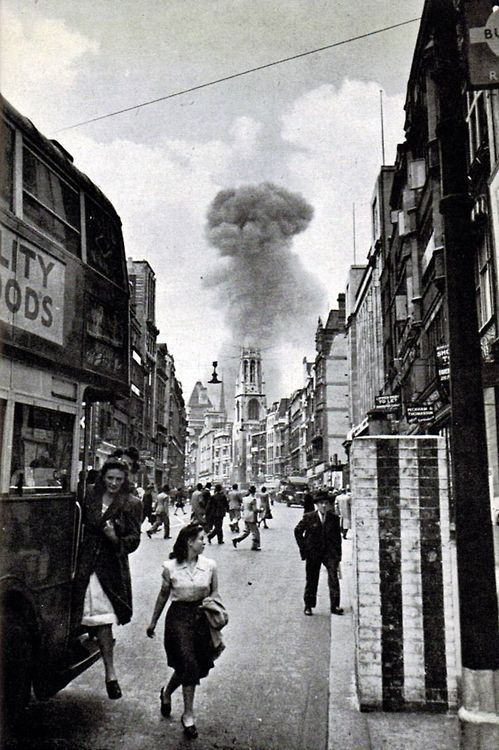 ABOVE: A V-1 flying bomb lands in a street off Drury Lane, London, 1944. People can be seen running for shelter.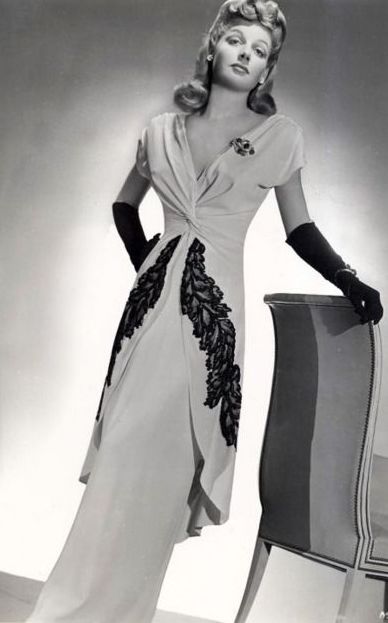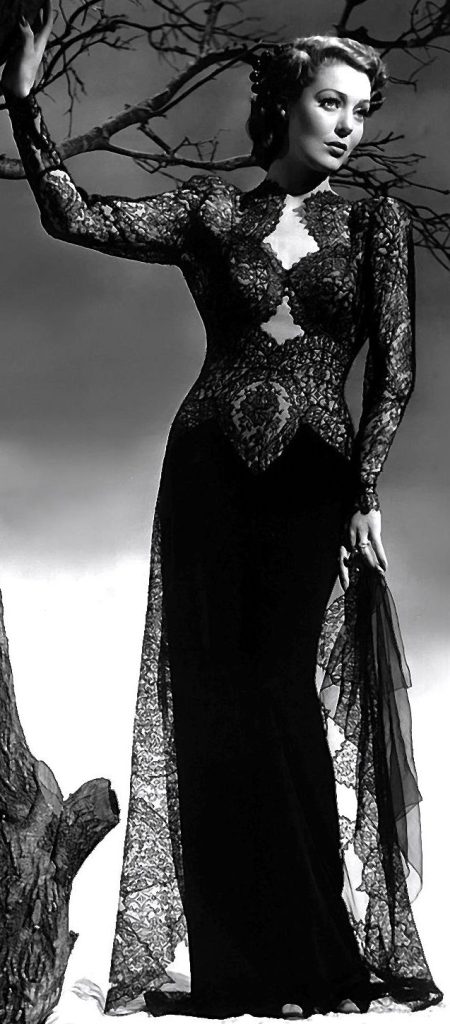 LEFT: Screen Goddess Gloria Grahame 1949  CENTER: Anne Sheridan 1940s  RIGHT: Unknown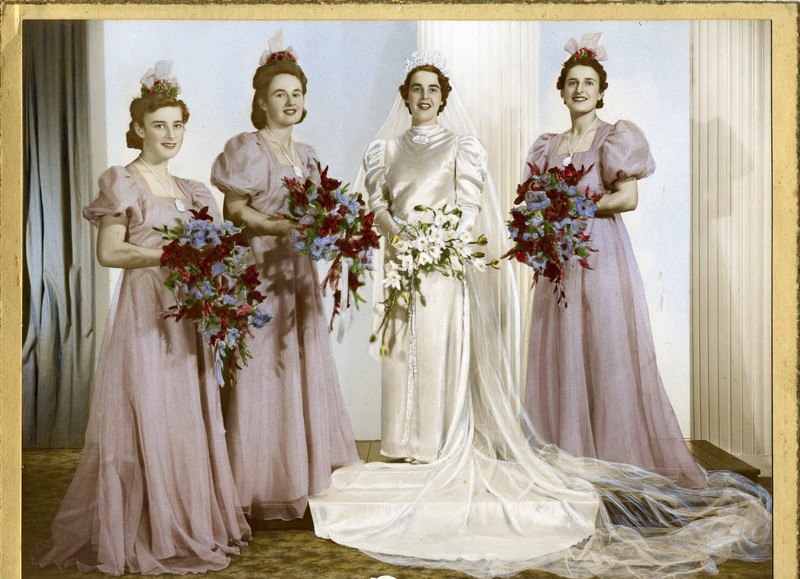 ABOVE: Early 1940s wedding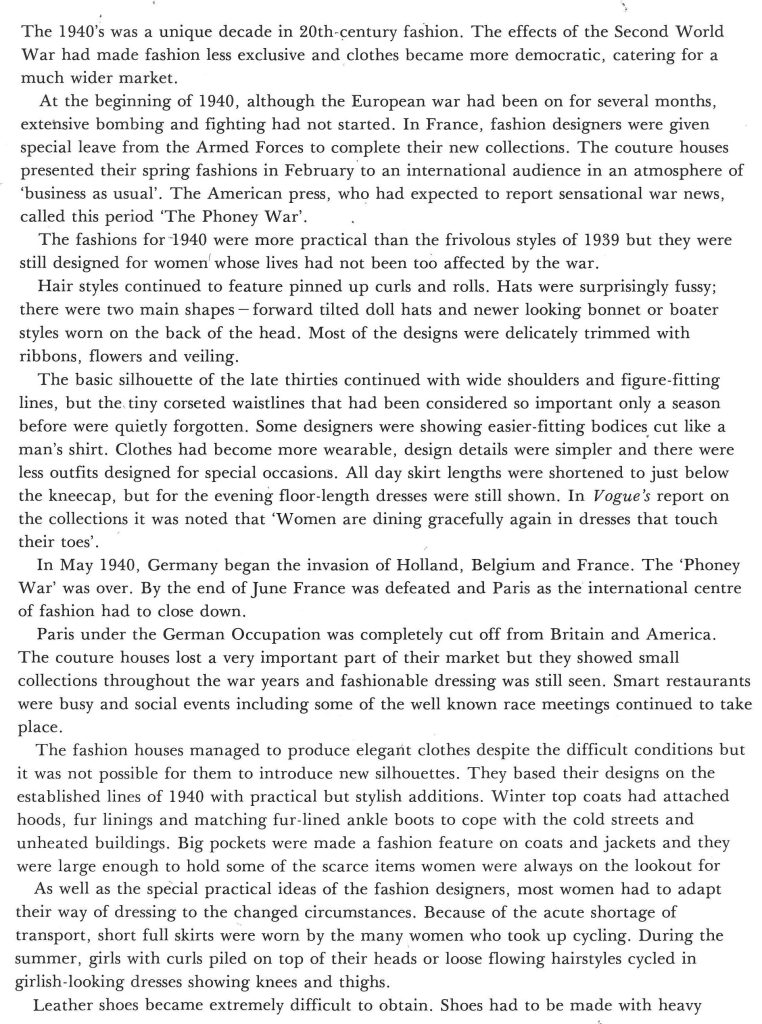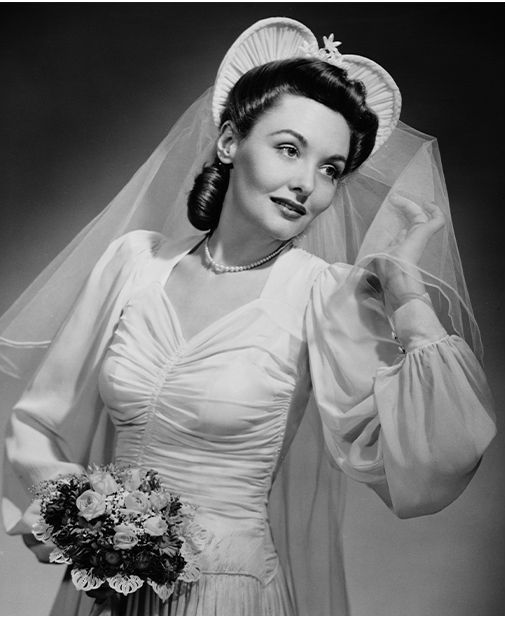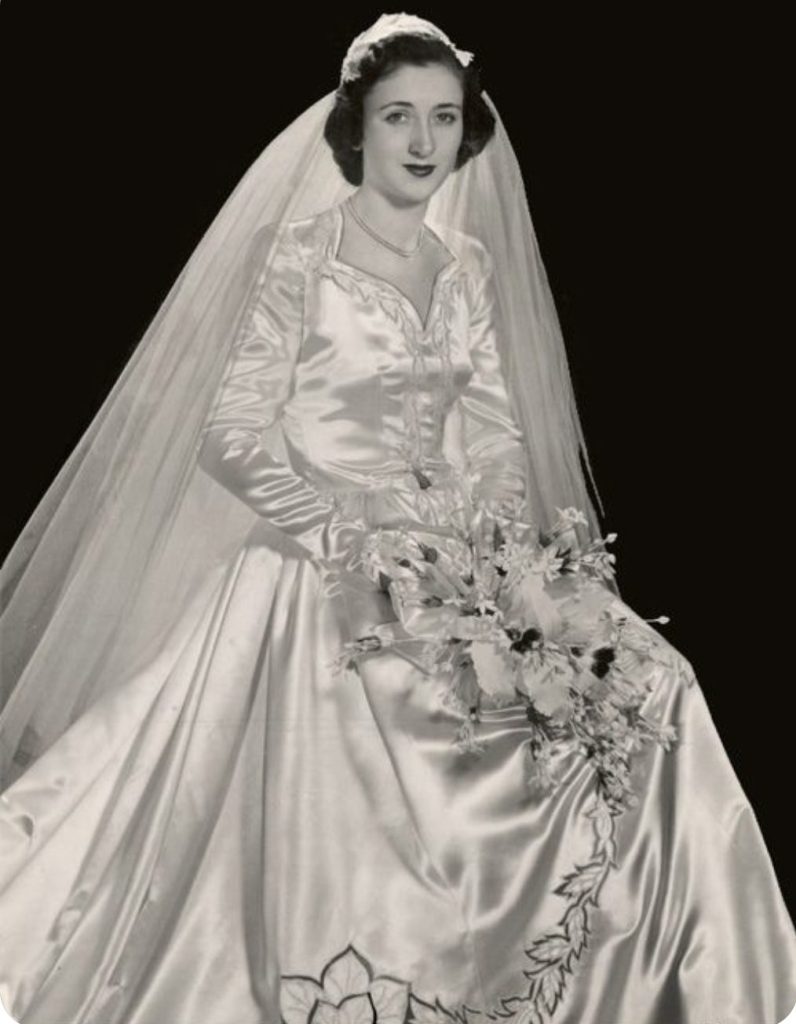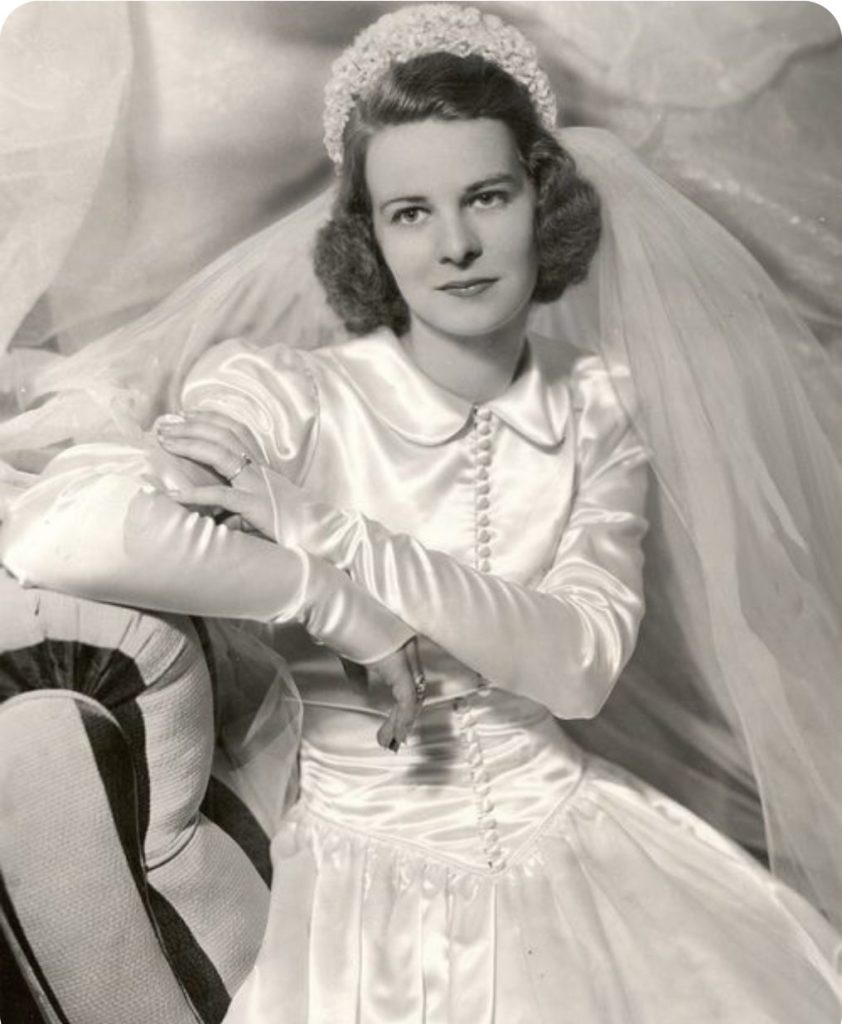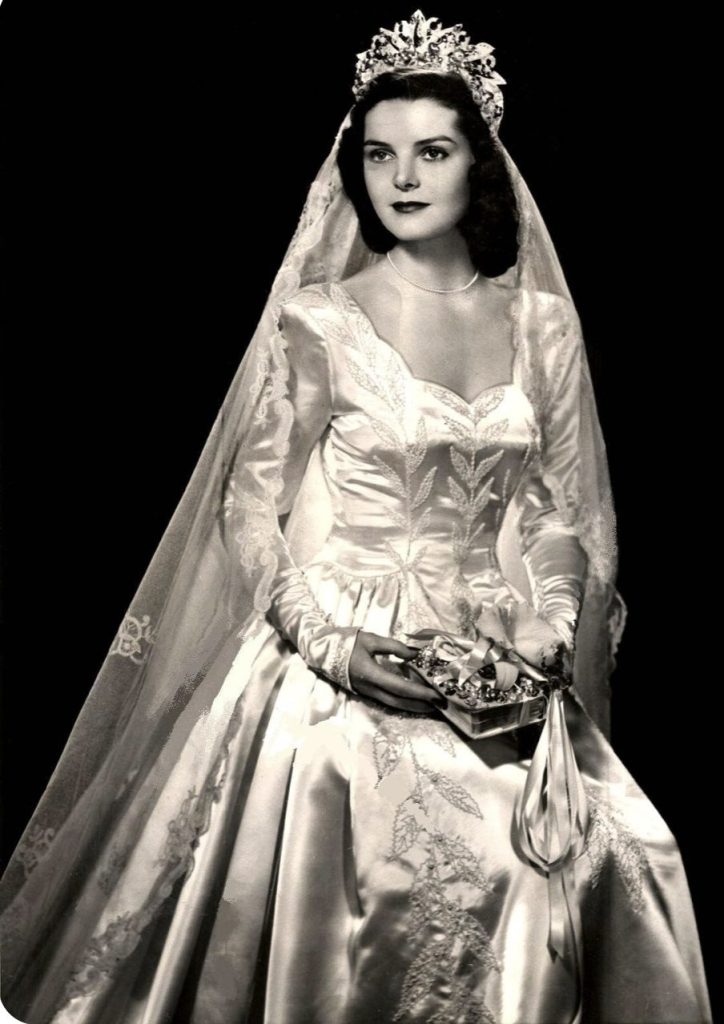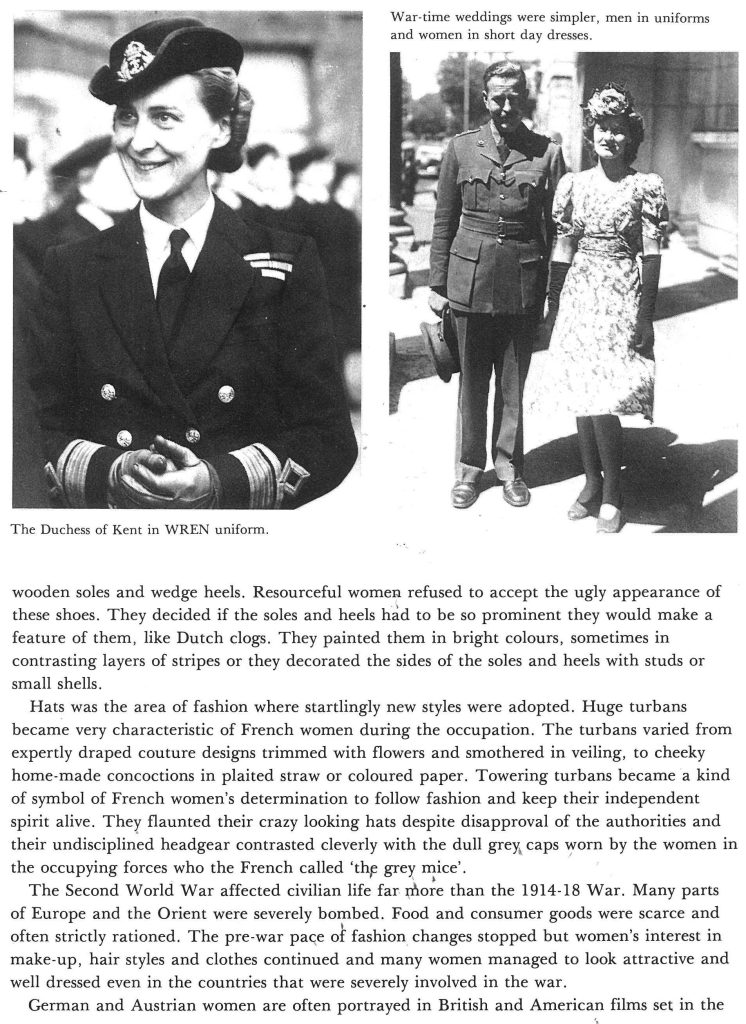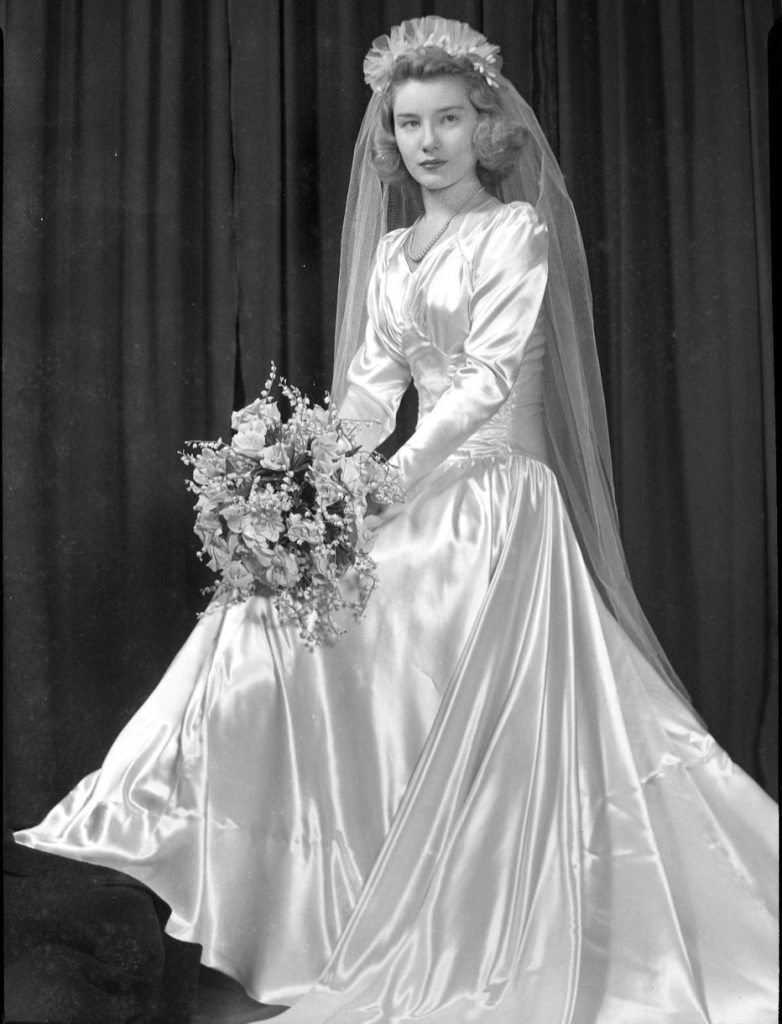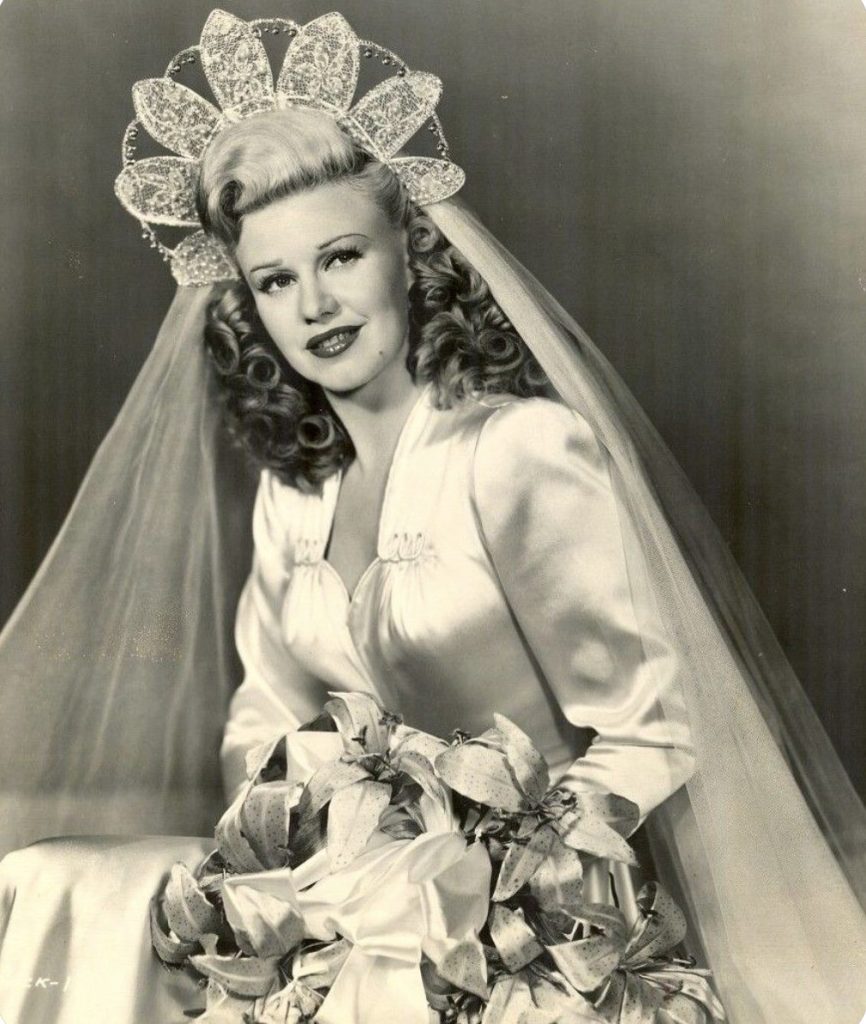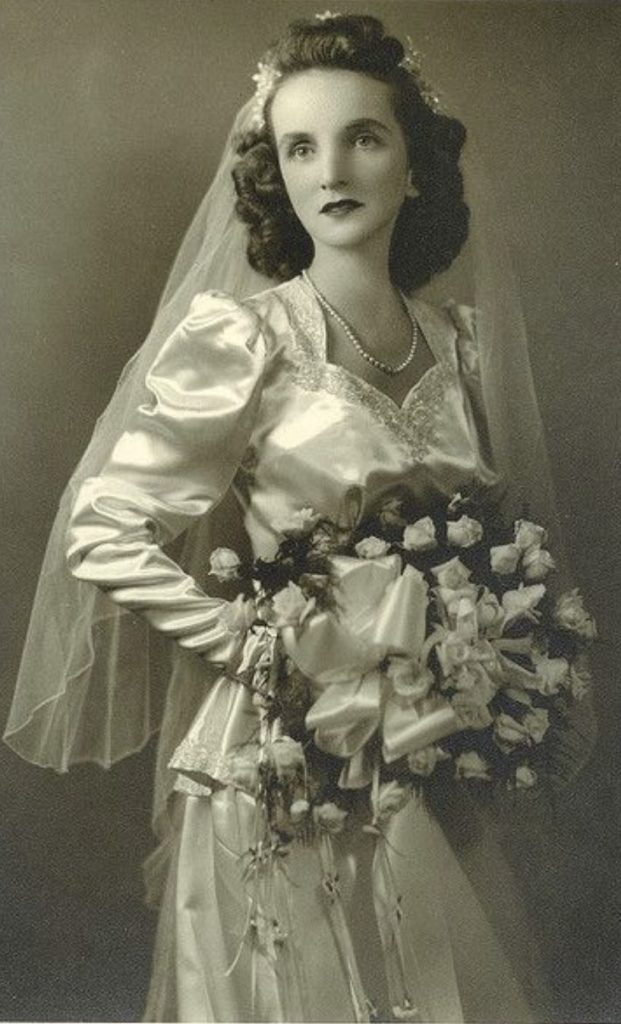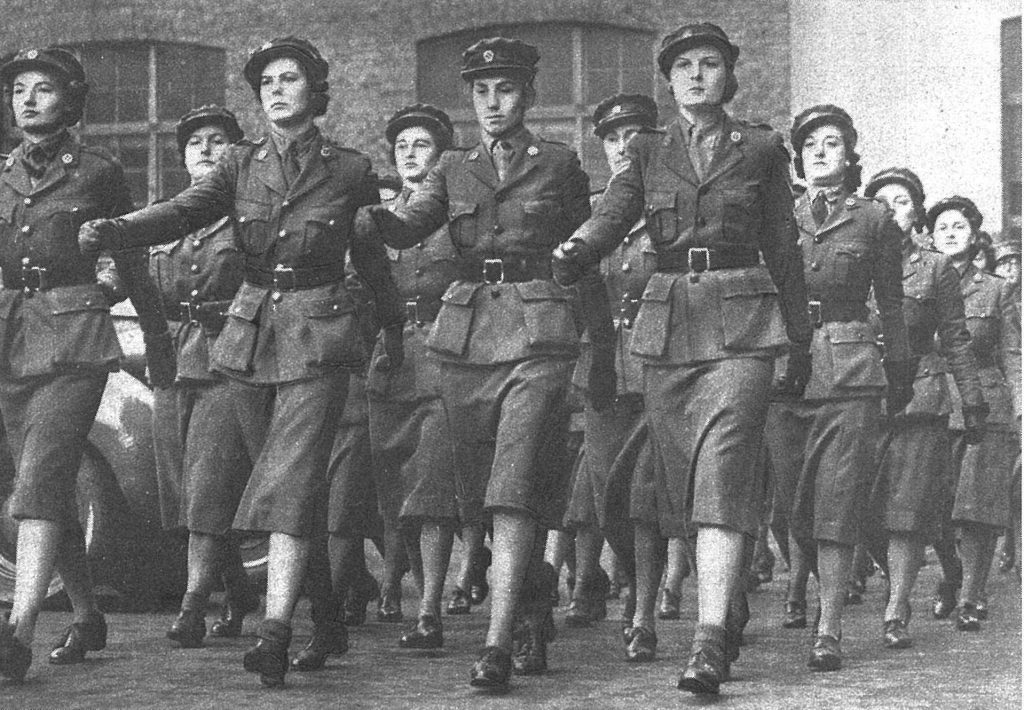 There were more women in uniform than ever before. Women's caps, shirts and tunics were almost identical to those worn by men's services.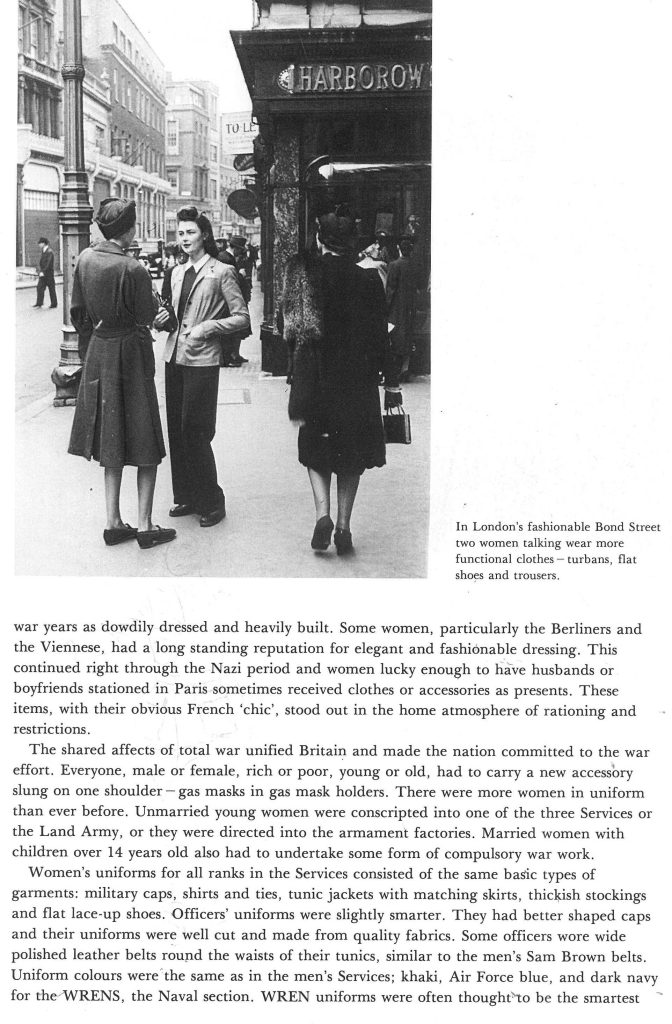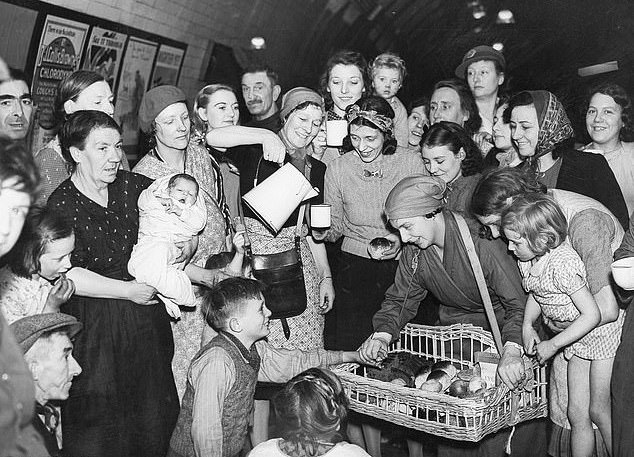 Shelterers in the London Underground station at Holland Park are provided with refreshments in November 1940, including tea and baskets of food which were sold at cost price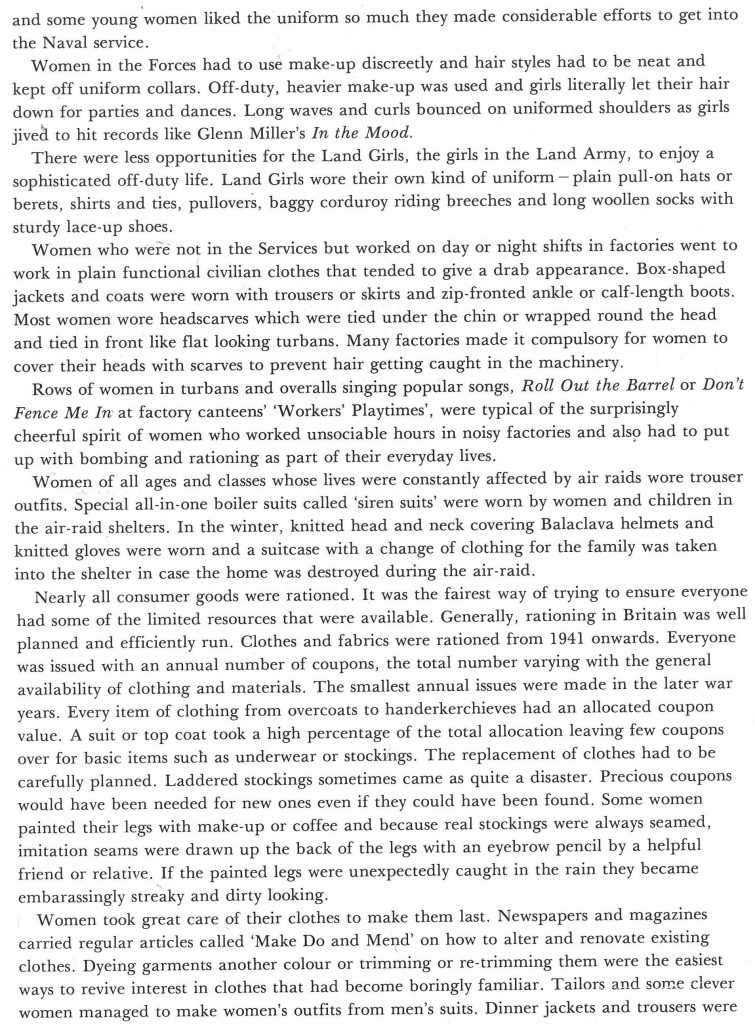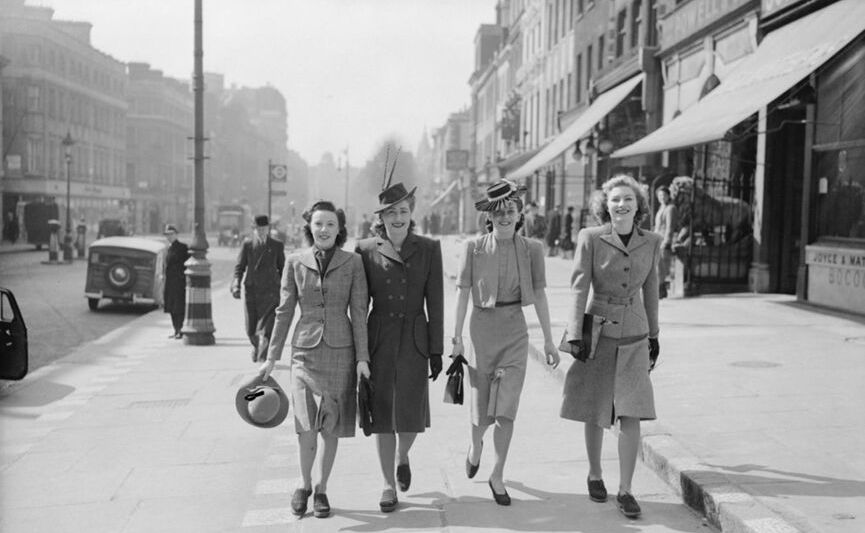 ABOVE: Four young ladies enjoy a stroll in the spring sunshine along a shopping street in the West End of London. Two are wearing fancy hats, proving that wartime clothing doesn't have to be drab! Cars and other pedestrians go about their daily business behind them.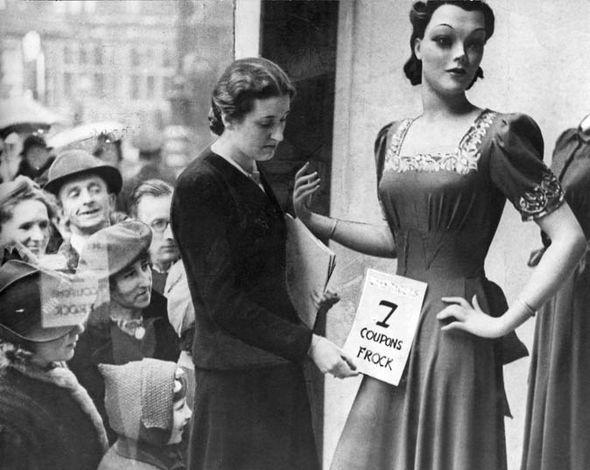 In the summer of 1941, with the Second World War at its height, president of the board of trade Oliver Lyttelton introduced clothes rationing, sending shivers down the spine of every fashion victim in the country. ABOVE: People look through Selfridges window with a dress going on sale as fashion rationing starts.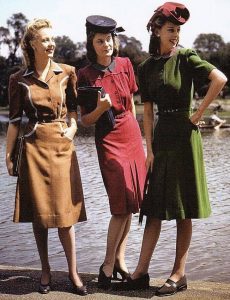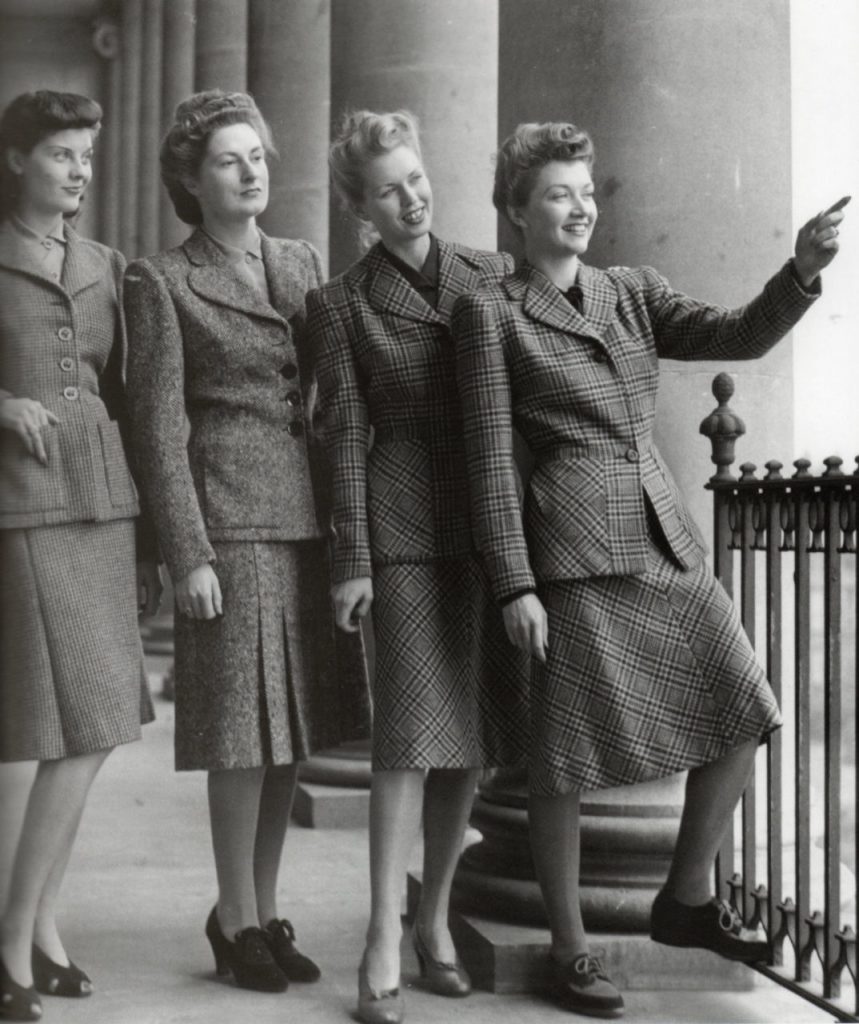 Utility Fashions, 1942.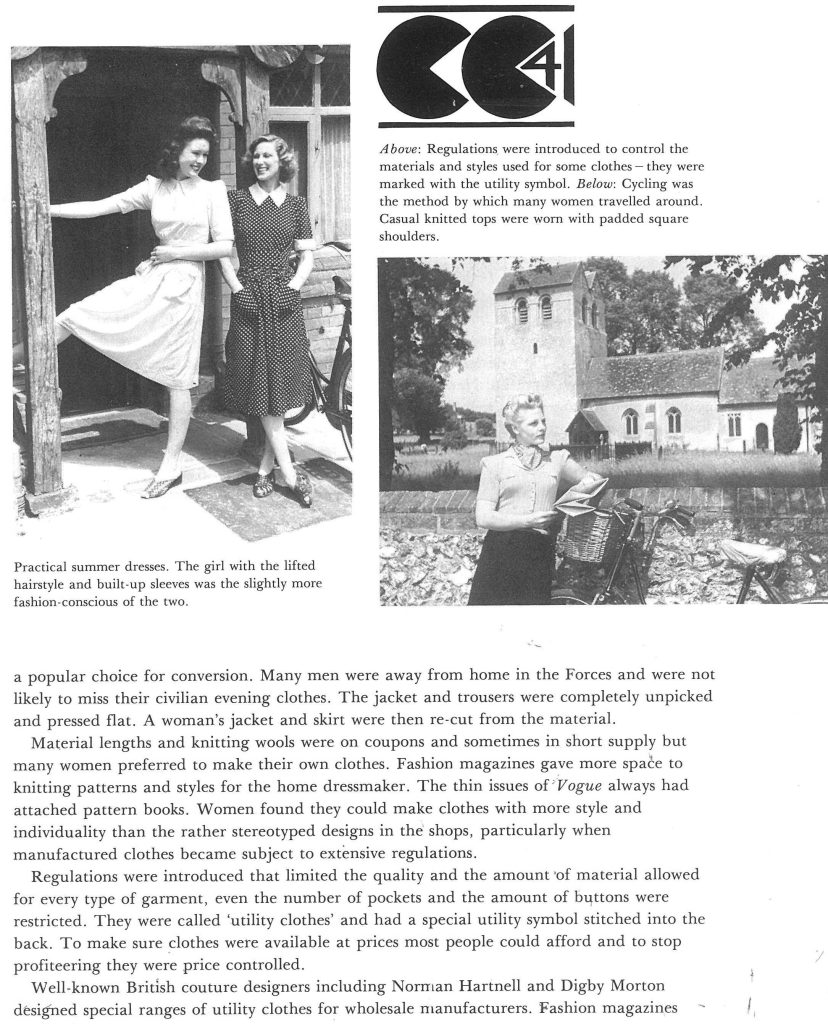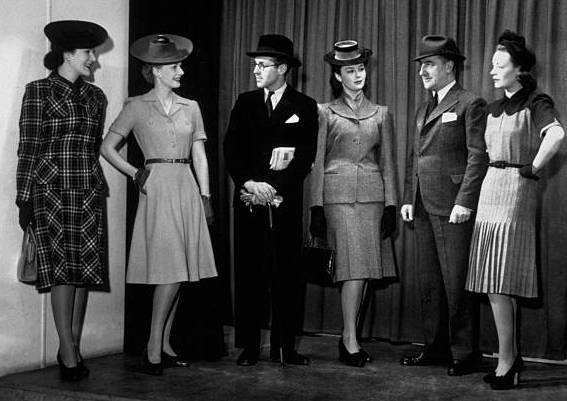 LEFT Circa:1942 Models at Bush House, London, displaying clothes made from government utility materials. The government employed members of the Incorported Society of London Fashion Designers to design the range of Utility Clothing. Normal Hartnell was one such designer.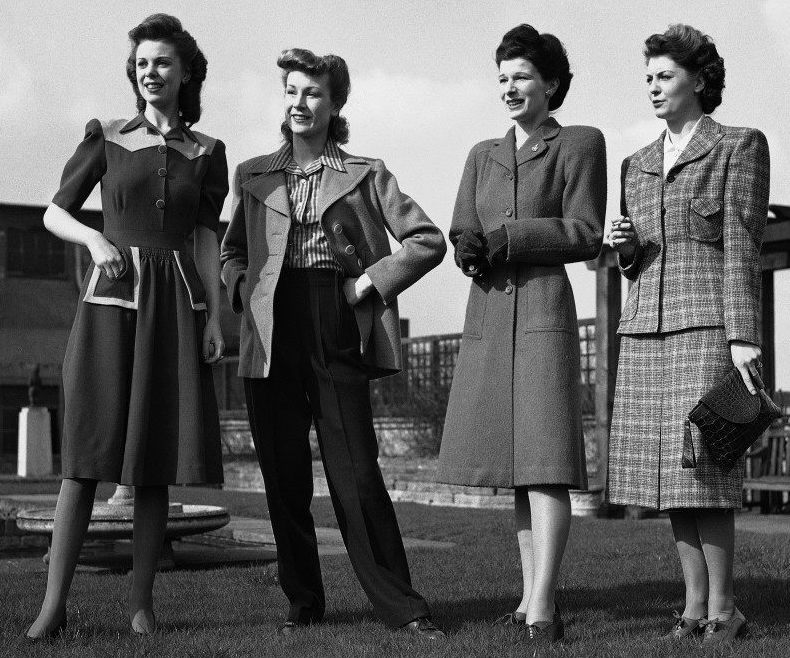 ABOVE: At a famous west end store, Norman Hartnell, Britain's leading dress designer, sponsored a show of the new utility fashions for the coming season on March 9, 1943. "These models", said Mr. Hartnell, "are designed not only for the home market but also to uphold Britain's fashion prestige abroad". From Left to right are: a 2-tone blue frock by Frances Leopold with unusual model pockets; navy blue Jaeger slacks with camel-coloured duffle coat and a wool-taffeta check blouse, a moss green coat with full yoke and inset belt with balanced pockets.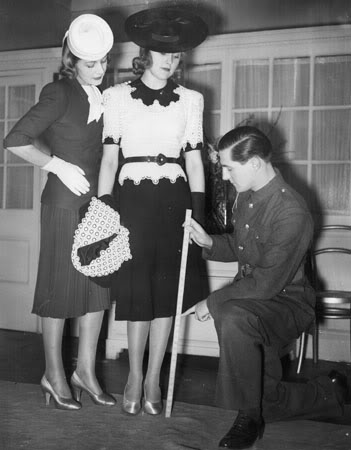 Above: Hardy Amies was another such designer brought on board the utility clothing scheme Here he is taking a break from his officer training to measure the hem of one of his skirts.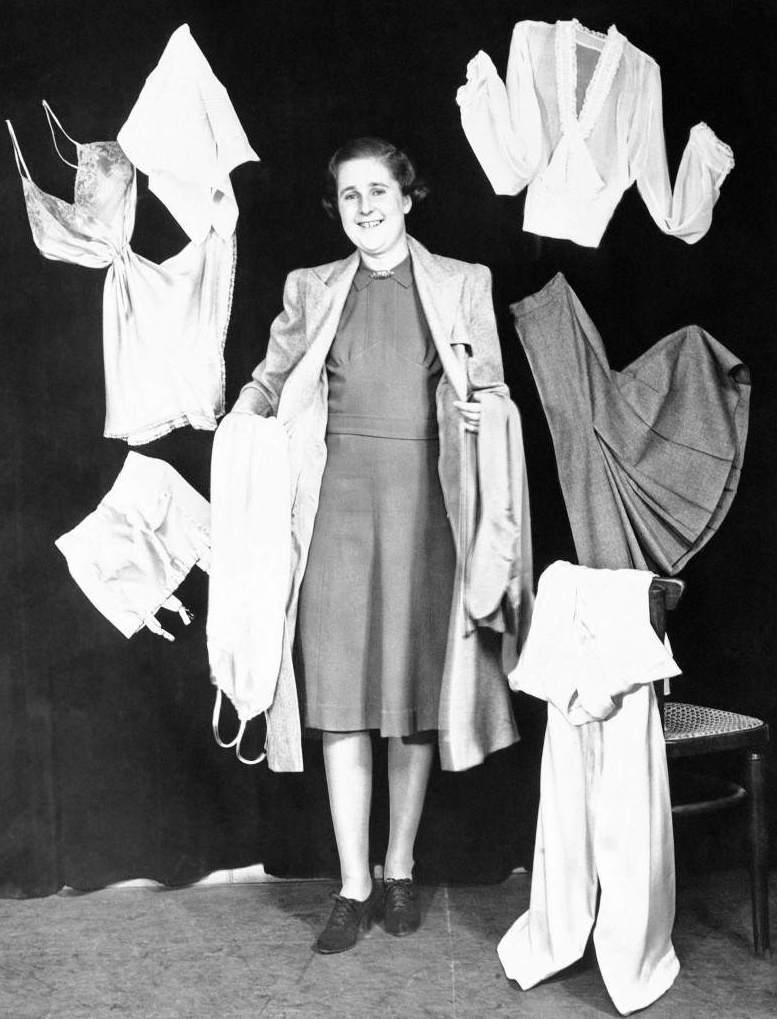 ABOVE: Under the clothes rationing plan which has been started in Great Britain with a view to equalizing distribution, each person is allowed 66 coupons yearly with each item of apparel listed in terms of a certain number of coupons. What a business girl may choose, for example, is displayed June 24, 1941. Besides the clothes she wears, she may buy the following additional articles with 66 coupons: one coat (over 28 inches), 14 coupons; one day dress (not woolen), 7 coupons; one skirt, 7 coupons; one blouse, 5 coupons; one pair of Pajamas, 8 coupons; one pair of Cami Knickers, 3 coupons; one pair of shoes, 5 coupons; two handkerchiefs, one coupon; four pair of stockings, 8 coupons.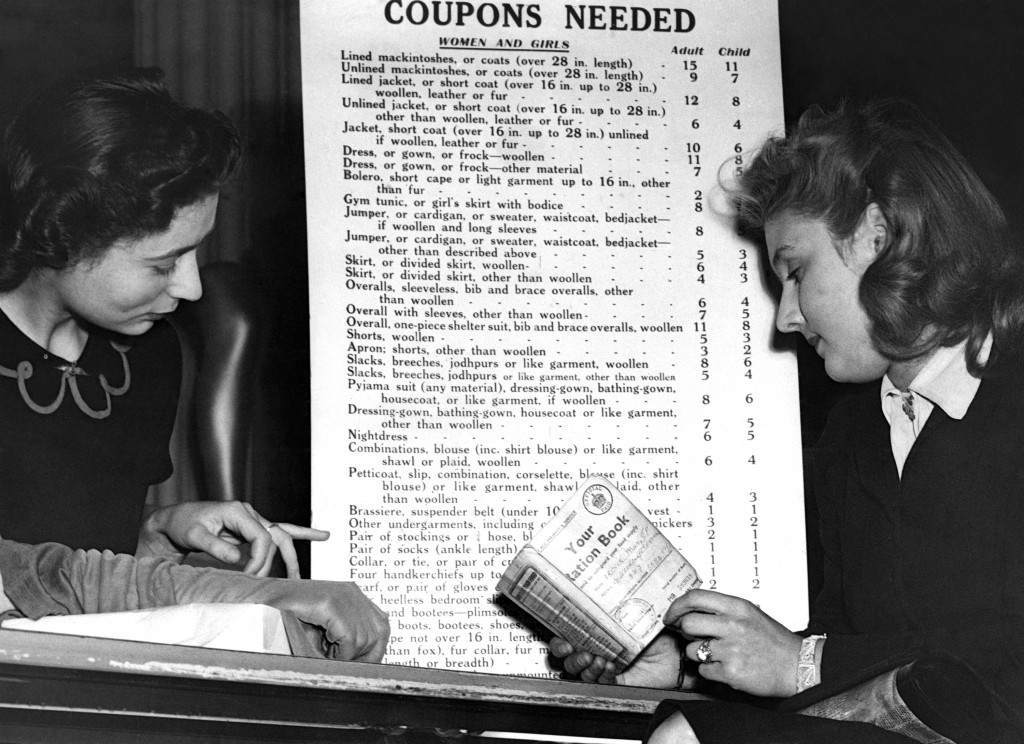 ABOVE: A London shopper studying of coupon chart in a west end store November 1. 1942. Careful buying is needed to get the best value for your money in rationed clothing.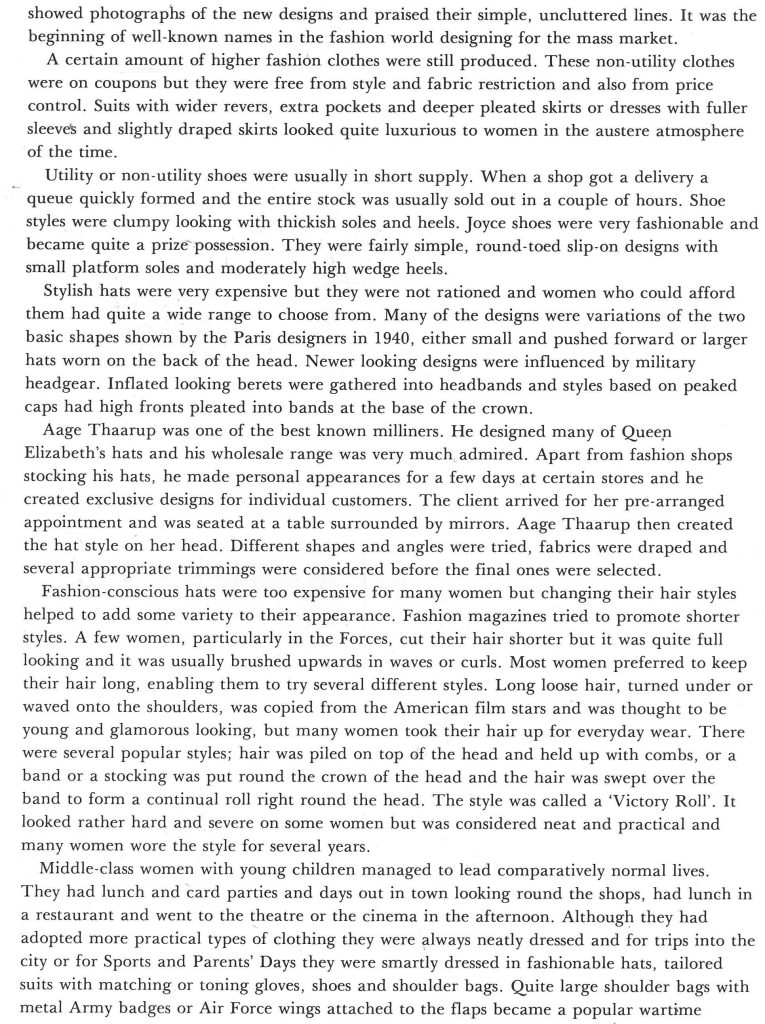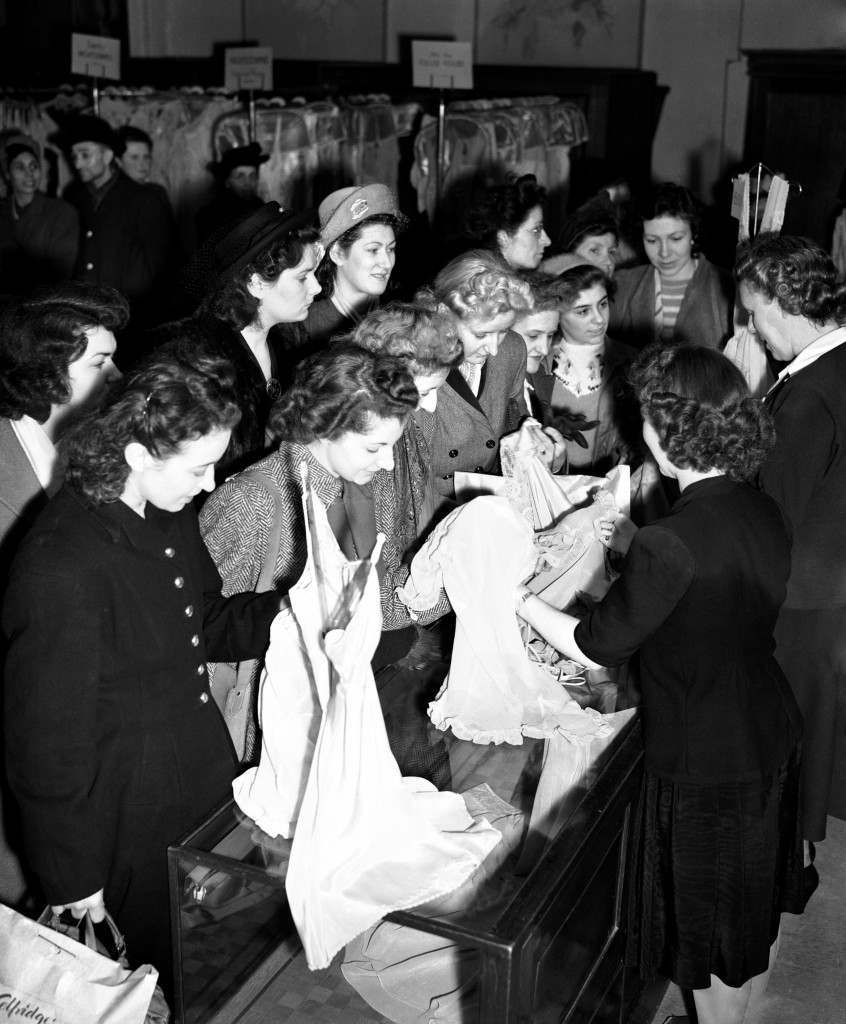 ABOVE: Selfridges on the day that clothes were taken off the rationing list, 31st September 1949.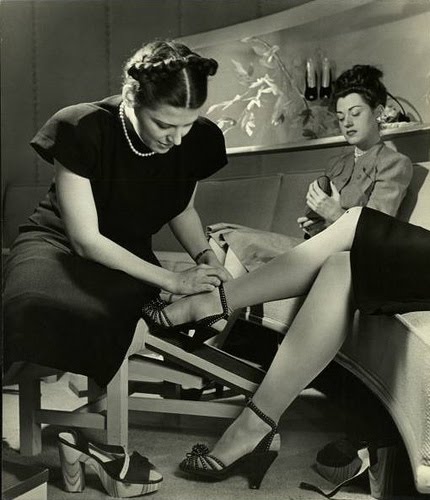 ABOVE: Shoes Shop, ladies trying on the recent collection of shoes 1940s.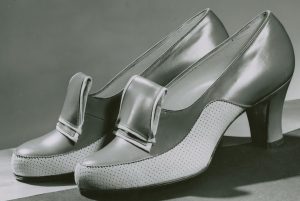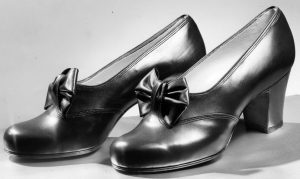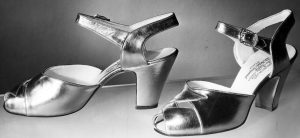 ABOVE LEFT: Summer walking shoes – Two-colour shoes with smooth, perforated decor and heel 1941. ABOVE CENTER: A pair of walking shoes with bow 1940. ABOVE RIGHT: Evening shoes from Bally in silver and gold cherries. Sandals for dancing 1944.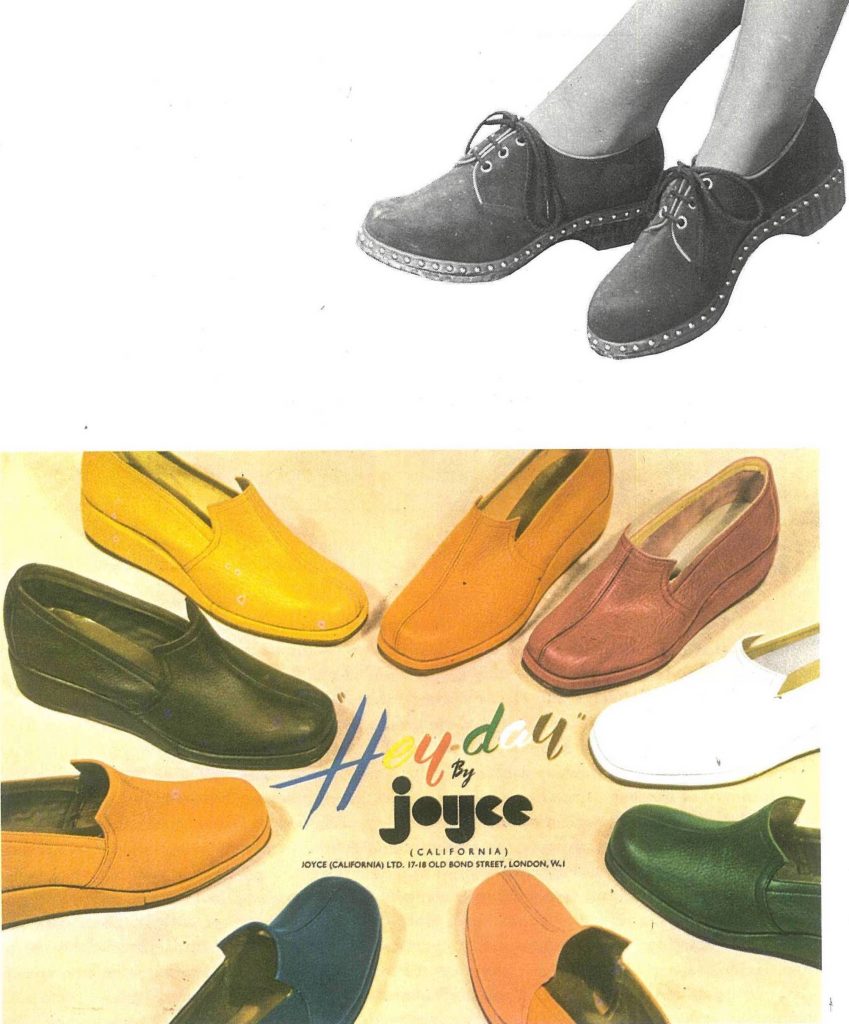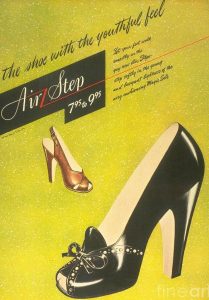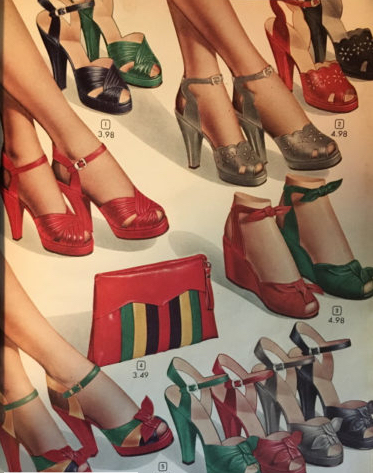 ABOVE LEFT: Joyce shoes were very fashionable and a new pair of 'Joyce Wedges' was quite a prized possession
ABOVE CENTER: Magazine Advertisement for Air Step Shoes 1940s.
ABOVE RIGHT: Catalogue Advertisement for Shoes 1940s, which was very common in the USA. Many people purchased through these catalogues, where the buyers had so much choice.
BELOW: Magazine Advertisement for Shoes 1940s.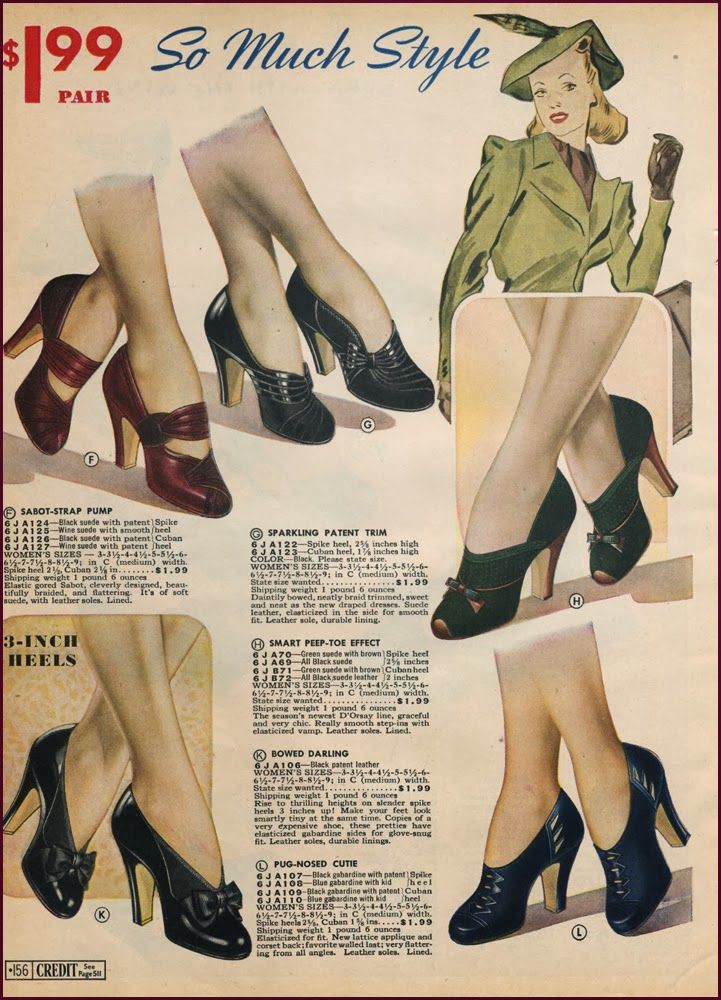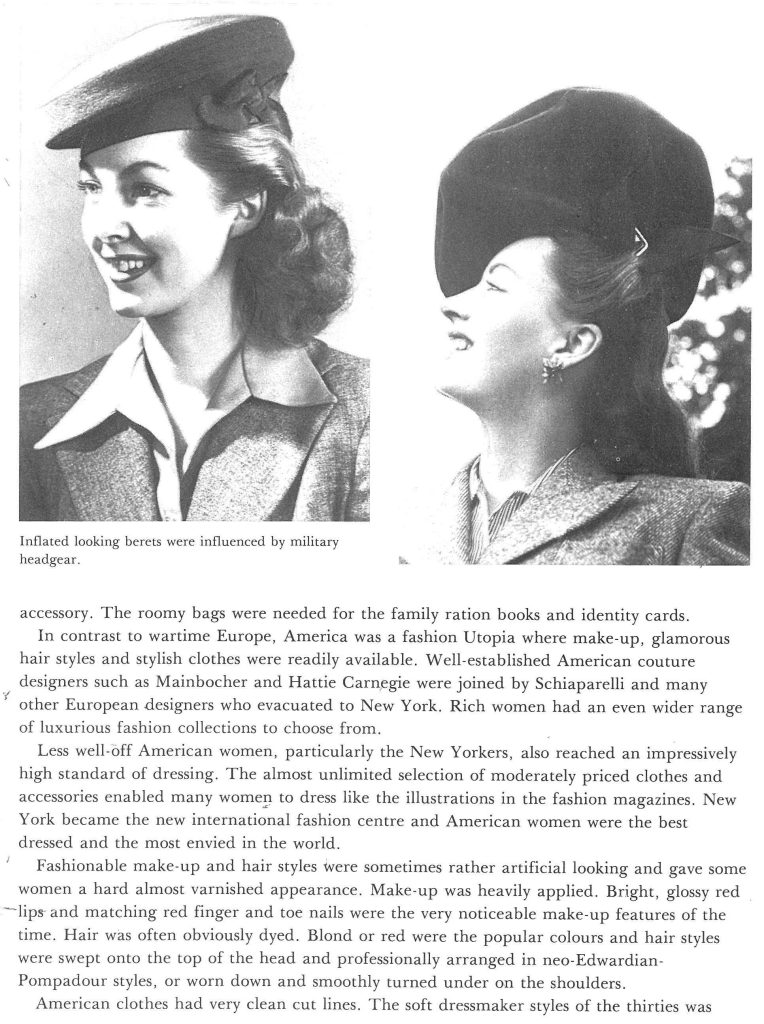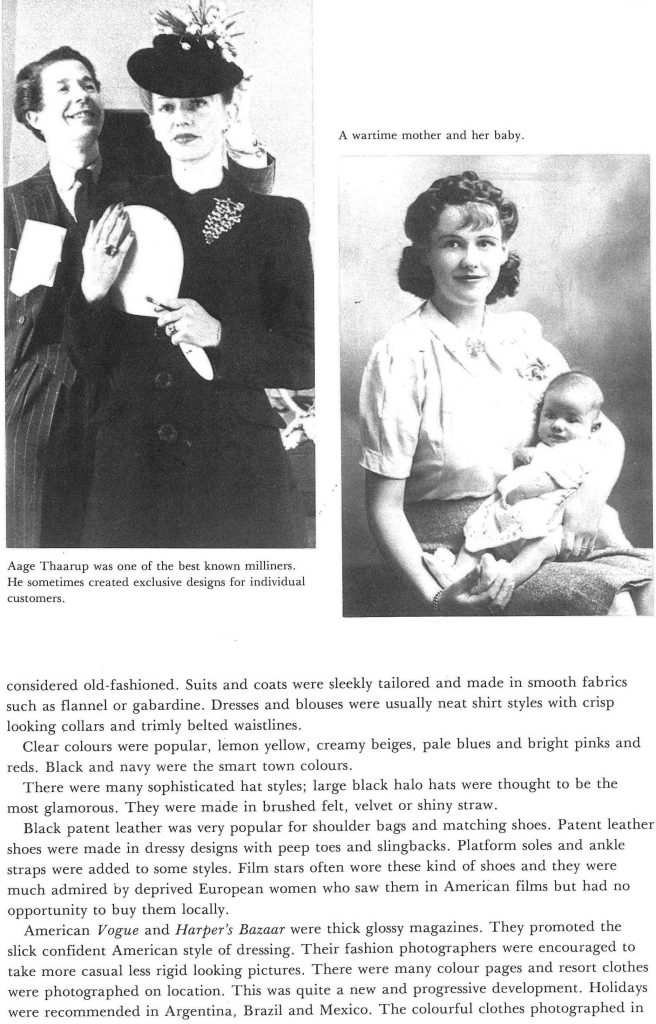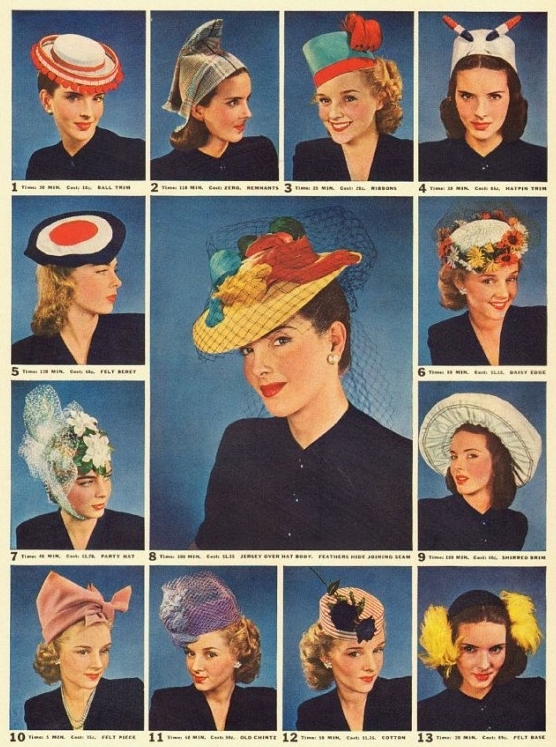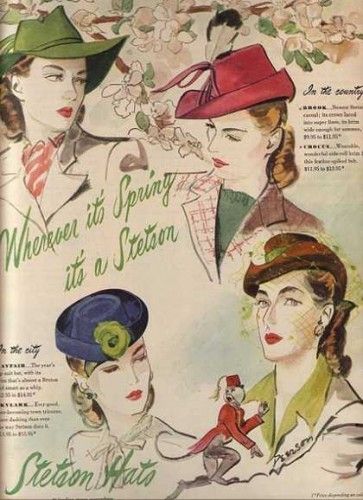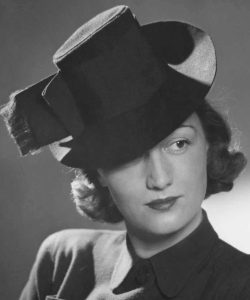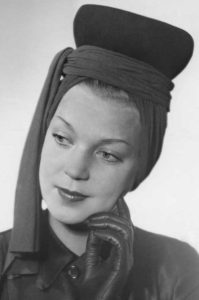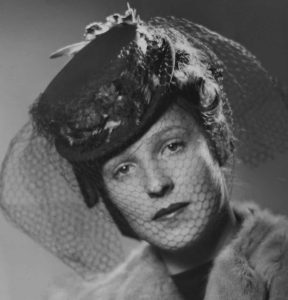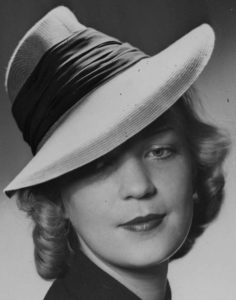 ABOVE:
1 -Wide hat band 1941.
2 -Ladies Pillbox hat combined with turban 1943
3 – Suiter hat with veil 1940s
4 – Fedora style hat with scarf banding 1940s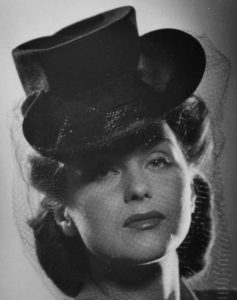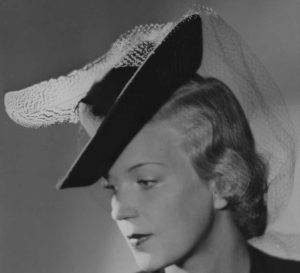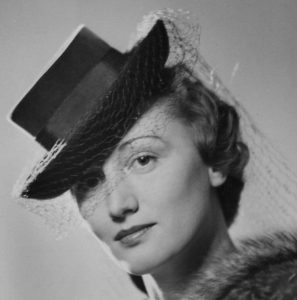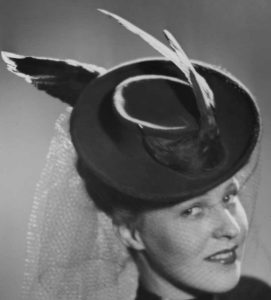 ABOVE:
1 -Suiter hat and veil 1944
2 -Mexican Sombrero hat and veil 1942
3 -Small sombrero hat with veil 1943
4 – Sombrero with feather detail and veil 1943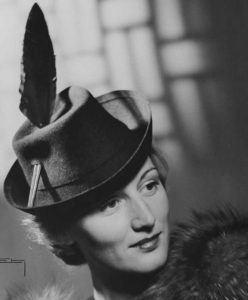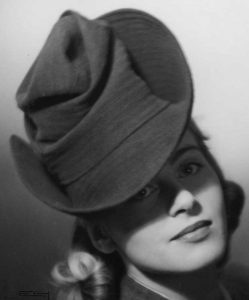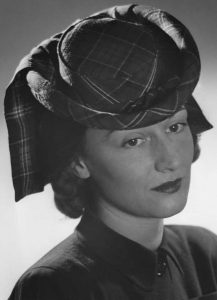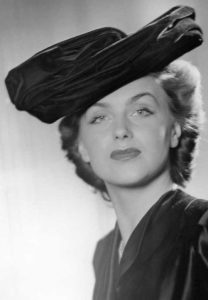 ABOVE:
1 – Ladies Homburg hat and feather 1942
2 – Stetson hat 1944
3 – Woman modelling a checkered hat in 1941
4 – Hat with wide brim 1945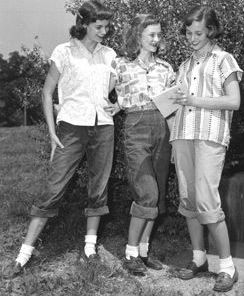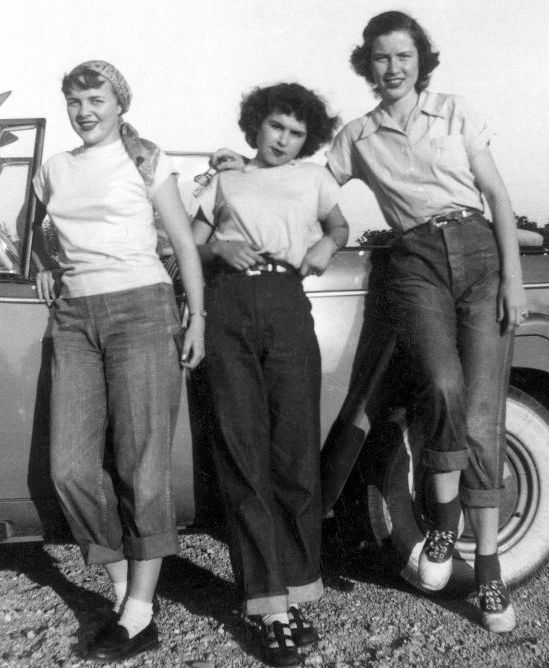 American teenage girls wore rolled up jeans and ankle socks.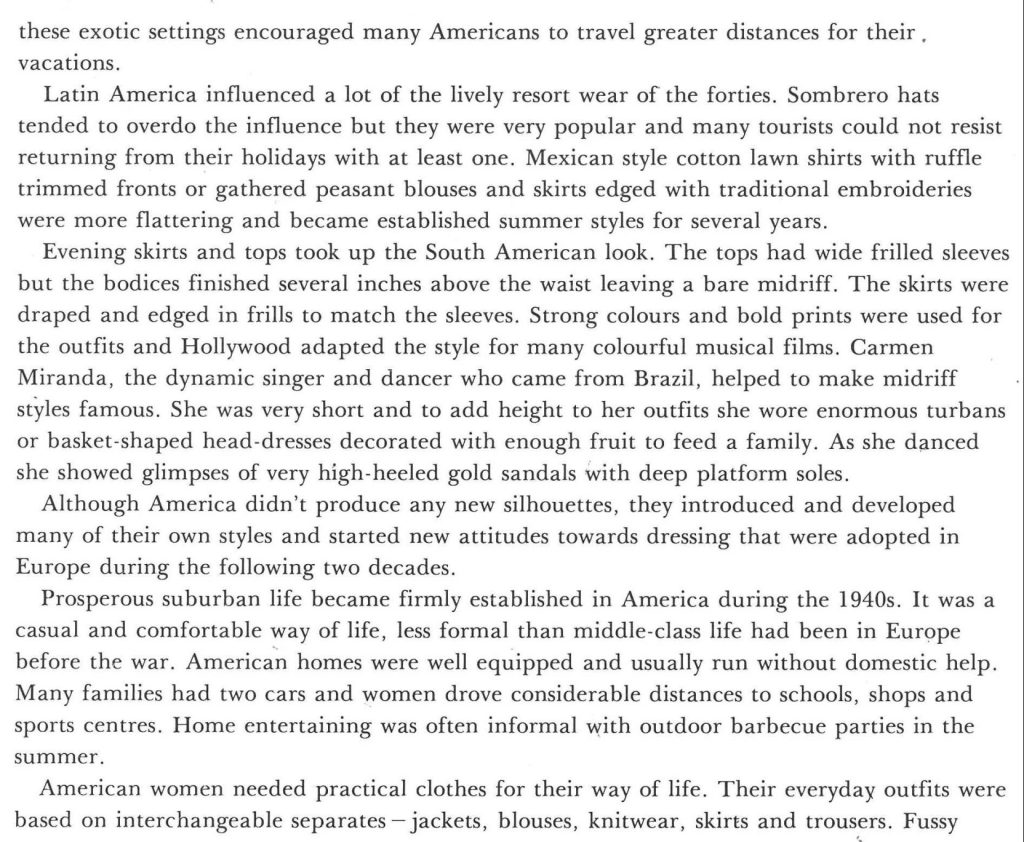 ABOVE LEFT: In contrast to wartime Europe, America was a fashion Utopia where glamorous and stylish clothes were readily available.
ABOVE RIGHT: Sears and Roebuck Advertising USA.
RIGHT: Carmen Miranda, the dynamic singer and dancer, helped to make mid-riff styles and enormous turbans famous.
BELOW: Rita Hayworth was famed for her long red hair which she tossed about provocativly in the film Gilda.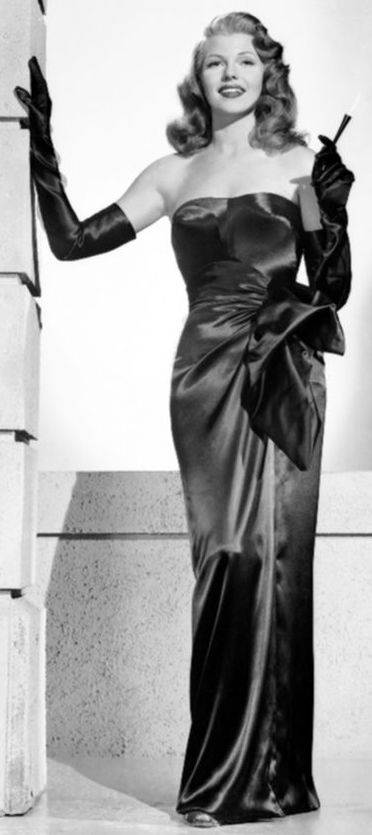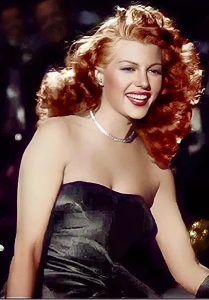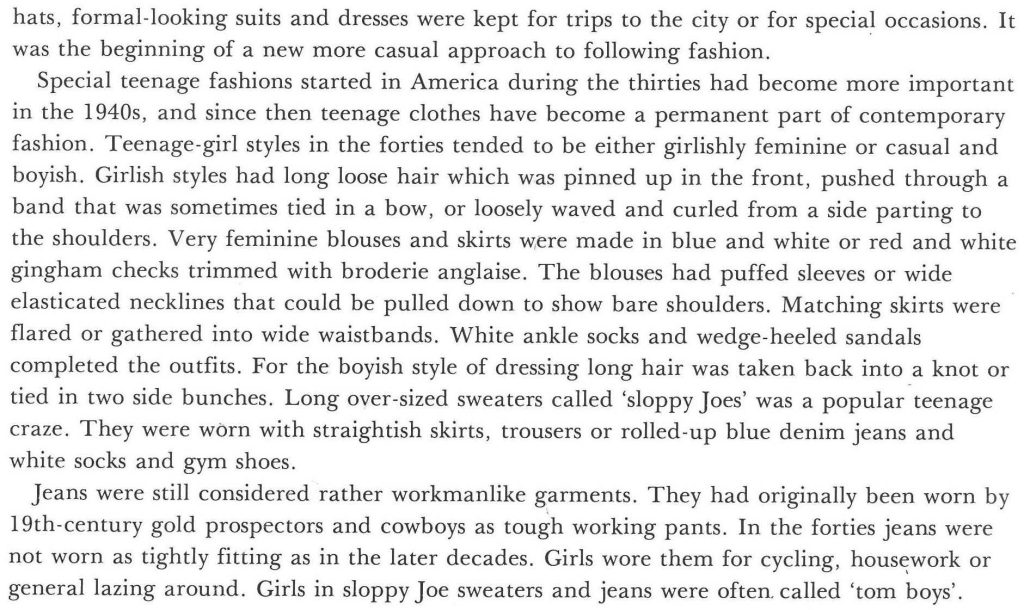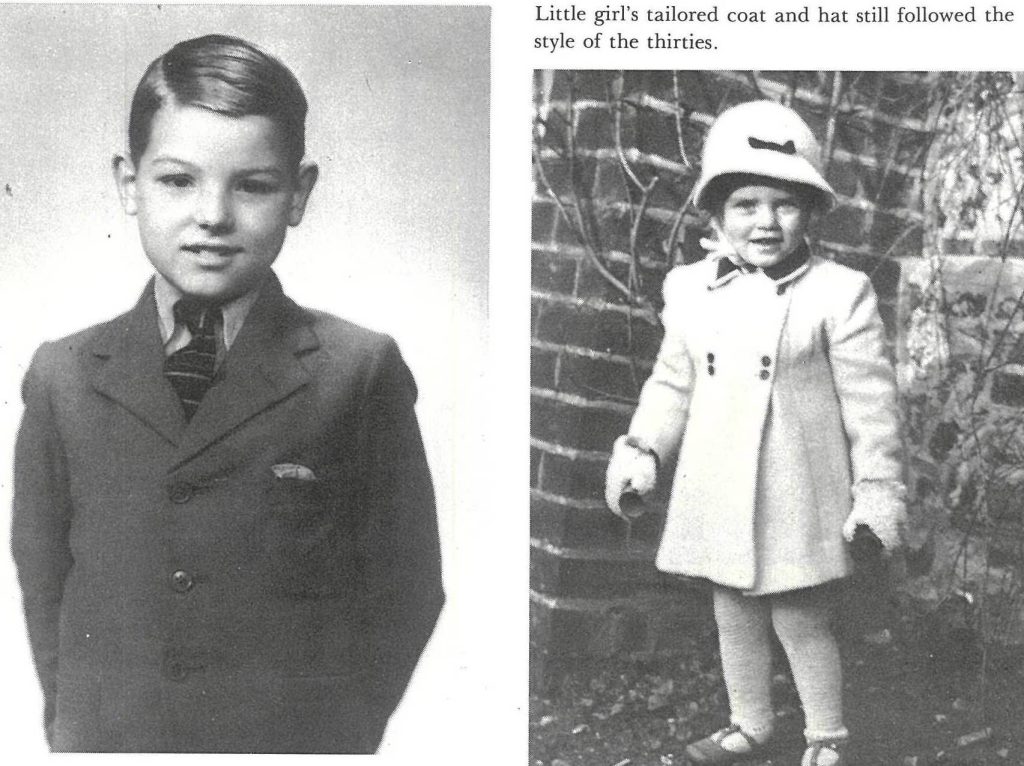 ABOVE LEFT: Typical fashion for a little boy, side swept neat short hair and buttoned up school suit with shirt and tie.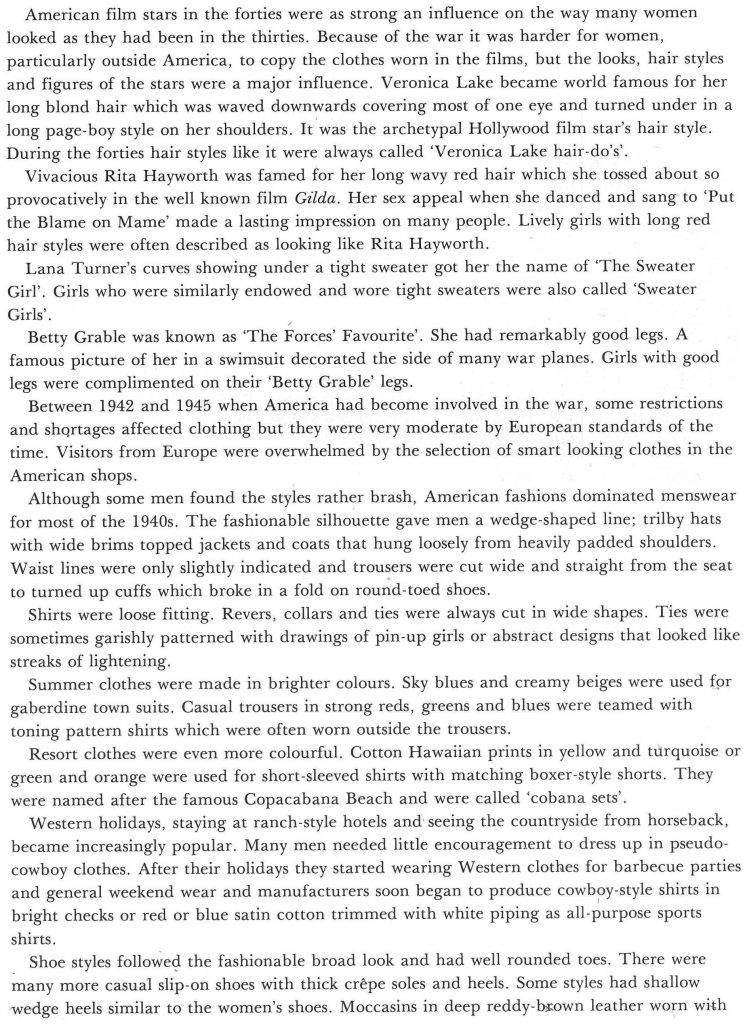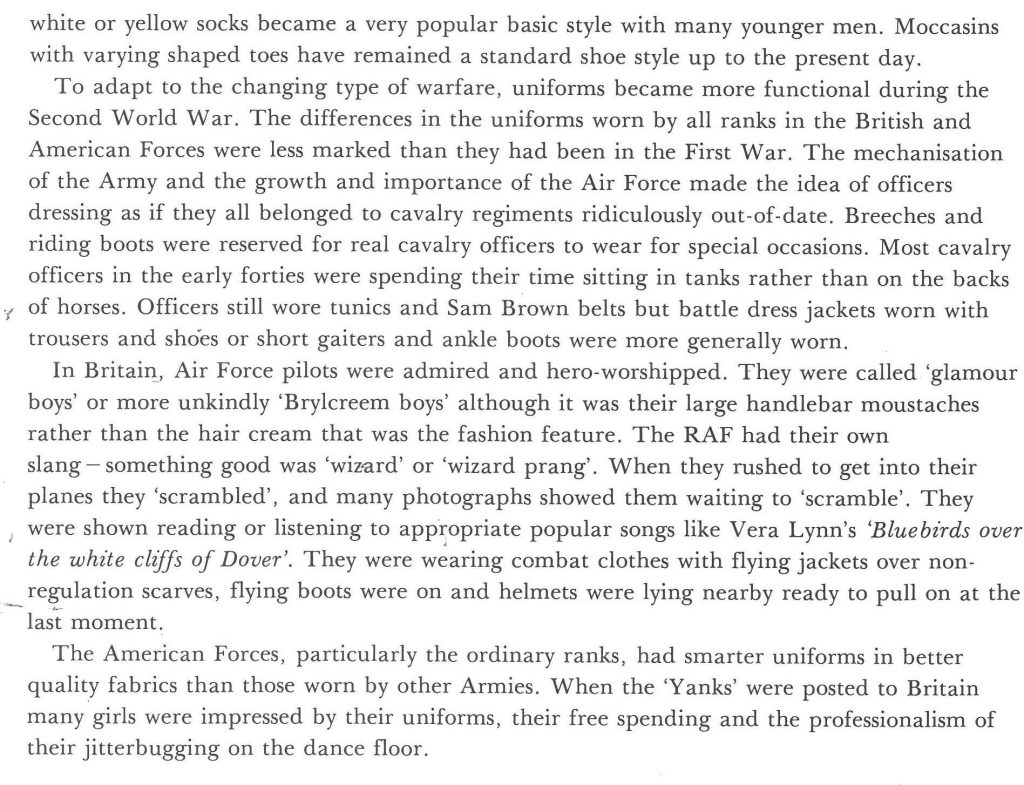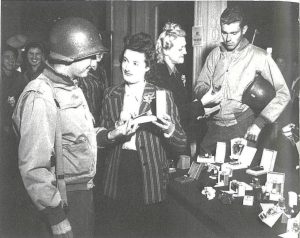 ABOVE: American GIs buying perfume in Paris soon after the liberation in 1944.
BELOW: Betty Grable's picture showing her remarkably good legs decorated the side of many war planes.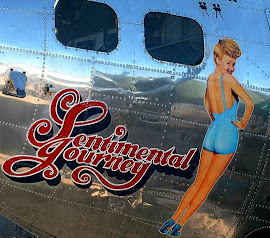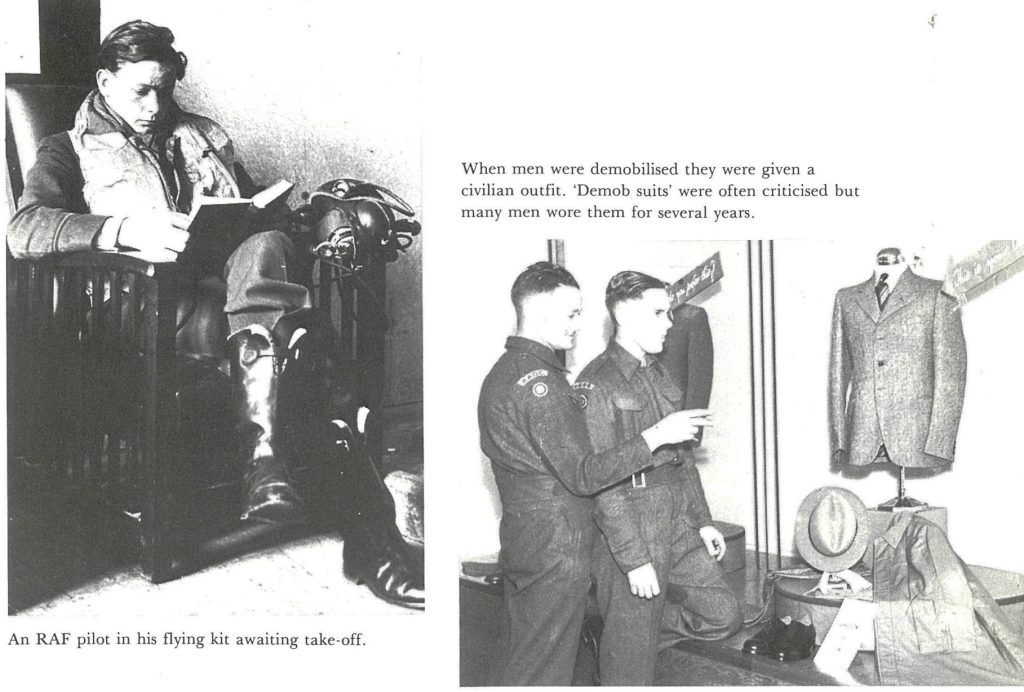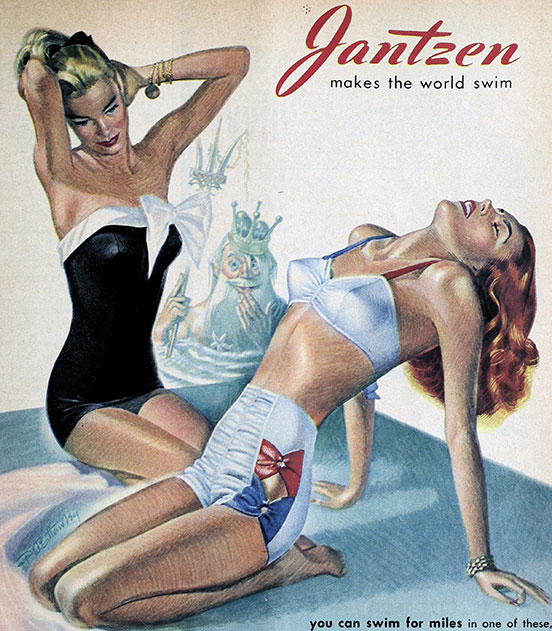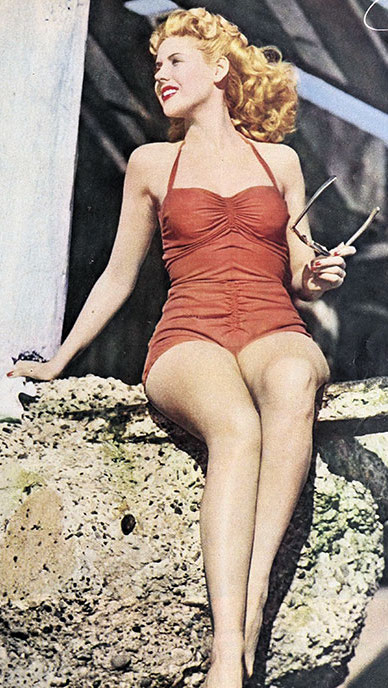 Early Post-war swimsuits showed off figures better than ever before. ABOVE LEFT: Jantzen invented the term 'swimsuit'. In the 1940's they were the worlds leading brand in bathing suits for women.
ABOVE RIGHT: Figure moulding swimsuit worn by Marie McDonald.Here she sports a Caltex bathing suit for figure moulding flattery. Jersey lined Botany wool which came in all rainbow colours.
BELOW: Tropical flavoured Yucca print Catalina swimsuit from 1948. Brilliantly styled by Hollywood's most talented designers.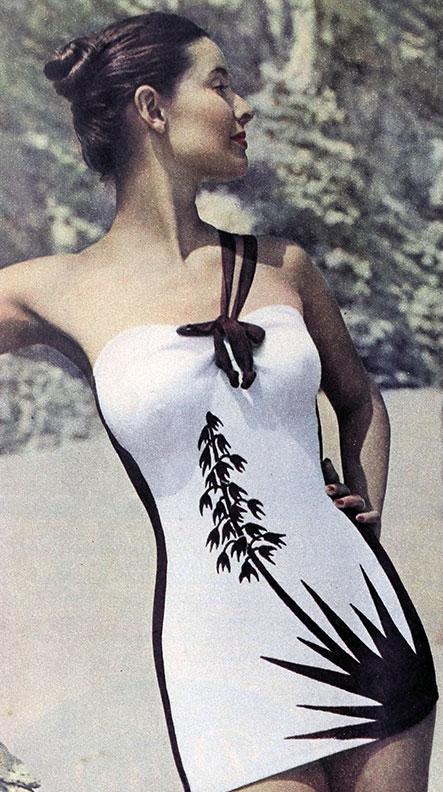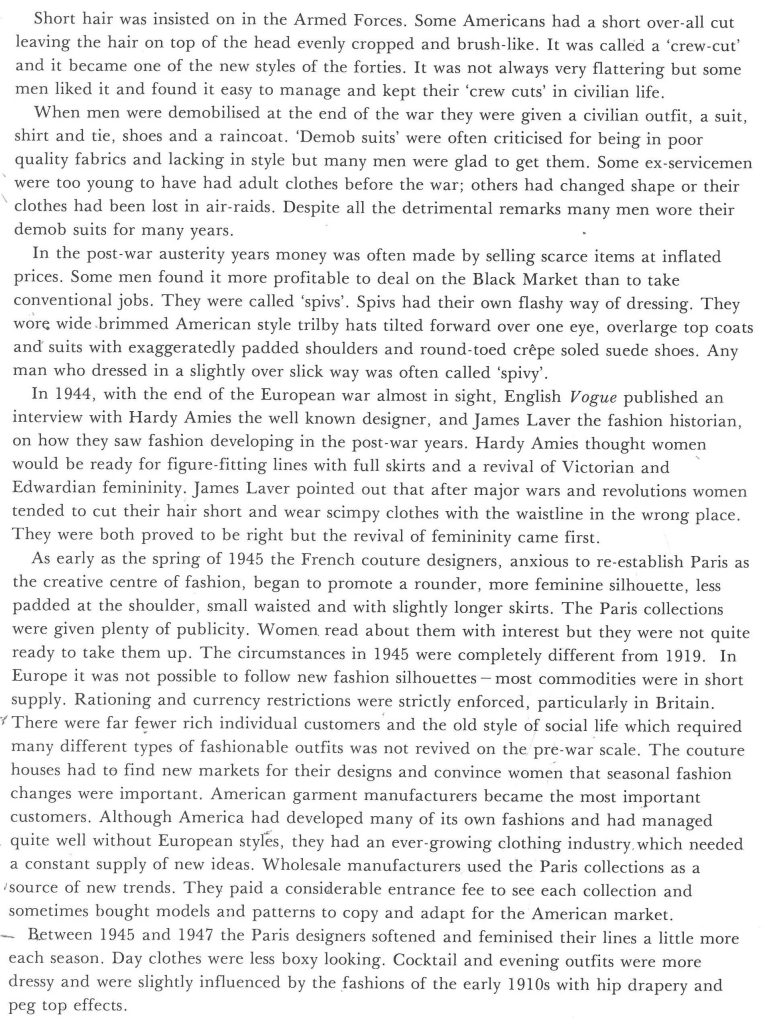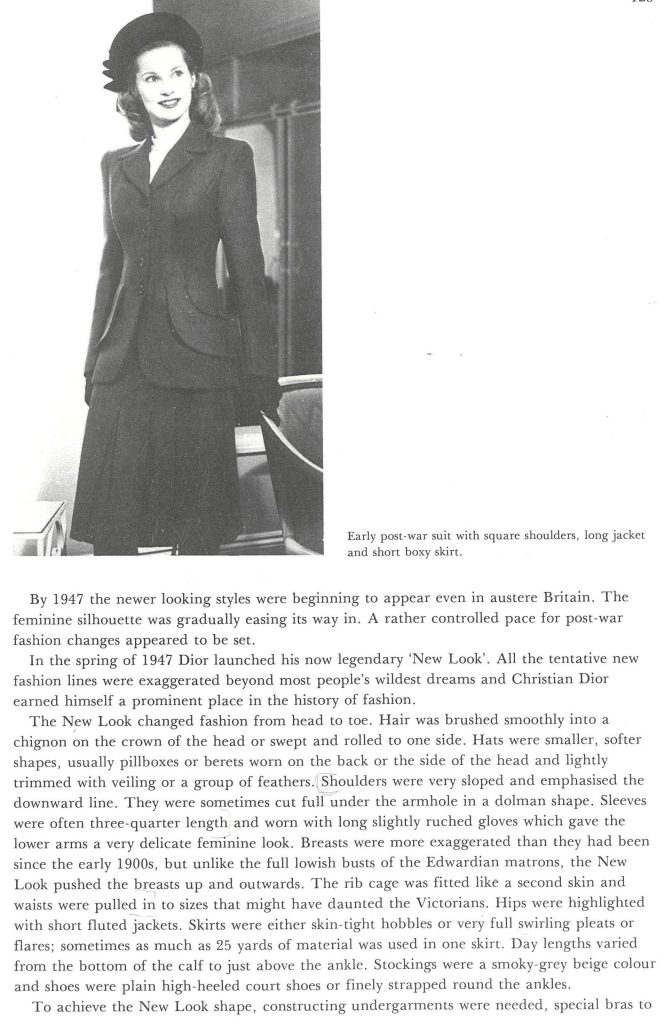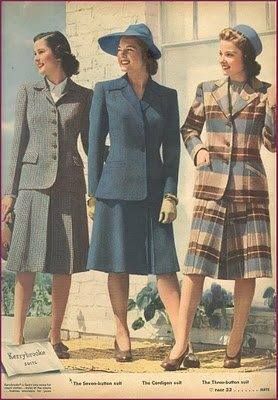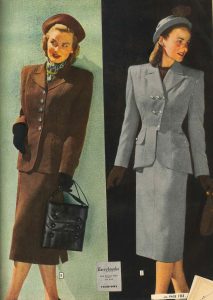 These suits are from the 1948 Sears Catalogue.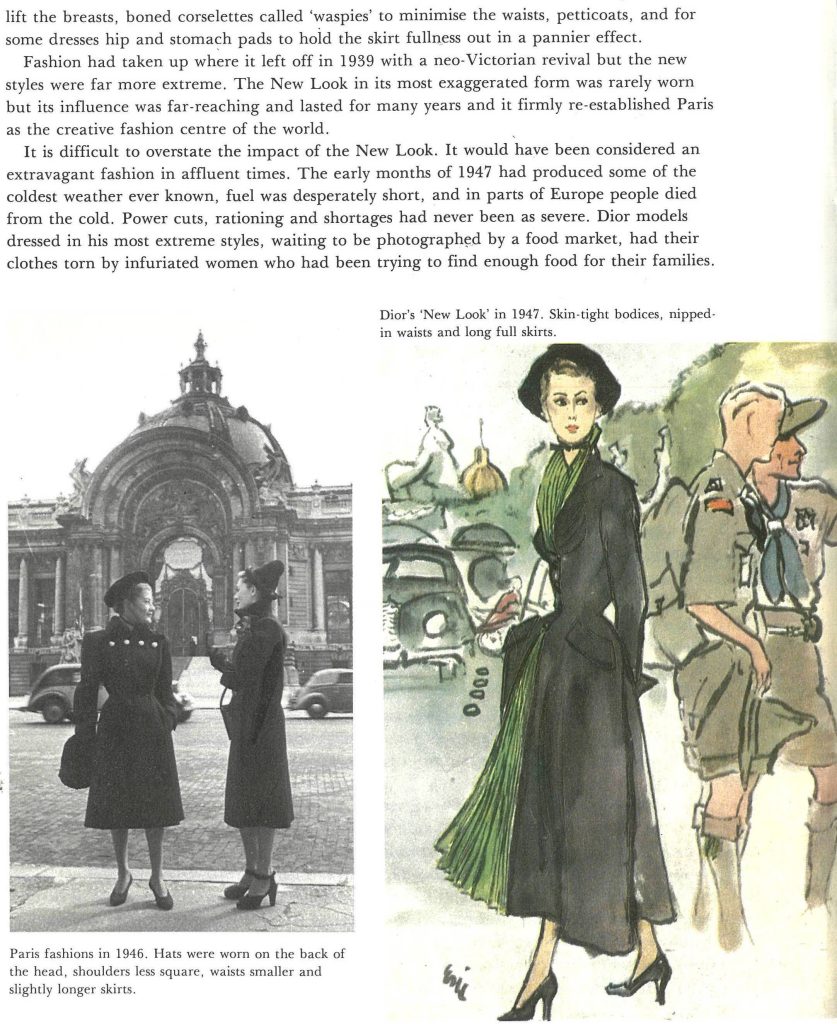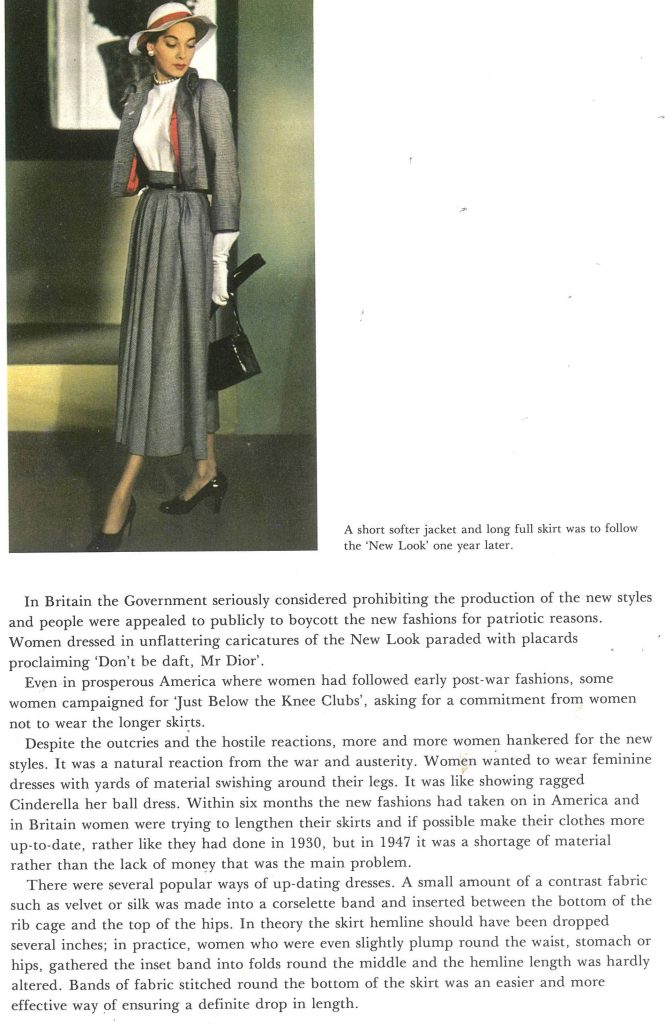 BELOW: The Dior Revolution: The New look 1948.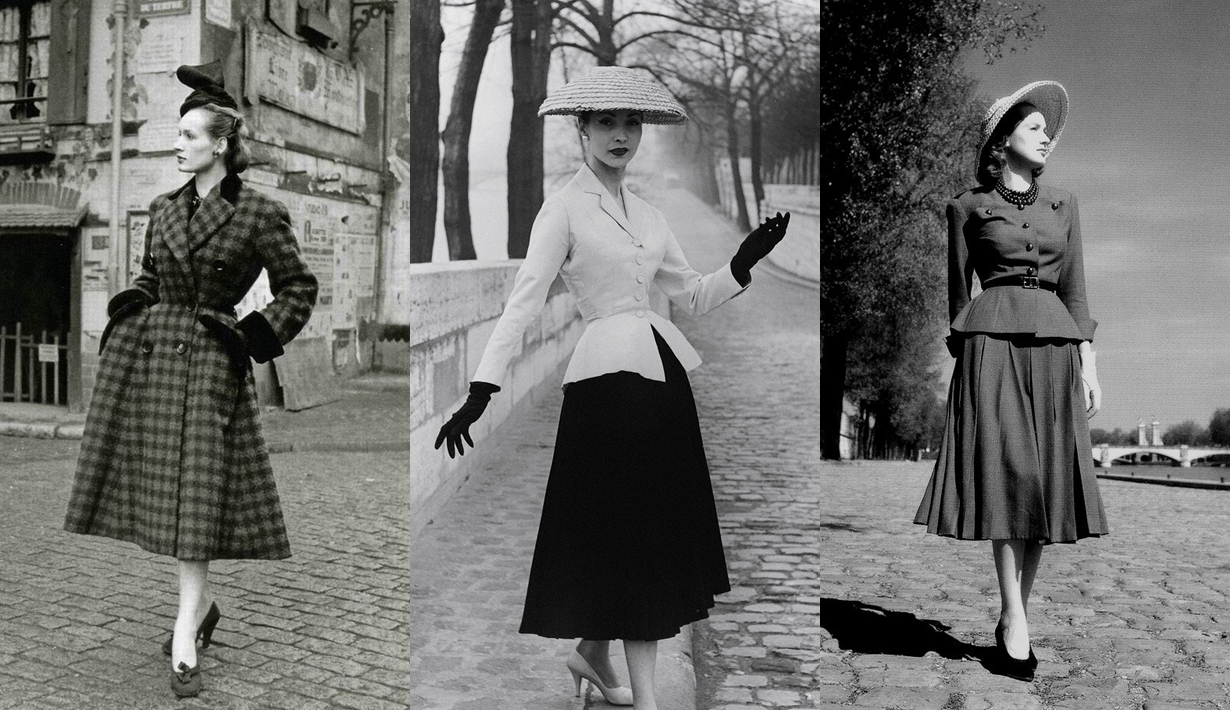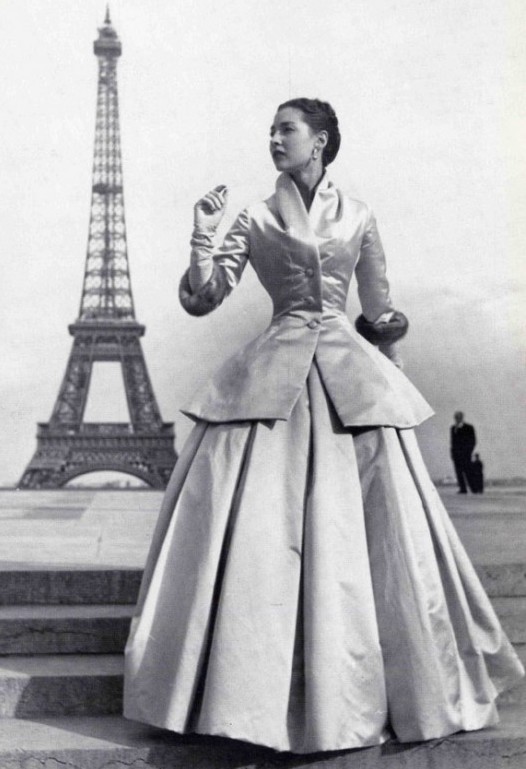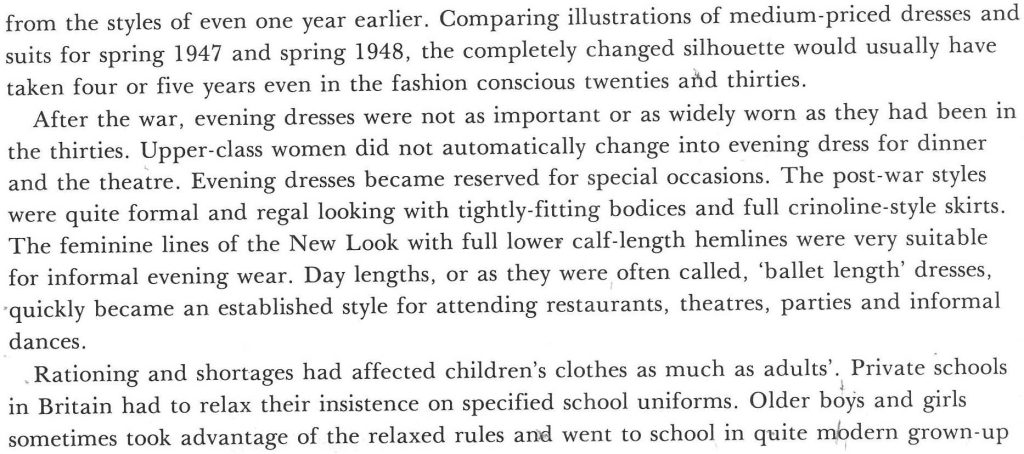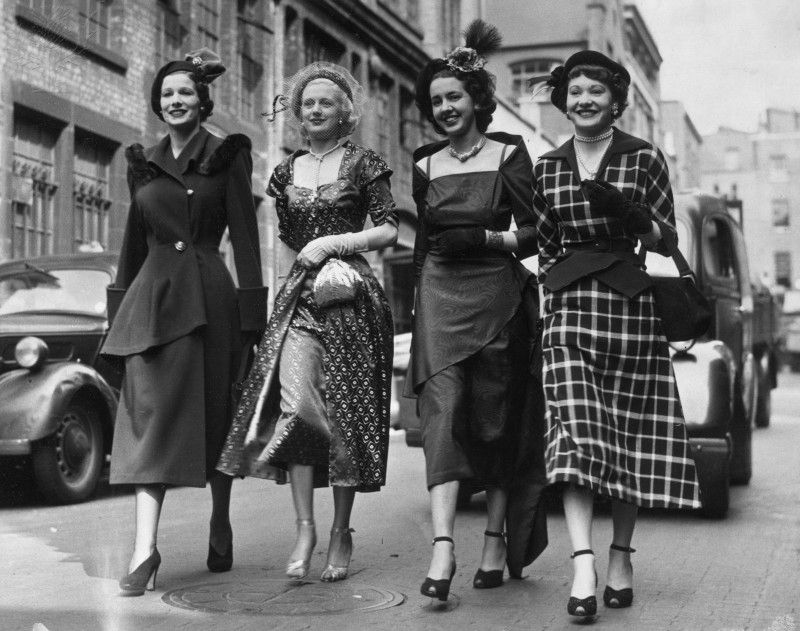 ABOVE: The New Look comes to London Circa 1948-1949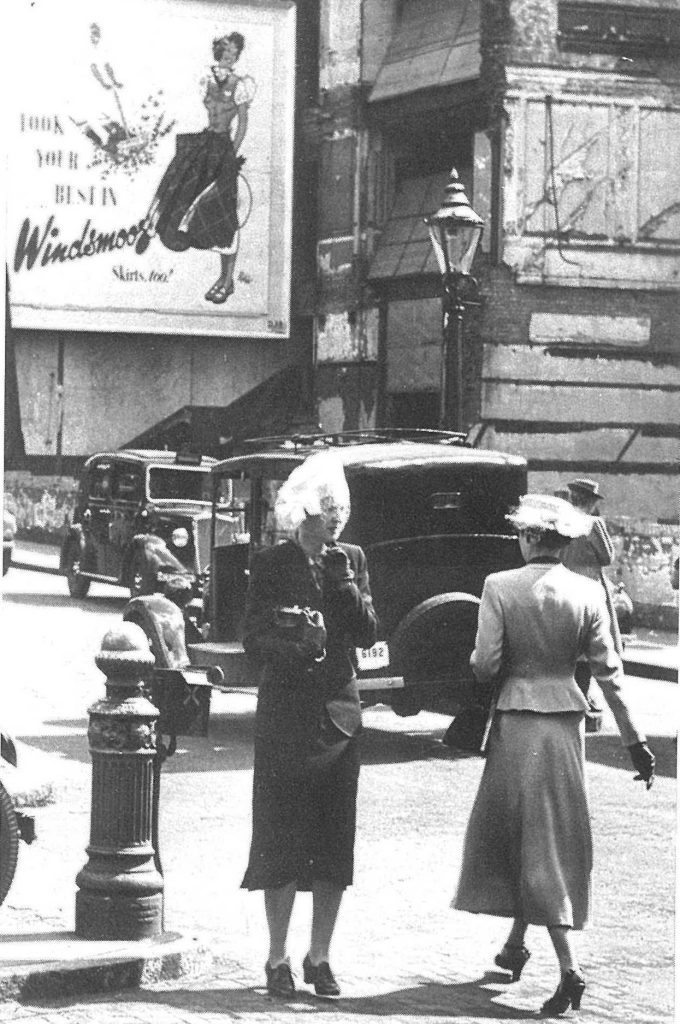 ABOVE: Women enjoying the 'New Look' in 1948. London bomb damaged streets in the background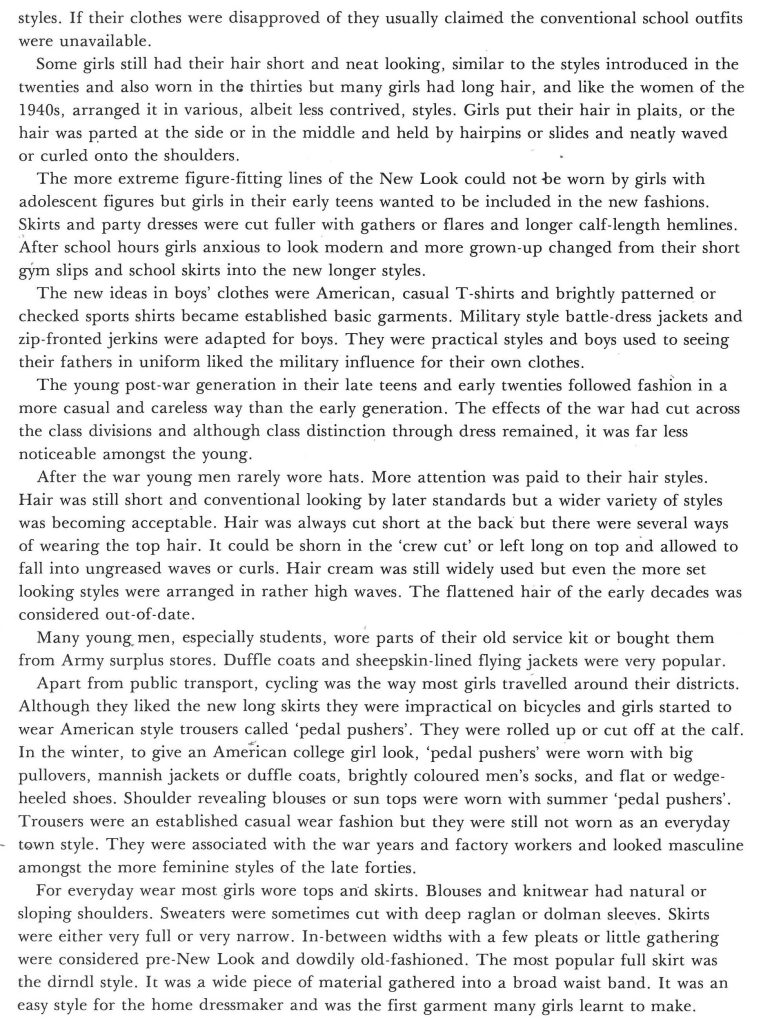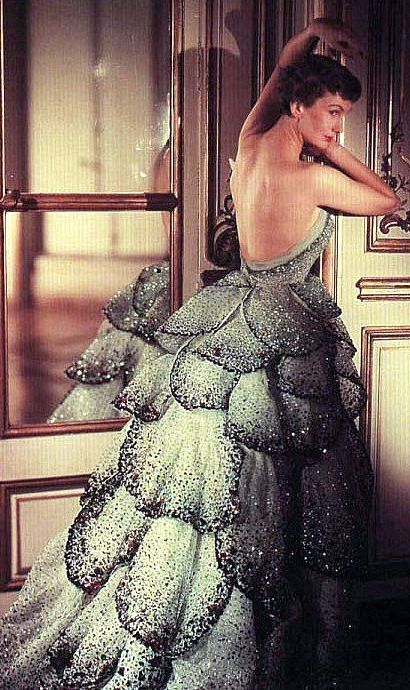 Barbara Goalen, Englands famous post-war model, with the new short hairstyle and full skirted ball dress, modelling for Christian Dior in 1949. The dress was named "Junon" after the Roman goddess Juno.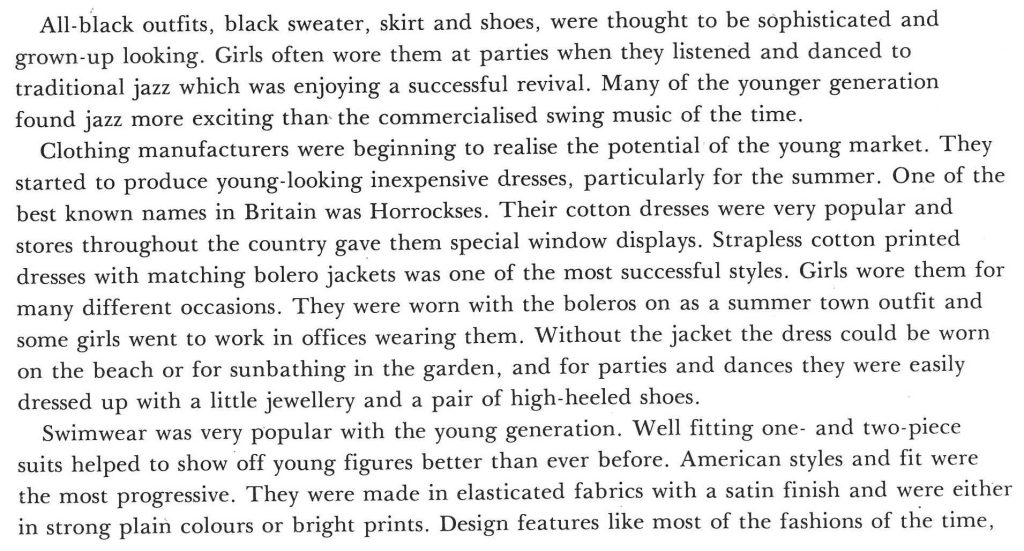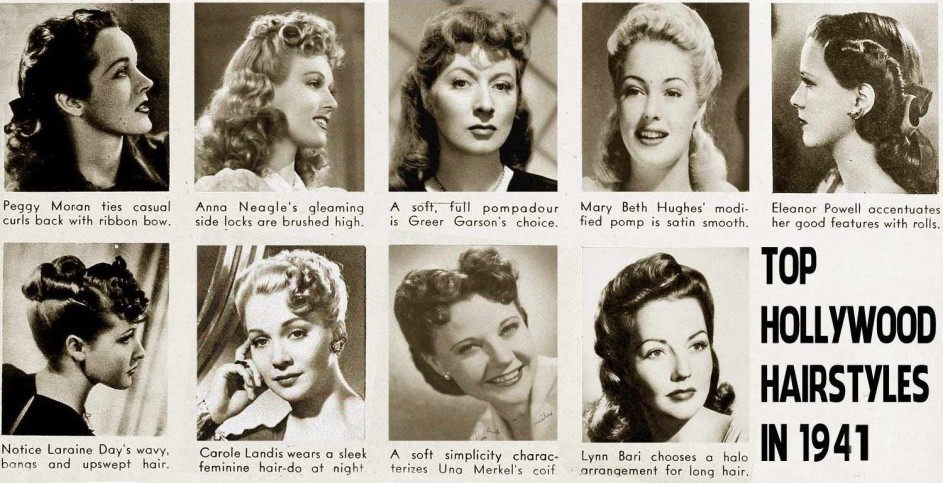 Classic 1940s hairstyles, like rolls, pomps, curls, and waves.Actresses such as Betty Grable, Anna Neagle, Veronica Lake, Dorothy Lamour, Rita Hayworth, and Ava Gardner epitomised glamour during the 1940s. They provided escapism from the everyday dreariness of war.

Wartime influenced how working women wore their hair. Being in fields, factories and the armed services, women needed styles that would not get caught in machinery or be in the way in general.
Those in the armed services had rules to follow – for example, hair had to be off the collar while on duty. A hat was part of the uniform, and hair had to be appropriately dressed. Shorter hairstyles suited this type of work.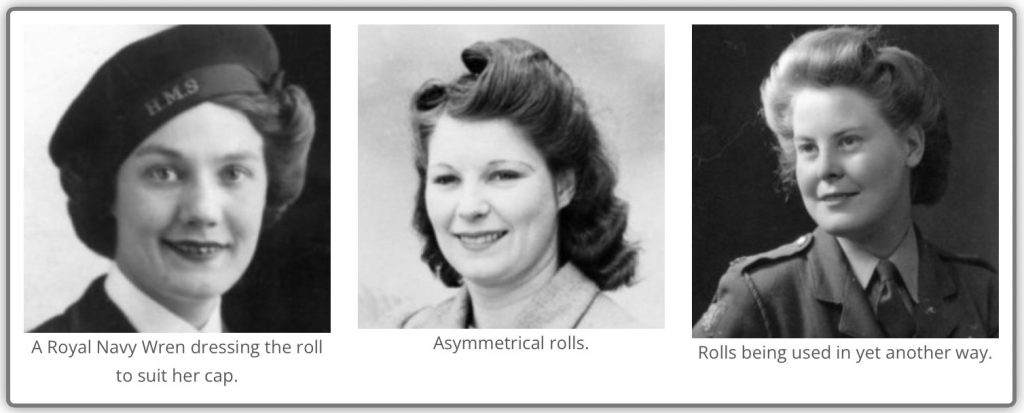 Hairstyles in the 1940s were as varied as the women wearing them. And hair did not rigidly follow a dictated fashion, as seen in some previous decades. For example, hair could be short, long or mid-length and dressed according to an individual's situation, tastes, and hair type.

Pompadours stand high up from the forehead, with the hair going back off the face. They could be either smooth, half-waved or completely waved. A pompadour was essentially a big roll, albeit one that stood higher off the face.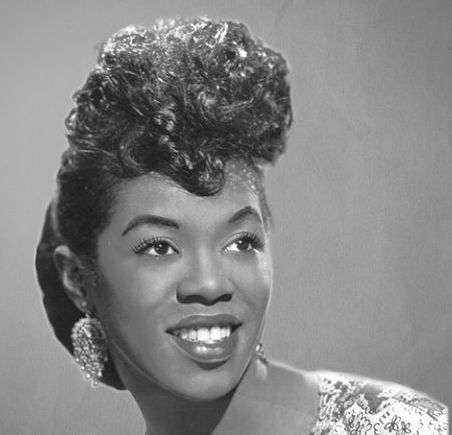 Black Women's Hair
BOVE: The vast majority of black women in the 1940s straightened their hair. It was simply the done thing to attain employment and be part of society. It wouldn't be until the 1960S before this started to change, and natural afro hair was more accepted and embraced. 
Straightening was a two-step process. Firstly, a protective pomade was applied to the hair. Then, a heated metal comb was run through, transforming tight curls into glossy straight hair. The straightened hair could be dressed into waves and rolls and pinned up in typical 1940s hairstyles.
Women with straightened hair would avoid getting their hair wet because the hair would go curly again.
VICTORY ROLL
BELOW: Rolls had been part of 1940s hairstyling since the turn of the decade. A victory roll was a particular type of roll. It was a tight sausage at the back of the hair rolled upwards, rather than turned under like the pageboy. 
Women also used to tie the top of an old stocking right around their heads like a headband and roll the hair over it, creating the victory roll.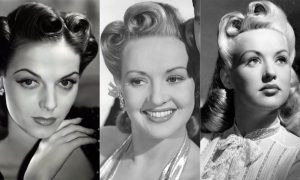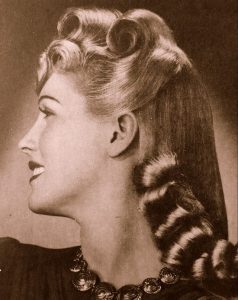 Ribbons and Bows
ABOVE LEFT AND RIGHT: Ribbons were a bright and cheerful way to dress up hair. They could be used as decoration in several ways, including: 
Tied around the head and finished with a bow on the top or side.
Fashioned into a bow and pinned into the hair.Mothers would often tie a ribbon bow to a hair grip to add a bit of colour when pinning their daughter's hair back.
Ribbons were made from a purpose-made material or strips of fabric.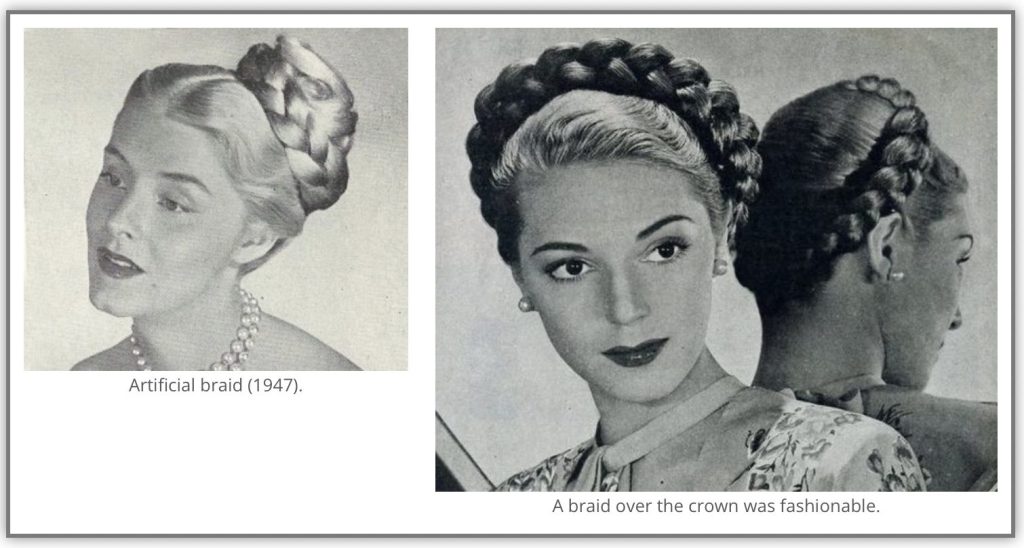 Braids
ABOVE: Braids were popular throughout the decade. If someone didn't have long hair, hairpieces could be used instead and pinned into the hair. 
Hairpieces came in natural colours, though contrasting colours were also available. A strip of material or a scarf could also add colourful detail to a plait.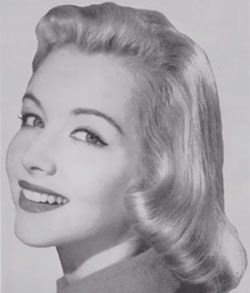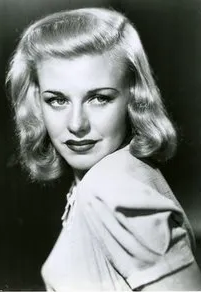 Pageboy
ABOVE: The pageboy is a smooth hairstyle with a curled-under roll going all around the sides and back of the hair. This style suited medium to long hair, as it had the length needed to achieve the roll. Veronica Lake wore a long pageboy.
HATS
Hats were a fun part of a woman's attire, dressing up their otherwise plain clothes. There was no single style or shape that was stand out. Everything was worn, from small pillboxes and berets to wide-brimmed hats. Hairstyles could be easily adapted to fit the hat – or find the hat to suit the hairstyle!
Popular hats include:
Beret – made from wool or rayon felt and came in a variety of plain colours. Worn either to one side or pushed straight back off the face.
Pillbox – stiff and round, held onto the head with a hatpin and worn on top of the head or at an angle.
Miniature – felt or straw often with a brim. Pinned on with a hatpin and worn at a fun angle.
Fedora-style – wide-brimmed, felt hats with an indent in the top.
Turban – came in various materials and colours.
Adornments could dress up a hat – for example, feathers, a veil, bows, beads, flowers, or ribbons.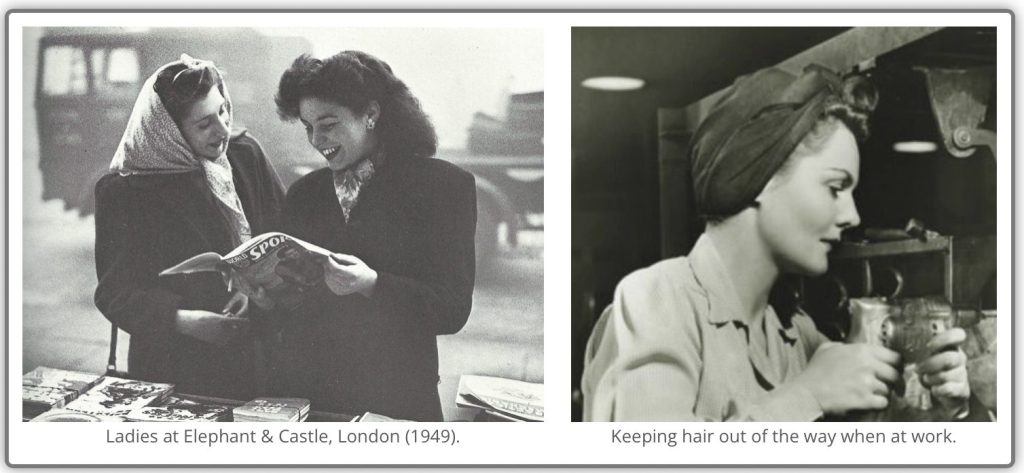 Headscarves 
ABOVE: Headscarves were worn to keep the hair out of the face or help keep it protected from dirt. They came in different materials, sizes and patterns.
There were many ways to wear a scarf, including:
Plaited into the hair and tied up.
Folded into a triangle and tied on top of the head, like a turban.
Worn around the head and knotted under the chin.
Often women fashioned the scarf into something more than just a practical head covering, influenced by stars like Carmen Miranda, who made wearing a turban chic.
A popular way to easily dress up the hair was with flowers. It was also a versatile way to add a bit of decoration. Fresh blooms could be used, but artificial flowers were popular. Made from silk or rayon, they came in various colours and styles.
Flowers could come already attached headband, comb or pins.
Carmen Miranda's exotic styles still inspires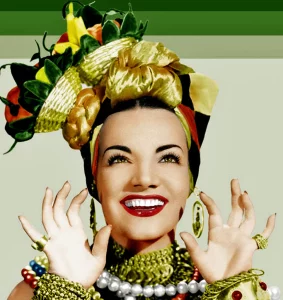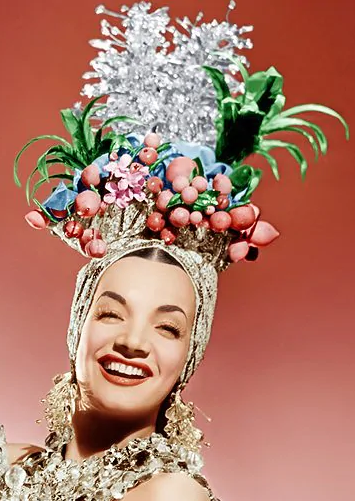 Fashion expert from "Woman" magazine, Anne Edwards, shows how to tie a turban 1942.
TURBANS
A turban was a length of material made from things like soft wool or rayon crepe. It was tied around the head and the long ends tucked underneath. The turban could be left as it was or decorated with things like pompoms or flowers.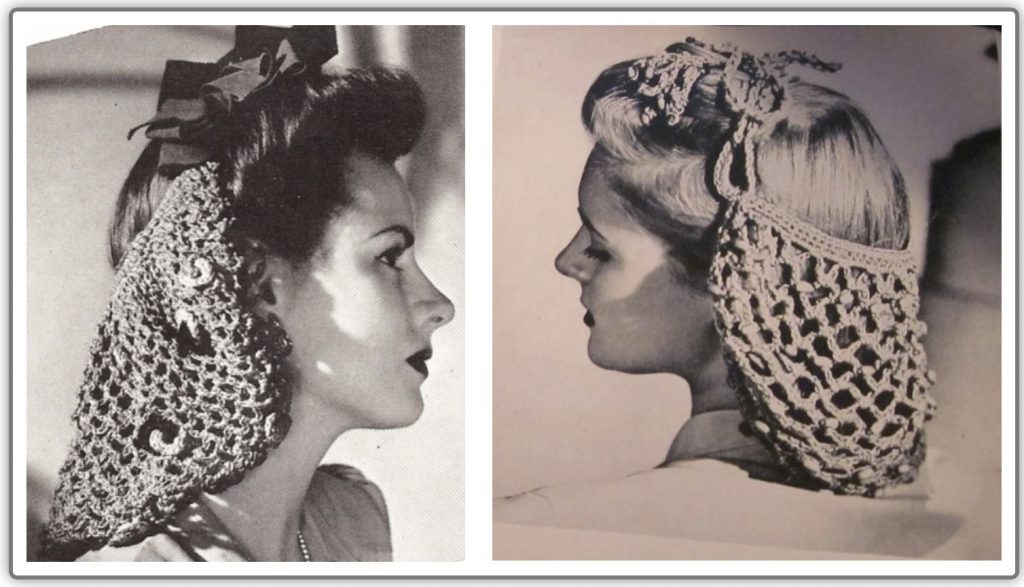 SNOODS
ABOVE: Snoods were a crocheted bag, often homemade, used to keep the back of the hair neat. The hair in the snood could be styled in a roll, left in soft curls or even pin curled, ready to be dressed out later.
Factory or field workers may have worn a snood to help keep hair out of the way.
Sometimes snoods were made from the same material as a dress to create a matching item.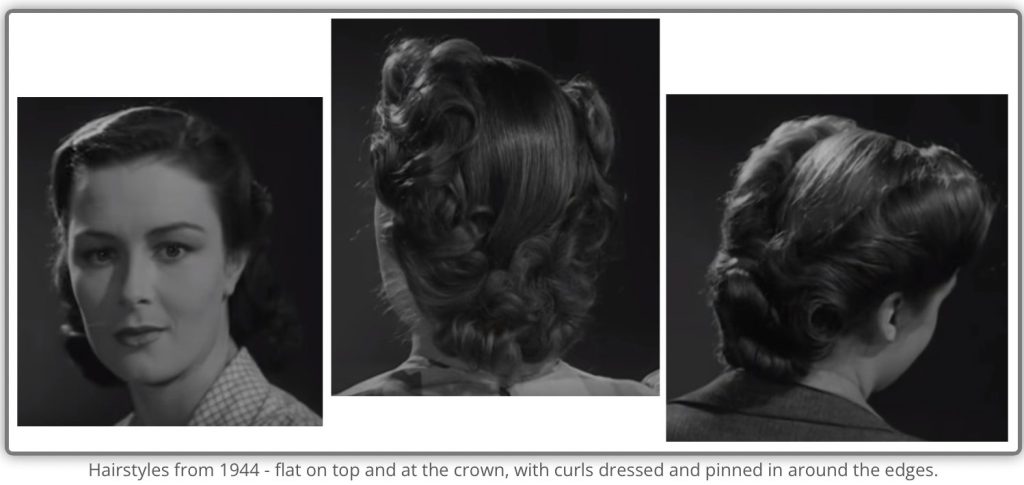 SETTING HAIR
ABOVE: Setting hair During the war, many products were hard to come by. Women made do with whatever they could get. For example, setting lotion was made from things found in the home, like beer or sugar water.
Pipe cleaners, rags or pin curls would be used to twist and set the hair. Once dry, the hair could be brushed out and dressed as required. Wealthy women could afford to visit the hairdresser and have their hair set. Those who didn't have the money just set their hair at home.
Electric curling irons were now available, but some women will have continued to use the old hot irons to create waves.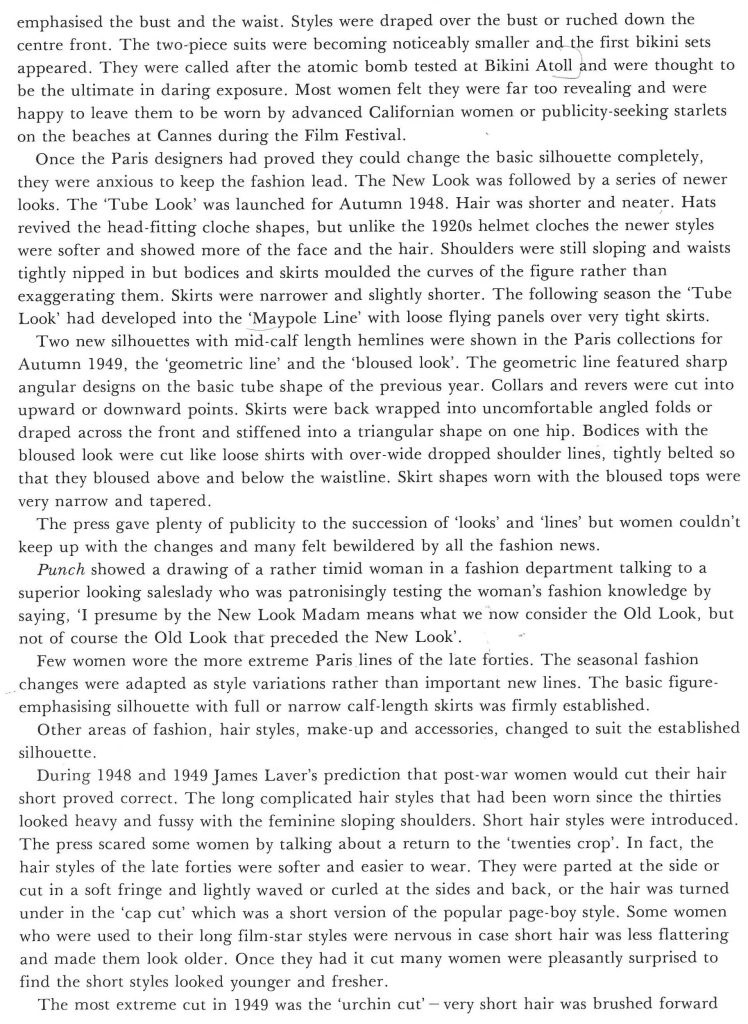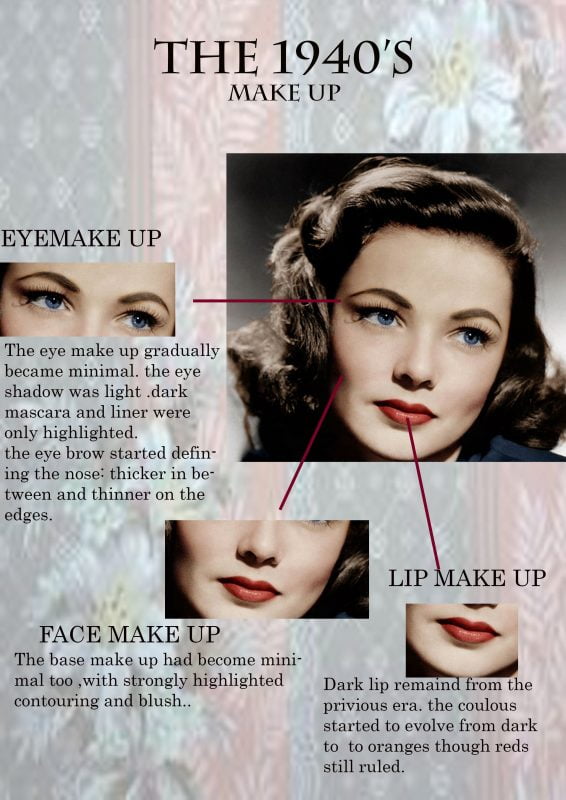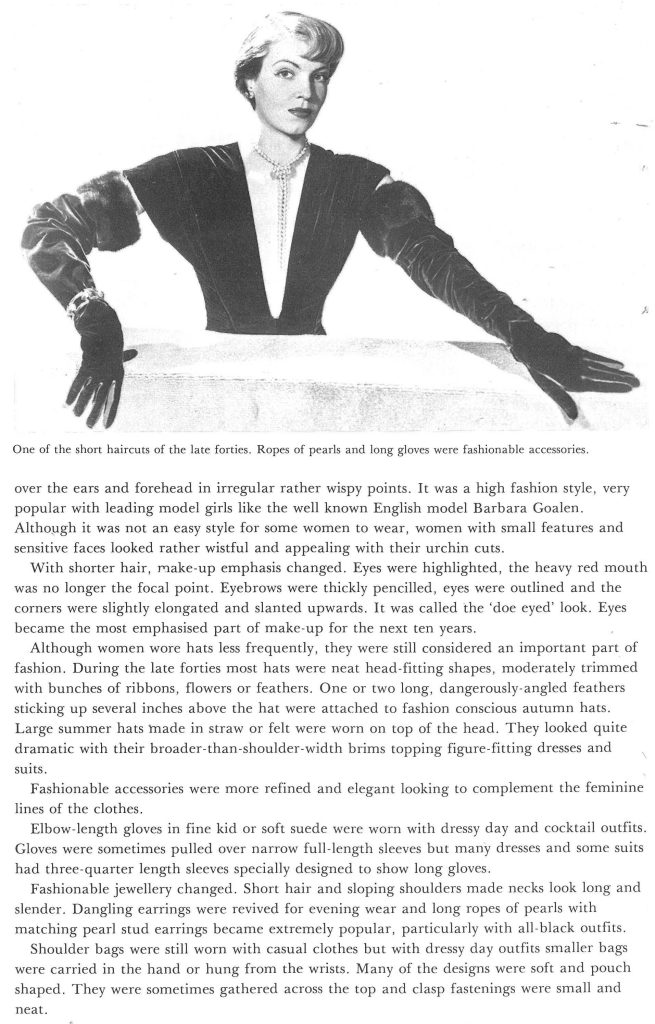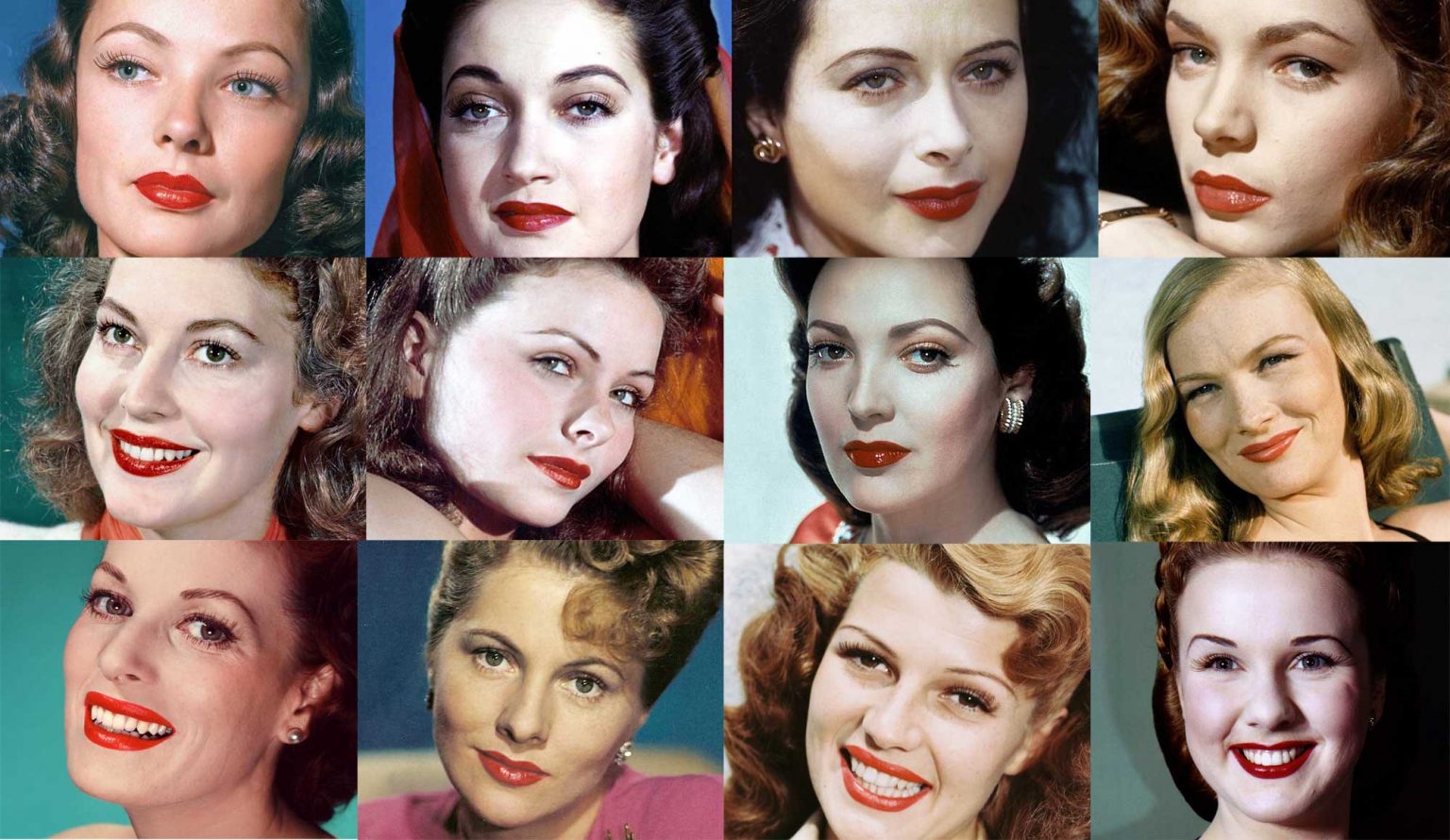 Wartime Rationing
The decade started with much of Europe at war, with other nations worldwide soon joining the battle. It had an impact on women's 1940s makeup due to restrictions and rationing.
Wartime restrictions impacted everyday life – and cosmetics were no exception. Shortages of alcohol meant less cologne. Fats and oils meant even soap was rationed. A key ingredient in munitions was glycerine, taking it away from cosmetic production.
Rationing in the UK meant many everyday items were hard to get. But rather than go without, women got creative and used substitutes.
Makeup substitutes included burnt cork for mascara and cochineal or beetroot juice for lipstick. Similarly, British women kept up appearances by using bicarbonate of soda as a deodorant and gravy browning for tinting legs
When cosmetic supplies did reach the shops, the word would soon get out – and women would queue for hours. Old theatrical makeup found in second-hand shops was even better than nothing.
Rationing didn't end as soon as the war finished. For example, it continued until 1954 in Britain for some items. However, things did slowly but surely come back into regular circulation. More makeup products started to reach the shelves, eagerly bought by women whenever possible.
Patriotism
Patriotism Lipstick was seen as good for the morale of the nation, both in Britain and the USA. Women using lipstick were applauded, seen as keeping their femininity while carrying out men's work.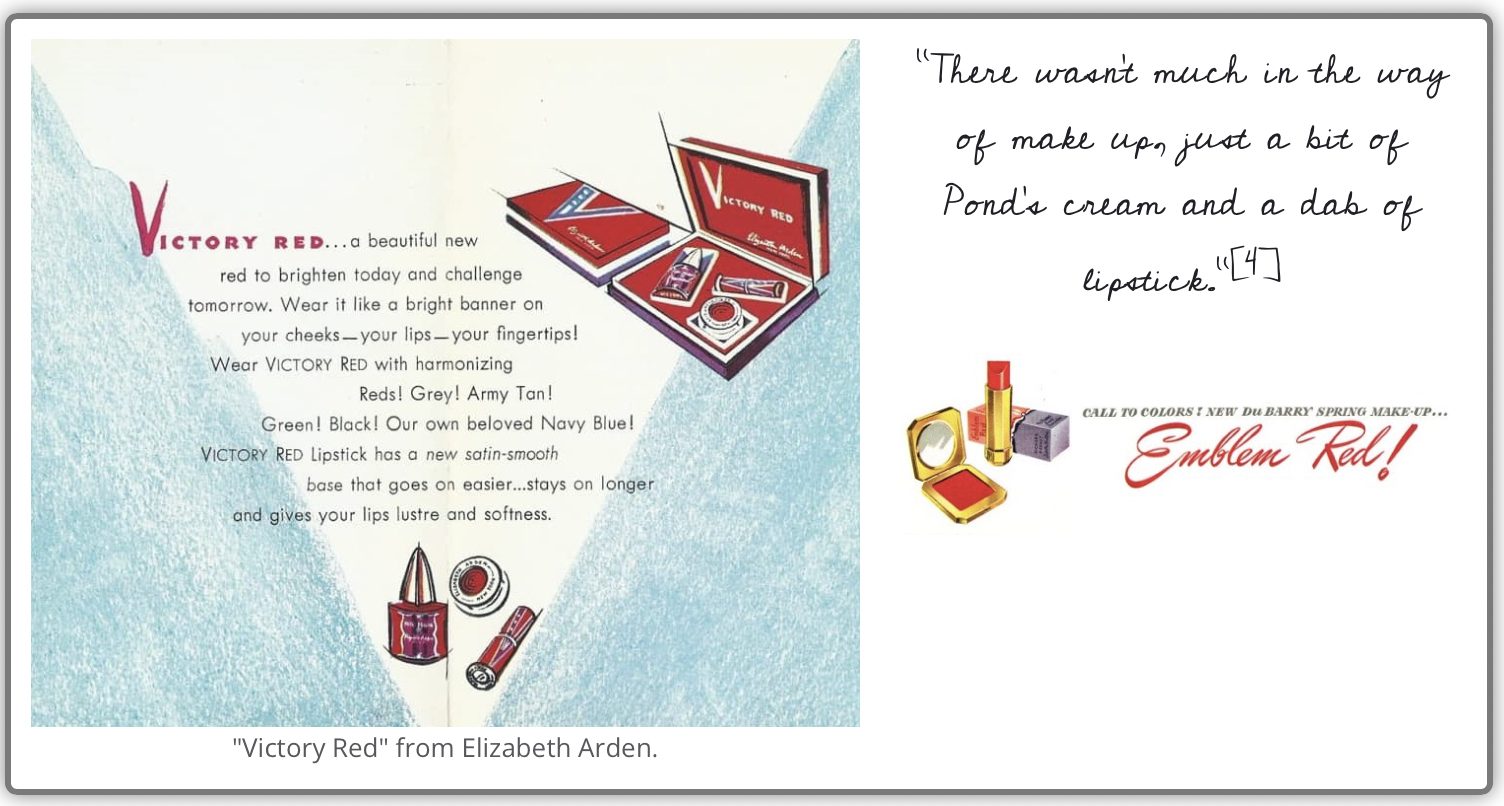 Makeup brands embraced selling patriotism – and red was, of course, the most patriotic of the colours. For example, Elizabeth Arden produced a series of products in about 1941 called Victory Red. The tag line was, "Victory Red… a beautiful new red to brighten today and challenge tomorrow."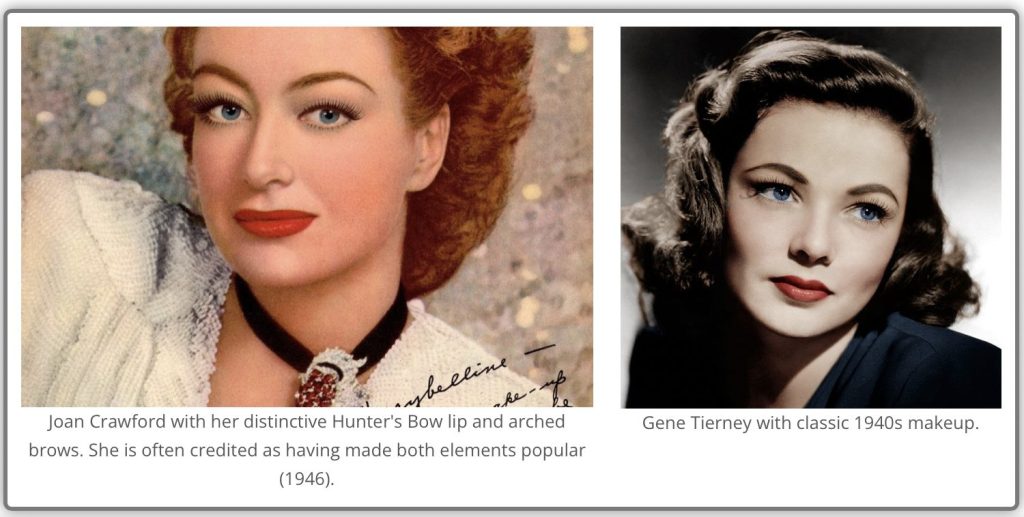 Going to the pictures was a popular way to spend an evening. The glamour of the film stars was admired and copied by women everywhere. Additionally, movies were now in colour – allowing women to see the shades worn by their favourite film stars. 
The popular lipstick application shape of the era is the Hunter's Bow. It was also known as the "smear" and was created in the 1930s by Max Factor for actress Joan Crawford.
The overall 1940s makeup look was reasonably natural, topped off with a splash of red lipstick glamour. Foundation was natural or leaned towards a gentle sun-kissed tone, with a very subtle, natural rosy glow to cheeks.
Shaped eyebrows were of medium thickness, brushed and gently coloured in. Eyeshadow was subtle, finished with a touch of mascara on the lashes.
Colour harmony between products was popular. Primarily, it was hair colour that would dictate which colour range to opt for, although eye colour and costume shade were also important. Beauty guides also advised to colour-match one's lips, cheeks and nails to one coordinated shade, rather than being different.
Whatever a woman's background or class, they always made an effort to look groomed with what little they had.