Collage of Mary Quant & her work
Fashion Designers A-Z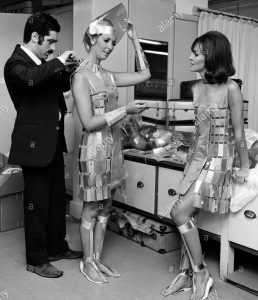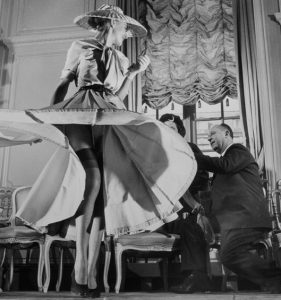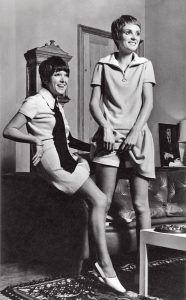 Left: Fashion designer Paco Rabanne on the film set of Casino Royale at Elstree. Working on the clothes for the film, 6th July 1966.

Center left: Grace Coddington in Mary Quant's minidress and shorts set with the designer in 1966.
Center right: Hot Pants by Mary Quant in 1971, she was a mod fashion designer and was also known for the mini skirt. Mary Quant opened a clothing boutique on London's King's Road called Bazaar (known for its mod culture establishments) it became very popular with the young culture of the 60s, was very innovative and she created a sensation. Bazaar's window displays were eye catching and, in some cases, shocking, and provoked a buzz resulting in queues down the street as shoppers jostled to get in and buy. Click on the fantastic video link below:

https://www.google.com/culturalinstitute/beta/exhibit/0QKSHn4SqTdrLw
Right: Diorable Style, February 1947 – Dior's New Look is Born. Christian Dior revolutionized the fashion world through his fantastic themes and colorful materials. He managed to create a beautiful design that would complement any woman and make her features stand out.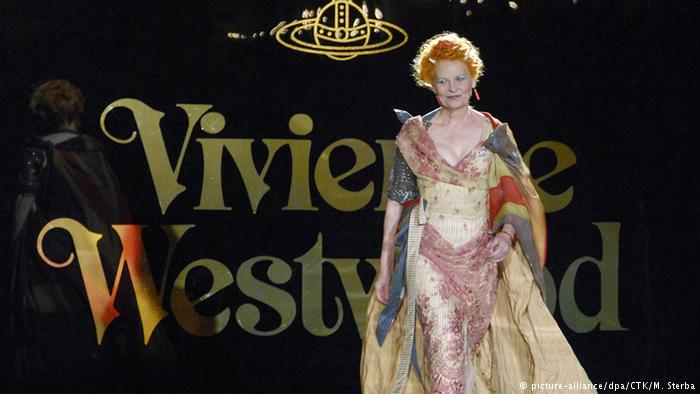 Right: Queen of punk Vivienne Westwood. Vivienne Westwood is one of the world's most famous fashion designers. Wild, anarchic punk music inspired her to create wild, anarchic fashion. At 75, the British designer's style is still extravagant. The fashion world was tickled pink when the flashy woman from London presented her first catwalk show, the Pirate Collection, in 1981. With that legendary show, Vivienne Westwood said farewell to punk – and became a recognized fashion designer. From that day on, the redhead and her unconventional creations were part of all the major shows.
Each day, we put on clothes that do more than just cover up bodies. We choose clothes that represent our personalities, our moods, the times we live in, our ambitions and our desires. Who are the people behind the designs we wear every day? These fashion designers who have made fashion a huge industry, and whose work is as controversial, and as influential, as traditional art. These are some of the designers who have dressed the world's most famous people—and are hugely famous in their own right.
Fashion designers design clothes, lifestyle accessories, and shoes that are not just functional but also aesthetically pleasing. Fashion designers may design the items for an individual, or for the mass market. With the human's obsession with appearance and convenience, fashion designers have a lot of factors to consider while designing the garments and accessories. They work with a wide range of materials, and have to plan for the patterns, styles, and colors of each item they design keeping in mind the end customer.
Fashion designing is an art influenced by social and cultural values that have evolved over time, thus it is a very dynamic and historically an interesting profession, with our own obsession with the designers themselves. Fashion designing has always been considered to be among the most lucrative and glamorous of careers. Of course, it is a very challenging profession as well. It calls for a high level of creativity combined with a sense of aesthetics and managerial skills.
Fashion designers normally work for designer labels and clothing manufacturers. They may design cheaper ranges of casual garments for the mass market or work on one-off exclusive creations working directly with a high profile customer. Browse this section to learn more about the famous fashion designers who have marked the world with their artistic expressions.
 ~~~~~~~~~~~~~~~~~~~~~~~~~~~~~~~~~~~~~~~~~~~~~~~
A
Adolfo Sardina
Born: Adolfo F. Sardiña in Cardenas, Cuba, 15 February 1933; immigrated to New York, 1948, naturalized, 1958. Education: B.A., St. Ignacious de Loyola Jesuit School, Havana, 1950. Military Service: Served in the U.S. Navy. Career: Apprentice millinery designer, Bergdorf Goodman, 1948-51; apprentice milliner at Cristobal Balenciaga Salon, Paris, 1950-52, and at Bergdorf Goodman, New York; designed millinery as Adolfo of Emmé, 1951-58; also worked as unpaid apprentice for Chanel fashion house, Paris, 1956-57; apprenticed in Paris with Balenciaga; established own millinery salon in New York, 1962, later expanded into women's custom clothing; designer, Adolfo Menswear and Adolfo Scarves, from 1978; perfume Adolfo launched, 1978; closed custom workroom to concentrate on his Adolfo Enterprises licensing business, 1993; debuted limited collection through Castleberry, 1995. Exhibitions: Fashion: An Anthology, Victoria & Albert Museum, London, 1971. Collections: Metropolitan Museum of Art, New York; Smithsonian Institution, Washington, D.C.; Dallas Museum of Fine Arts; Los Angeles County Museum of Art. Awards: Coty Fashion award, New York, 1955, 1969; Neiman Marcus award, 1956. Member: Council of Fashion Designers of America.
In April of 1993, Adolfo closed his salon on New York's East 57th Street, after more than 25 years producing his classically elegant knit suits, dresses, and eveningwear. The outcry from his clientéle was emotional and indicative of the devotion his clothes inspired in his "ladies," including C.Z. Guest ("It's just a tragedy for me. He has such great taste, style, and manners…I've been wearing his clothes for years; they suit my lifestyle. He designs for a certain way of life that all these new designers don't seem to comprehend."); Jean Tailer ("I'm devastated…. He's the sweetest, most talented man. With Adolfo, you always have the right thing to wear."), and scores of others, such as Nancy Reagan, the Duchess of Windsor, Noreen Drexel, and Pat Mosbacher.
These loyal clients were among the many who returned to Adolfo season after season for clothes they could wear year after year, clothes that looked stylish and felt comfortable, style and comfort being the essence of his customers' elegant and effortless lifestyle.
Adolfo began his career as a milliner in the early 1950s, a time when hat designers were accorded as much respect and attention as dress designers. By 1955 he had received the Coty Fashion award for his innovative, often dramatic hat designs for Emmé Millinery. In 1962 Adolfo opened his own salon and began to design clothes to show with his hat collection. During this period, as women gradually began to wear hats less often, Adolfo's hat designs became progressively bolder. His design point of view held that hats should be worn as an accessory rather than a necessity, and this attitude was carried over into his clothing designs as well.
Adolfo's clothes of the late 1960s had the idiosyncratic quality characteristic of the period and, more importantly, each piece stood out on its own as a special item. This concept of design was incongruous with the American sportswear idea of coordinated separates but was consistent with the sensibility of his wealthy customers who regarded clothes, like precious jewelry, as adornments and indicators of their social status. Among the garments that captured the attention of clients and press during this period were felt capes, red, yellow, or purple velvet bolero jackets embroidered with jet beads and black braid, studded lace-up peasant vests, low-cut floral overalls worn over organdy blouses, and extravagant patchwork evening looks.
Adolfo remarked, in 1968, "Today, one has to dress in bits and pieces—the more the merrier." By 1969 he described his clothes as being "for a woman's fun and fantasy moods—I don't think the classic is appealing to people any more." Just one year later, however, he changed his point of view and at the same time increased the focus of his knits, which had been introduced in 1969. In a review of Adolfo's fall 1970 collection, Eugenia Sheppard, writing in the New York Post, declared "he has completely abandoned the costume look of previous years." Adolfo was always responsive to his customers' needs and this sudden change of direction probably reflected their reaction to the social upheavals and excesses of the last years of the 1960s.
By the early 1970s the 1930s look, inspired by films such as Bonnie and Clyde and The Damned, swept over fashion, drowning out the kooky individualism of seasons past. His explorations of this look led Adolfo, in 1973, to hit on what would become his signature item. Taking his cue from Coco Chanel's cardigan style suits of the 1930s, Adolfo translated the textured tweed into a pebbly knit, added a matching silk blouse, and came up with a formula his clients returned to over and over again until his retirement. These revivals of a classic became classics in their own right and the look became associated in America with Adolfo as much as with Chanel. Adolfo's collections were not limited to suits. When other American designers abandoned dresses for day in favor of sportswear separates, Adolfo continued to provide his customers with printed silk dresses appropriate for luncheons and other dressy daytime occasions. Adolfo's clients also relied on him for splendid eveningwear combining luxury with practicality. Typical evening looks included sweater knit tops with full satin or taffeta skirts, fur trimmed knit cardigans, silk pyjamas, and angora caftans.
After closing his salon to concentrate on marketing his licensed products, including perfumes, menswearm, furs, handbags, sportswear, and hats, Adolfo made numerous appearances at departments stores and on QVC to promote his name and products in the early and mid-1990s, which were valued at some $5-million annually. In late 1995, he returned to designing, with a limited collection sponsored by Castleberry.
The designer himself once remarked that "an Adolfo lady should look simple, classic, and comfortable." He brought modest and characteristically American design ideals to a higher level of luxury and charm, combining quality and style with comfort and ease. While in some fashion circles, seeing women similarily dressed was a serious fashion faux pas, with Adolfo designs, women were thrilled to see their high-brow selections reflected in social scene mirrors. According to the Chicago Tribune in 1986, "Adolfo Ladies revel in duplication, triplication, quadruplication and more—much, much more." All because, as Jean Tailer told the Tribune, "we all feel a security blanket in getting the best of the collection." Adolfo provided, as the Tribune aptly called it, a "social security," to his ladies and they gave him loyalty, devotion, and upwards of $2500 per suit.
 ~~~~~~~~~~~~~~~~~~~~~~~~~~~~~~~~~~~~~~~~~~~~~~~
Adri
Born: Mary Adrienne Steckling in St. Joseph, Missouri, 7 November 1934. Education: Attended St. Joseph Junior College, 1953; studied retailing and design, Washington University (School of Fine Arts), St. Louis, 1954-55, and fashion design at Parsons School of Design, New York, 1955-56; studied at the New School for Social Research, New York, 1956-57.
Family: Married Fabio Coen, 1982. Career: Guest editor, Mademoiselle, college issue, 1955; design assistant for Oleg Cassini, Inc., New York, 1957-58; design assistant, later designer, B.H. Wragge, New York, 1960-67; opened Adri Designs Inc., 1966-67; formed Design Establishment, Inc. with Leonard Sunshine and the Anne Fogarty Co., New York, for the Clothes Circuit by Adri and Collector's Items by Adri division of Anne Fogarty, 1968-72; partner with William Parnes in Adri label for Paul Parnes's Adri Sporthoughts Ltd., 1972-74; designed for Ben Shaw company, 1975-76; Adri for Royal Robes, leisurewear, under license, 1976-77; Jerry Silverman Sport by Adri label, 1977-78; ADRI label collection for Jones New York, 1978-79; ADRI collection marketed by Habitat Industries, 1980-83; began as critic, Parsons School of Design, 1982; Japanese licensee N. Nomura & Co. Ltd, 1982-87; ADRI Collection marketed by Adri Clotheslab, 1983-87. Created Adri designer patterns for Vogue, 1982; designed several sportswear collections a year, selling to smaller specialty stores and private customers; joined Parsons School of Design faculty, 1991; corporate name changed to Adri Studio Ltd., 1994. Exhibitions: Innovative Contemporary Fashion: Adri and McCardell, Smithsonian Institution, Washington, D.C., 1971; various shows, Fashion Institute of Technology, New York City. Awards: Coty American Fashion Critics "Winnie" award, 1982; "International Best Five," Asahi Shimbun, Tokyo, 1986. Member: Council of Fashion Designers of America. Address: 143 West 20th Street, New York, NY, 10011, USA.
From the moment she fell in love with her first Claire McCardell dress while still a teenager—a dress she copied for herself many times because it fit her so well—Adri (Adrienne Steckling-Coen) idolized McCardell who, coincidentally, was one of her lecturers at the Parsons School of Design in New York. Adri's early years with B.H. Wragge taught her the principles of tailoring and mix-and-match separates, long a staple of American sportswear. Designing for Anne Fogarty reinforced the feminine focus of Adri's design philosophy. Always, she returned to McCardell's tenet of form following function. Shapes were simple, skimming the body without extraneous detail or fussiness, often based on the practicality of athletic wear. While McCardell favored dresses, Adri emphasized trousers, later designing skirt-length trousers, or culottes, for variety.
From the beginning Adri utilized soft, pliable fabrics such as knits, jerseys, crêpe de Chine, challis, and leather. Her clothes were identified by their floaty qualities and she maintained that this softness made them easy to wear and provided relief from the frequent harshness of modern life. They were also ideal for tall, long-limbed, slender figures like her own. During the late 1960s Adri presented V-necked short dresses with high waists or wrapped fronts, in solid colored synthetic jerseys. Natural fibers, such as unbleached linen, came of use in the 1970s and knits continued to be staples for Adri skirts, trousers, and tunics in various lengths. By 1980 a typical Adri evening look consisted of silk trousers topped by a strapless chenille top and fluid lace jacket.
Interchangeable neutral solids such as beige, black, and white were combined with bold primary colors so Adri's customers could collect the separates throughout the years and create their own ensembles, without having to purchase a new wardrobe each year. The simple timelessness of the designs, as well as their easy cut and fit, made this possible. Prices were in the moderate to better sportswear range.
Adri wore her own apparel to accept her Coty award in 1982: a belted silver-grey (she called it "platinum") mohair sweater over midcalf culottes made of grey suede. Soon afterwards she branched out into menswear, creating unisex sweaters, cardigans, and vests. Evening looks continued to be based on day shapes, but fabricated of highly colored striped shiny rayon or mohair. Pullovers, jackets, and vests were frequently long, and Adri kept experimenting with new materials, such as eelskin, for her contrasting boldly colored belts, or handloomed Japanese fabrics with interesting textures. A touch of the opulent 1980s was evident in her use of tapestry jackets to be worn with velvet trousers, as well as damask and silk Jacquard.
Clothes like these can be easily adapted for homesewers, and Adri contracted with Vogue Patterns during the mid-1980s for a relationship that continued into the 1990s. The same McCardell-inspired sporty yet fluid lines were evident; shirtwaist dresses with topstitching detail, softly gathered jackets, shaped hemlines with gracefully flounced skirts, cummerbund accents to shorten the appearance of tall, slim figures, gently gathered waists, and easy wrap dresses were some of the offerings available to seamstresses wishing to recreate Adri's classic multifunctional designs.
Since changing her corporate name to Adri Studio Ltd. in 1994, Adri has continued to design small collections. Hard at work in her New York studio, she has focused on designer collections exclusively. With her Egyptian partner, Nadia Abdella, Adri continues to fashion the fluid, timeless pieces for which she has always been known. "The concept," she says, "remains the same." This design concept was always, she noted, a very flexible, contemporary one and has continued into the 21st century quite successfully. She creates one exclusive designer collection a season that is both wholesale and retail. The Adri collections are available through exclusive stores and show in private clubs, such as The Ruins in San Francisco. This approach, both simple and consistent, and the adaptable charm and enduring quality of an Adri garment, have created a niche for the designer and, "It's working," she says.
 ~~~~~~~~~~~~~~~~~~~~~~~~~~~~~~~~~~~~~~~~~~~~~~~
Adrian
Born: Gilbert Adrian Greenburgh in Naugatuck, Connecticut, 3 March 1903. Education: Studied at Parsons School of Design, New York and Paris, circa 1921-22.
Family: Married Janet Gaynor in 1939; son: Robin. Career: Film and theater designer, New York, 1921-28; designer, MGM studios, Hollywood, 1928-39; ready-to-wear and custom clothing salon established, Beverly Hills, 1942-52; fragrances Saint and Sinner introduced, 1946; opened New York boutique, 1948; retired to Brasilia, Brazil, 1952-58; film designer, Los Angeles, 1958-59. Exhibitions: Retrospective, Los Angeles County Museum, circa 1967; retrospective, Fashion Institute of Technology, New York, 1971. Awards: Coty American Fashion Critics award, 1944. Died: 14 September 1959 in Los Angelos, California.
By the time MGM costumer Gilbert Adrian went into business for himself in the middle of World War II, his potential customers were already familiar with his work. For over a decade American women had been wearing copies of the clothes he had designed for some of the most famous movie stars of all time. Adrian's ability to develop a screen character through the progression of costumes, be they period or modern, was translated into dressing the newly modern career women while men were away at war.
Adrian was primarily an artist, having trained in France, and was able to perceive Greta Garbo's true personality—aloof, mysterious, earthy—and change the way the studios dressed her; insisting upon genuine silks, laces, and jewels to lend authenticity to her performances. For all the stars he dressed, Adrian believed the quality of materials worn by a woman affected how she behaved in the clothes, even if the details were not immediately obvious. He brought the same philosophy to his custom and ready-to-wear creations. Of course the copies MGM permitted to be made of Adrian's costumes, timed to coincide with the releases of the films, were not always of the same fine quality as the originals, but the overall look was what women were after. While films provided a great escape from the dreariness of the American Depression, the famous white organdy dress with wide ruffled sleeves that Adrian designed for Joan Crawford in the movie Letty Lynton offered cheer and flattery. Macy's New York department store alone sold nearly half a million copies in 1932. The artist's eye perceived the need to balance Crawford's wide hips, and the broad shouldered typical "Adrian silhouette" triggered a fashion revolution in America and abroad.
For Jean Harlow in Dinner at Eight, Adrian created another widely copied sheer white bias-cut satin ballgown. Though Madeleine Vionnet invented the bias cut and Elsa Schiaparelli was credited with padded shoulders, at least in Europe, Adrian had the awareness to bring high fashion and glamour to the screen. Joan Crawford praised Adrian's emphasis on simplicity to make a dramatic point, as in the suits she wore in her later films. Even in lavishly costumed period dramas, Adrian was able to stop short of excess. Often, as in Garbo's Mata Hari, the character's evolution into purity of spirit would be expressed through increased simplicity of costume. Adrian's understanding of light and shadow made possible clothing that, due to clarity of line, looked as well in monochrome film as later black-and-white photographs of his commercial designs would show. His eye for perfect cut was impeccable. A day suit consisting of a beige wool jacket trimmed with loops of black braid, paired with a slim black skirt, black gloves, and beige cartwheel hat, looks as crisp and smart today as it did when featured in Vogue in 1946. Fluid floor-length crêpe gowns were dramatically yet whimsically decorated with asymmetrical motifs of horses, cherubs, or piano keys, or his taste for modern art would be indulged in gowns made up of abstract jigsaw puzzle shapes in several colors.
Just as in films Adrian worked within themes, so did his collections for Adrian, Ltd. develop according to such themes as gothic, Grecian, Persian, Spanish, or Americana. For the latter he appliquéd Pennsylvania Dutch designs on gowns and made tailored suits and bustled evening gowns out of checked gingham, echoing the gingham checks worn by Judy Garland in The Wizard of Oz. Adrian costumed Garbo as the essence of romance in Camille, not only in 19th-century crinolines, but in white nightgown (which could have been any female viewer's late day dinner dress) for the film's death scene. For his average American customer, Adrian recommended clothes like the "costumes worn by the heroines of light comedies…in moderatesized towns." Katharine Hepburn in The Philadelphia Story was dressed by Adrian as the ideal girl next door, while conservative Norma Shearer mirrored the sophisticated simplicity of Adrian's future well-heeled Beverly Hills clients in The Women.
The spare, padded-shouldered, narrow waisted and skirted silhouette of the 1940s was the ideal medium for Adrian's artistry with fabric, while conforming to the wartime L-85 restrictions on materials—the U.S. government limitation on the amount of fabric used in a civilian garment for public consumption. The color inserts, appliqués, mitering of striped fabrics and combinations of materials in one ensemble allowed for savings in rationed fabrics, while creating the trademark Adrian look which was desired then and is still sought after by vintage clothing collectors. Old-time movie glamor would resurface in some of Adrian's elegant columns of crêpe, diagonally embellished by headed bands of ancient motifs, or thick gilt embroidery on dark backgrounds. Diagonal lines and asymmetry also lent interest, as in a short-sleeved wartime suit sewn of half plaid and half wool—completed by a hat trimmed in plaid edging. Having grown up observing his father's millinery trade, Adrian had included hats in his movie costuming and his designs, such as Garbo's slouch, cloche, and Eugenie, were widely copied in the 1930s.
Adrian unsuccessfully resisted Dior's round-shouldered New Look. Men returned from the war, and women returned to the home. Decades later, with the resurgence of women into the workforce, Adrian's broad shouldered looks enabled women to compete confidently with men, as designers resurrected the masterpieces of this truly American fashion virtuoso.
  ~~~~~~~~~~~~~~~~~~~~~~~~~~~~~~~~~~~~~~~~~~~~~~~
Agnés B
Born: Born Agnés Troublé in Versailles, France, 26 November 1942. Family: Married Christian Bourgois, 1958 (divorced); two additional marriages and divorces; five children. Career: Junior fashion editor, Elle magazine, Paris, 1964; designer, press attaché, and buyer for Dorothée Bis, Paris, 1965-66; freelance designer for Limitex, Pierre d'Alby, V de V, and Eversbin, Paris, 1966-75; set up CMC (Comptoir Mondial de Création) holding company for Agnés B., 1975; established first Agnés B. boutique in Les Halles, Paris, April 1975; opened second-hand shop in same street as boutique, 1977; created American subsidiary of CMC and first American boutique in Soho, New York, 1980; opened men's and children's boutique Agnés B. Enfant, Paris, 1981; license with Les Trois Suisses for mail order of selected items, 1982; opened Agnés B. Lolita boutique for teenagers, also opened La Galerie du Jour art gallery/bookshop, Paris, with exhusband, 1984; launched Le B perfume, skincare and cosmetics products, and a maternity collection, 1987; launched ranges of sunglasses and watches, 1989; launched Le petit b.b. perfume for children, 1990; launched Courant d'air perfume, 1992; established many shops in France and worldwide, including Japan, London, and the United States. Collections: Musée des Arts de la Mode, Paris; Musée du Louvre, Paris. Awards: Order of Merit for Export, Paris. Address: 17 rue Dieu, 75010 Paris, France.
Agnés B. (the B stands for Bourgois, from her first marriage) is a French sportswear designer who has catapulted herself to fame by challenging the need for fashion in clothing design. She denies that clothes must be stylized, highly detailed, and ephemeral in order to catch the public imagination. Her ascent began in the mid-1970s when, after only a few years in the fashion business, first as junior editor at Elle magazine and then briefly as an assistant to Dorothée Bis, she opened her own boutique in a converted butcher shop in Les Halles, Paris, to sell recut and redyed French workers' uniforms, black leather blazers, and t-shirts in striped rugby fabric. Her reputation grew as one of the first young French clothing designers to sell fashion to those who did not want to look too fashionable. In fact, her clothes, while identifiably French in their no-nonsense cut, simple subdued colors (often black), and casual mood, have a timeless quality that keeps them current. The wrinkling common to natural materials and the already-worn look that characterized the hippie ethos were translated by Agnés B. into a timeless chic, combining common sense with flair.
In the age of name identification and personal marketing, Agnés B. is as respected for her business sense as for her relaxed fashion designs. The spontaneous, childlike hand with which she quickly fashioned the logo for her stores belies a sophisticated business sense. Retaining her own independent boutique rather than being swallowed up in larger department stores, she astutely perceived that the nondesign of her clothes was too inconspicuous, and that they would blend in with other, trendier lines, and be lost. She opened over a dozen shops in France, of which seven are in Paris, with branches in Amsterdam, London, Tokyo, and the United States (including Boston, Chicago, Los Angeles, and New York).
Her understated approach to design for real people (men and children, as well as women) extends to her shows, which she has called working sessions, where professional models are rarely used, and her stores, in which casual and friendly salespeople mix their own antique or mod clothes with her separates. All the stores exude the same comfortable look, with pale wooden floors, white walls, and the occasional decorative tile. The flimsy curtain that separates the display area from the communal dressing rooms is an implication of the marginal distinction between Agnés B. clothes and what everyone else is wearing.
Agnés B. has managed to keep her family-run business a success for several reasons. Her designs reflect the lives of her customers, speaking more to purpose than to style. She generally produces two collections per year but adds regularly to the collections throughout the year. She keeps the business organized by using a computerized management method of production, delivery, and inventory and keeps the boutiques and stores happy by delivering frequently and consistently. Her customers remain content because the quality of the clothing is consistent. Interestingly, unlike most designers, she keeps some items in her collection for several seasons; "You can't destabilize the client…. Customers want to see some constant pieces." Her clientéle includes women, men, and children and have been described as "cultish."
Her designs have been popular in Europe, the Far East, and in several cities in the United States. In the early 1990s, she expanded her American market, and by 1996, she had a total of eight stores in the U.S., with plans to open several more. By 1997 there were 93 worldwide stores, generating some $260 million annually. Next came the opening of a new store in Chicago, Illinois, and the launch of a beauty products line of skin care, makeup, and four fragrances to the U.S. market. Agnés B. is known for her display windows, which are characteristically devoid of mannequins—where she merely hangs the clothes on hangers and the accessories are strewn about. She also includes movie posters in the display, which have become one of her trademarks.
Agnés B. strikes a commercial and creative balance—a radical chic. "I have no desire to dress an elite," she states. "It's all a game. I work as if I were still in my grandmother's attic, dressing up. Clothes aren't everything. When they become too important, when they hide the person wearing them, then I don't like them. Clothes should make you feel happy, relaxed, and ready to tackle other problems."
  ~~~~~~~~~~~~~~~~~~~~~~~~~~~~~~~~~~~~~~~~~~~~~~~
Alaia, Azzedine
Born: Tunis, Tunisia, circa 1940. Education: Studied sculpture, École des Beaux-Arts, Tunis. Career: Dressmaker's assistant, Tunis; dressed private clients before moving to Paris, 1957; part-time design assistant, Guy Laroche, Thierry Mugler, 1957-59; au pair/dress-maker for the Marquise de Mazan, 1957-60, and for Comtesse Nicole de Blégiers, 1960-65; designer, custom clothing, from 1960; introduced ready-to-wear line, Paris, 1980, and New York, 1982; opened boutiques, Beverly Hills, 1983, Paris, 1985, and New York, 1988-92.
Dubbed the King of Cling by the fashion press in the 1980s, Azzedine Alaïa inspired a host of looks energizing High Street fashion, including the stretch mini, Lycra cycling shorts, and the bodysuit. His designs were renowned for displaying the female body and, accordingly, bedecked the bodies of off-duty top models and stars such as Tina Turner, Raquel Welch, Madonna, Brigitte Nielson, Naomi Campbell, and Stephanie Seymour. Alaïa's clothes caught the mood of the times when many women had turned to exercise and a new, muscled body shape had begun to appear in the pages of fashion magazines. Many women wanted to flaunt their newly-toned bodies, helped by recent developments in fabric construction that enabled designers to create clothing to accentuate the female form in a way unprecedented in European fashion.
Prior to his success in the 1980s, Alaïa studied sculpture at the School of Beaux-Arts in Tunis. He moved to Paris in 1957 and lived in a tiny apartment on the Left Bank, paying his rent and bills by babysitting while pursuing his dreams. He apprenticed to Christian Dior for five days before landing a two-year stint (1957-59) as a part-time design assistant for Guy Laroche and Thierry Mugler. He also served as an au pair and dressmaker for the likes of the Marquise de Mazan and the Comtesse Nicole de Blégiers (1957-65). He began designing private works in 1960, and his elite clientele eventually expanded to include Greta Garbo, Claudette Colbert, Cécile de Rothschild, and French film star Arletty.
Following in the footsteps of the ancien régime of Parisian haute couture, Alaïa is a perfectionist about cut, drape, and construction, preferring to work directly on the body to achieve a perfect fit. Tailoring is his great strength—he does all his own cutting—and although his clothes appear very simple, they are complex in structure. Some garments contain up to 40 individual pieces linked together to form a complex mesh that moves and undulates with the body. The beauty of his design comes from the shape and fit of the garments, enhanced by his innovative use of crisscross seaming.
His method of clothing construction includes repeated fitting and cutting on the body. His technique of sculpting and draping perhaps comes naturally to him, since he studied sculpture at L'École des Beaux-Arts in Tunis, but also owes much to Madeleine Vionnet, the great tailleur of the 1920s, famed for the intricacies of her bias-cut crêpe dresses that molded closely to the body. Vionnet applied the delicate techniques of lingerie sewing to outerwear, as has Alaïa, who combines the stitching and seaming normally used in corsetry to achieve the perfect fit of his clothes. Combined with elasticated fabrics for maximum body exposure, his garments hold and control the body, yet retain their shape.
Although, at first sight, Alaïa's clothes seem to cling to the natural silhouette of the wearer, they actually create a second skin, holding in and shaping the body by techniques of construction such as faggoting. This body consciousness is further enhanced by using materials such as stretch lace over flesh-colored fabric to give an illusion, rather than the reality, of nudity.
Alaïa introduced his first ready-to-wear collection of minimalist clothes in 1980 and continued to work privately for individual customers until the mid-1980s. Although his clothes are indebted to the perfection of the female body and indeed, at times, expose great expanses of skin, he manages to avoid vulgarity with muted colors and expert tailoring. He introduced riveted leather, industrial zippers, and a wide range of fabrics, including lace, leather, polymers, silk jersey, and tweed.
Sometime in the mid-1990s, Alaïa vanished from the fashion scene, although in an August 2000 interview in Harper's Bazaar, Alaïa insists he "never went anywhere." In 2000, he burst back into the limelight with a new collection. The new look was a drastic departure from his previous sexy, on-the-edge designs. This collection, described as "much more sober, almost Amish in comparison" by critics, has as its centerpiece the pleat, accentuated by long, Alpine-inspired flower-printed skirts, girly knit dresses, and bead-bedecked leather pleated kilt-style skirts. His classic designs of the 1980s are also being adapted by designers such as Helmut Lang, Marc Jacobs, Narciso Rodriguez, Nicolas Ghesquíre, and Rei Kawakubo for the likes of Louis Vuitton, Balenciaga, and Loewe. Alaïa also had a retrospective exhibition in September 2000, with an all-star cast turning out to honor him, including fellow designer Calvin Klein, supermodels Stephanie Seymour, Iman, Heidi Klum, and Naomi Campbell, as well as Jocelyne Wildenstein, Polly Mellen, Kate Betts, Daryl Kerrigan, Amanda Lepore, David LaChapelle, and Sigourney Weaver.
In a surprising move, Alaïa joined forces with Miuccia Prada's label as a designer, joining Lang, and Prada herself. Alaïa will continue to handle all distribution in France from his boutique in Paris, and Prada will handle his worldwide distribution.
Alaïa shows regularly but nevertheless seems above the whims and vagaries of the fashion world, producing timeless garments, rather than designing new looks from season to season, and inspiring the adulation of enthusiastic collectors that was once reserved for Mariano Fortuny.
~~~~~~~~~~~~~~~~~~~~~~~~~~~~~~~~~~~~~~~~~~~~~~~
Albini, Walter

Born: Born Gualtiero Albini in Busto Arsizio, near Milan, 9 March 1941. Education: Studied fashion and costume design, Istituto Statale di Belle Arti e Moda, Turin, 1959-61. Career: Illustrator for Novità and Corriere Lombardo periodicals, Milan, and freelance sketch artist, Paris, 1961-64; freelance designer for Krizia, Billy Ballo, Basile, Callaghan, Escargots, Mister Fox, Diamantis, Trell, Mario Ferari, Lanerossi, Kriziamaglia, Montedoro, and Princess Luciana, Milan, 1964-83; established Walter Albini fashion house, Milan, 1965; signature ready-to-wear collection introduced, 1978; Walter Albini Fashions branches established, London, Rome, Venice. Died: 31 May 1983, in Milan.
In William Shakespeare's Richard II, "report of fashions in proud Italy" are the vanguard for what comes to England only in "base imitation." Walter Albini epitomized the brilliant epoch of Italian fashion in the 1970s, when it seized the international imagination. At least as much as any other designer, if not more, Albini had the Italian spirit con brio. Journalists compared him to Yves Saint Laurent and Karl Lagerfeld, designers whose careers outlasted Albini's flash of brilliance. Albini brought his obsession with the 1920s and 1930s to the elongated line and youthful energy of the 1970s; his collections of 1969 and 1970 tell the story of his encapsulation of the time: Gymnasium and Gypsy and China in 1969; Antique Market, the Pre-Raphaelites, Safari, Military, and Polaroid in 1970.
Sadly, Albini so brilliantly embodied the 1970s for Italy (as one would perhaps say of Halston in the U.S.) because of the détente of his work by 1980 and his death in 1983, just after his forty-second birthday. Isa Vercelloni and Flavio Lucchini, in their 1975 book, Milano Fashion, described Albini's mercurial yet gifted personality and habits: "From adolescence he still retained the capacity of dreaming, but with the ability of giving body or a semblance of reality to his world of dreams. He had the rare quality of even doing this without spoiling it. This is why women like his dresses so much. They recognize immediately that imagination is given power."
It was a wide-ranging imagination, indicative of the 1970s in its travelogue-inspired wanderlust, that captured the vivacity of Diana Vreeland's Vogue of the 1960s. Like Vreeland, Albini loved the 1920s and extolled the freedom of women and reminded them of their liberation during that period. Also like Vreeland, Albini was smitten with North Africa and the potential for exoticism. He played with paisley and was fascinated by the pattern and design asymmetry as well as the mysterious women of China. His pragmatic exoticism is evident in a spring 1980 t-blouse and party skirt combination, described in a Harper's Bazaar March 1980 ad as "the mystique of madras. A bit sophisticated for midnight at the oasis…but divine for sunset on the patio."
So many collections were produced in his own name and others between the late 1960s and 1980 that he touched upon many themes, but he returned consistently to the 1920s and 1930s. He had moved to Paris because of a lifetime preoccupation with Chanel, whom he had glimpsed during her late years, but he more substantively used her as a touchstone for his collections. His fall 1978 knits, as photographed by David Bailey, intensified the luxury of Chanel tailoring, although slightly oversized, in a palette of bronze and browns. For his Mister Fox line in beautiful geometrics, he approximated Sonia Delaunay, but echoed the feeling of Chanel. His movie and fashion magazine passions would encompass Katharine Hepburn and Marlene Dietrich, but for Albini these merely confirmed the role of Chanel in freeing women to be comfortable in sportswear- and menswear-derived styles that were luxuriously tailored for women.
Besides Chanel, Albini's other passion was for ancient Egypt, for which he felt mystical affinity and which served as an inspiration for his men's and women's fashions—especially his fashion drawings. By the mid-1970s, Albini's style was predominately an amalgam of ancient Egyptian motifs (although often attributed elsewhere in the East) and Chanel, using the Chanel suits and proportions with the accommodations of wrapping á la Egyptienne and the excuses of Venice, North Africa, and India for billowing harem pants and other pantaloons of which Chanel would scarcely have approved. In 1978 a riding skirt, with its fluid drape, was teamed with a short cropped jacket, combining tradition with contemporary 1970s style.
In some ways, Albini was the precursor of Gianni Versace. His intensely personal style respected many historical exemplars and was passionately defended and highly expressive. Like Versace, Albini combined a studious infatuation with the past with a passion for his own synthesis of styles and a comprehensive style attainment and conviction that was his own; he created this with a fervor approaching fanaticism that reinforced the sense of abiding adolescence and keenest ebullience for the work.
Vercelloni and Lucchini asked Albini what his motto was; he said, "Enjoy today and leave unpleasant things for tomorrow." For Albini and the extravagant fashion he created, fate held no tomorrow and no unpleasantness.
   ~~~~~~~~~~~~~~~~~~~~~~~~~~~~~~~~~~~~~~~~~~~~~~~
Alfaro, Victor
Born: Chihuahua, Mexico, 26 May 1963; immigrated to the U.S., 1981. Education: Attended University of Texas, 1982; graduated from Fashion Institute of Technology, 1987. Career: Assistant to Mary Ann Restivo, late 1980s, and Joseph Abboud, 1990; established own business, early 1990s. Awards: Vidal Sassoon Excellence in New Design, 1993; Omni-Mexican award for Best Latin American Designer, 1994; Dallas Fashion award, 1994; Council of Fashion Designers of America New Fashion Talent award, 1994. Address: 130 Barrow Street, New York, NY 10014, USA.Victor Alfaro, known for his "come hither" designs, claims the only fashion design training he has ever had was poring through fashion magazines. Born and raised in Mexico, Alfaro moved to the U.S. as an exchange student to perfect his English and to study communications at the University of Texas. At the time, fashion design was "just a fantasy," but later he applied to the Fashion Institute of Technology in New York City. After graduating in 1987, Alfaro worked as an apprentice designer, and by the mid-1990s, at the age of 30, he had become recognized as one of the leading designers in the United States.Bare simplicity and an equally frank sexuality inform Alfaro's dresses for cocktail and evening. Bridget Foley predicted in March 1994 W article, "The heir apparent to Oscar and Bill? Perhaps. Victor Alfaro may be New York's next great eveningwear designer." If Alfaro is the torchbearer of style for New York nights, his role betokens a shifting sensibility, one that pointedly exalts the body, seeks out youth, and takes risks. Skilled in the vocabulary of separates (he worked for Mary Ann Restivo and Joseph Abboud), Alfaro eagerly draws upon the street for inspiration and demands a body consciousness that have made some call him the American Alaïa. In early recognition as a designer for celebrities, photographed by Francesco Scavullo for Cosmopolitan covers in New York, Alfaro flirted with attention-getting vulgarity, though his collections have come to represent a more natural but nonetheless willfully seductive sensuality.
Amy Spindler, in an April 1993 piece for the New York Times, commented, "Victor Alfaro's clothes come with plenty of attitude." The attitude is, of course, of postfeminist women's individuality and options, including a very 1990s' reexamination of the possibilities of seductive, relatively bare clothing in the most luxurious fabrics. One needs a self-confidence approaching attitude to wear dresses and outfits of such body-revealing form, but one also needs a distinct segregation of Alfaro's partywear from day-to-day clothing. His clothes are not for the timid, but neither are they for showgirls. Spindler refers to his "sex-kitten clothes," but their relative austerity, depending entirely upon textile and shape, keeps them from being vitiated by Las Vegas.
Alfaro does however raise provocative issues of women's overt and self-assured physicality and sexuality more than of sexual license. To be sure, short skirts, bared shoulders, lace in direct contact with skin, leather, and sheer skimming fabrics suggest fetishes, but there is always something strangely wholesome about Alfaro's sensibility. Singer Mariah Carey is quoted as saying very aptly that Alfaro's "clothes are fierce." Their ferocity resides in the fact that they define strong women.
According to Ricky Lee ( New York Times, 2 August 1992), Alfaro was counseled by one buyer from Chicago that in order to succeed, he should add more suits to his line. But Alfaro rightly declined, knowing he was not creating professional clothes nor daywear basics. He eschews sobriety and, with it, tailoring. Rather, he was responding to sexuality's siren and creating the sexiest siren dresses for young New Yorkers of the 1990s. He is dressmaker to the legendary Generation X. Alfaro was defining a strong personal style and a clientéle that is generationally, visually, and libidinously nurtured on MTV and informed by multicultural street smarts. Woody Hochswender reporting for the New York Times in April 1992, found Alfaro's collection "suggested sex—in a voice loud enough to clear a disco. There were lace chaps and fake snake chaps, worn over bodysuits. Skintight snakeskin jeans were zipped all the way from front to back, reason unknown. Rib-knit sweater dresses were worn with harnesses of metal mesh, Mr. Alfaro's version of the bondage look sweeping fashion."
Explaining his relative restraint and deliberate avoidance of vulgarity in his fall/winter 1993-94 collection to Foley, Alfaro said, "I didn't want it to look cheap. Buyers see every trick in the book, and they want clothes that are wearable." Alfaro has consistently made unencumbered clothing, emphasizing minimalist sensibility and cut and employing luxurious materials. In these characteristics, he is a designer in the great American tradition. His distinctive deviation from this tradition might seem to be his hot sexuality, the body-tracing and body-revealing simplicity of his clothes—but again and again, 20th-century American designers have been dressing advanced new women of ever-increasing power and self-assurance.
In 1996 Women's Wear Daily claimed Alfaro's collection was his "best ever." The same year, he designed a line of coats, manufactured by Mohl Furs, featuring an ink-dyed Persian lamb pea coat, a leather trench coat, and a camel hair coat lined with mink inspired by photography of Jacques-Henri Lartigue. Despite his talent and popularity, Alfaro was experiencing financial difficulties and seeking financial backing. He entered into a licensing agreement with Italian manufacturer Gilmar in 1998 which allowed him to make long-term plans, be more involved in the manufacture of his garments, and to have a ready place in the European fashion scene.
His first collection shown under the agreement with Gilmar was well received. Merging Milanese chic with American-styled sportswear, Alfaro created a less revealing collection he "claimed to have started with the idea of a rich hippie, but in the end, this collection had little to do with a redux of counterculture references." True, his pieces were more boxy and full than his previous lines, but keeping to his unique and sensuous style, Alfaro added rabbit mules as a finishing touch. For the fall of 2000, Alfaro and Gilmar debuted their new line, Vic., which sells for nearly half the price of Alfaro's signature line. Alfaro told Women's Wear Daily (7 December 1999), "The Vic. line will be a little bit more on the fashion side and forward. It's still a designer collection; it's just another one of my personalities."
Alfaro is creating the postfeminist fashion sensibility, consummately beautiful in execution, infinitely skilled in construction, and assertively avant-garde. Even as some critics dismiss his work as offensive, Alfaro is a true fashion risk-taker and visionary. He is defining and dressing today, and will dress hereafter, the bravest woman of the future.
~~~~~~~~~~~~~~~~~~~~~~~~~~~~~~~~~~~~~~~~~~~~~~~