History of Fashion – The 1930s
                   The depression: colours were dark, hats, hair styles and necklines downwards.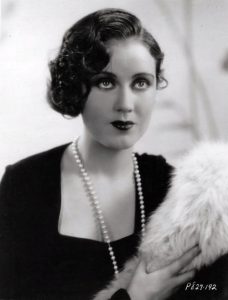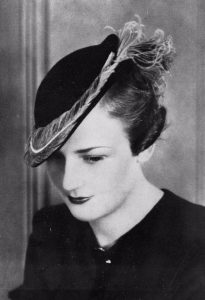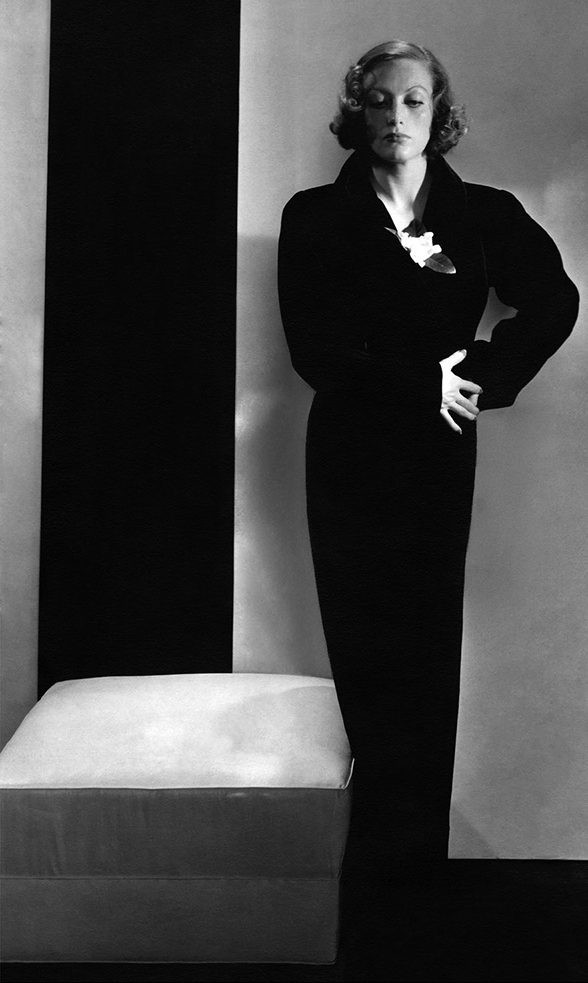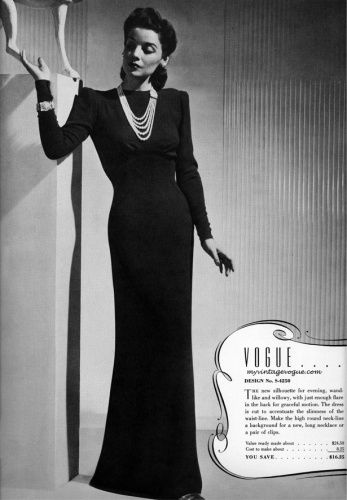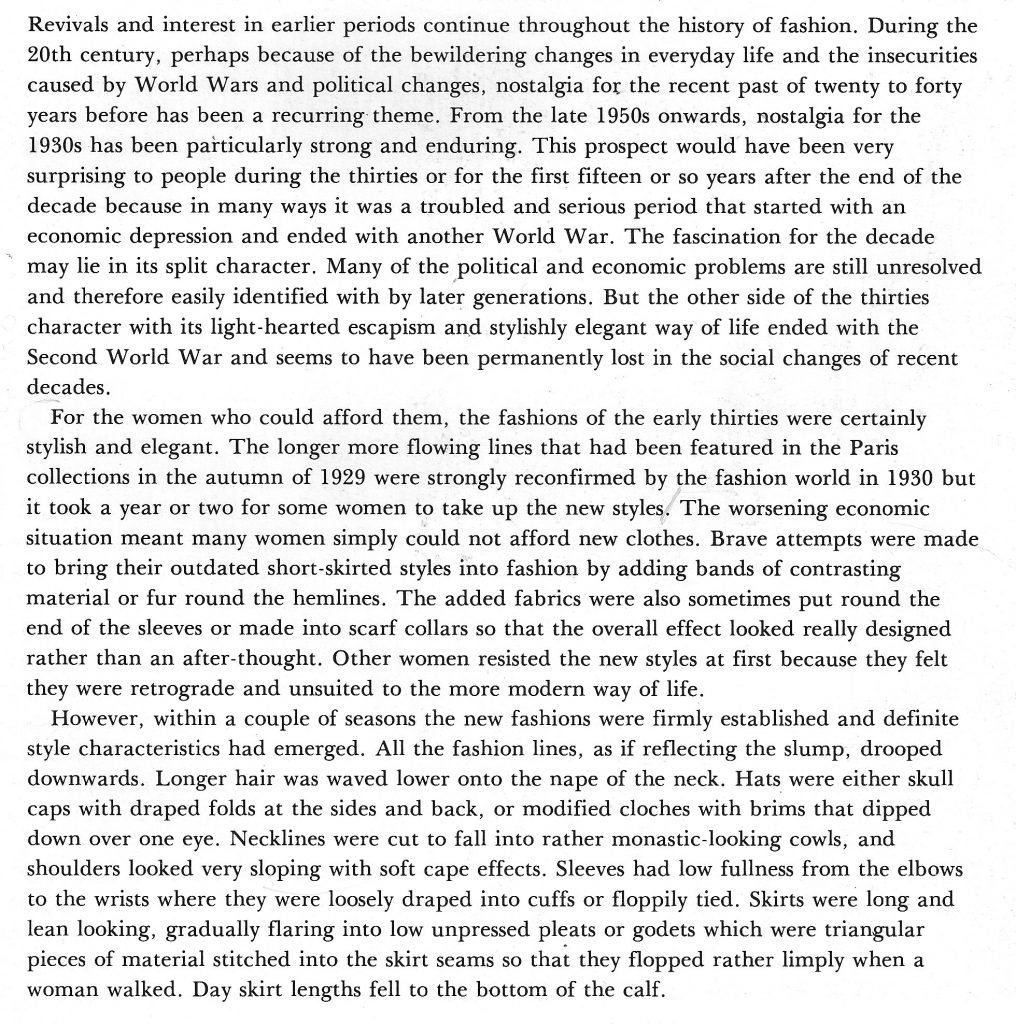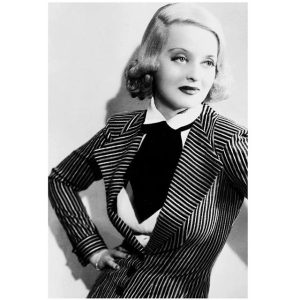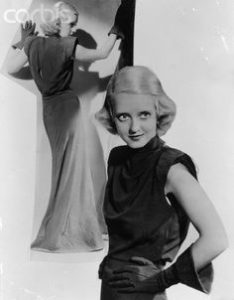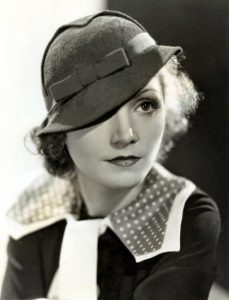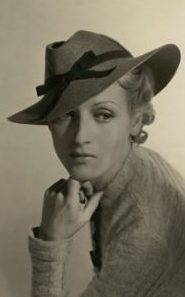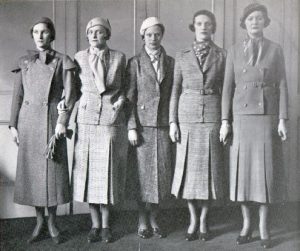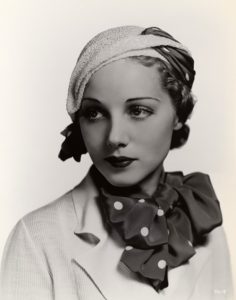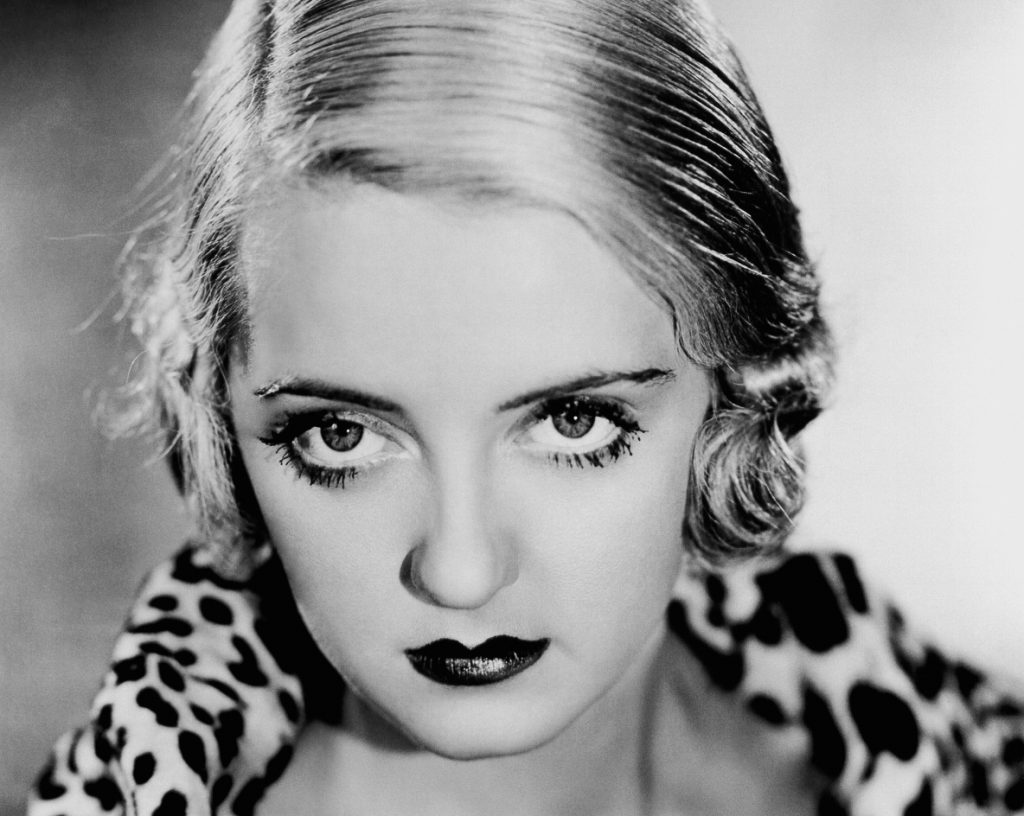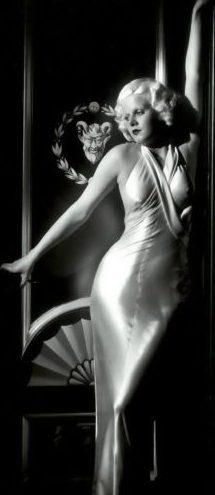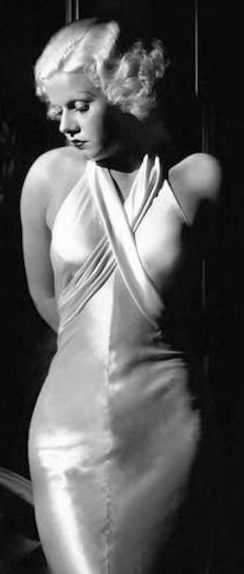 1930s Jean Harlow the first Blonde Bombshell of Hollywood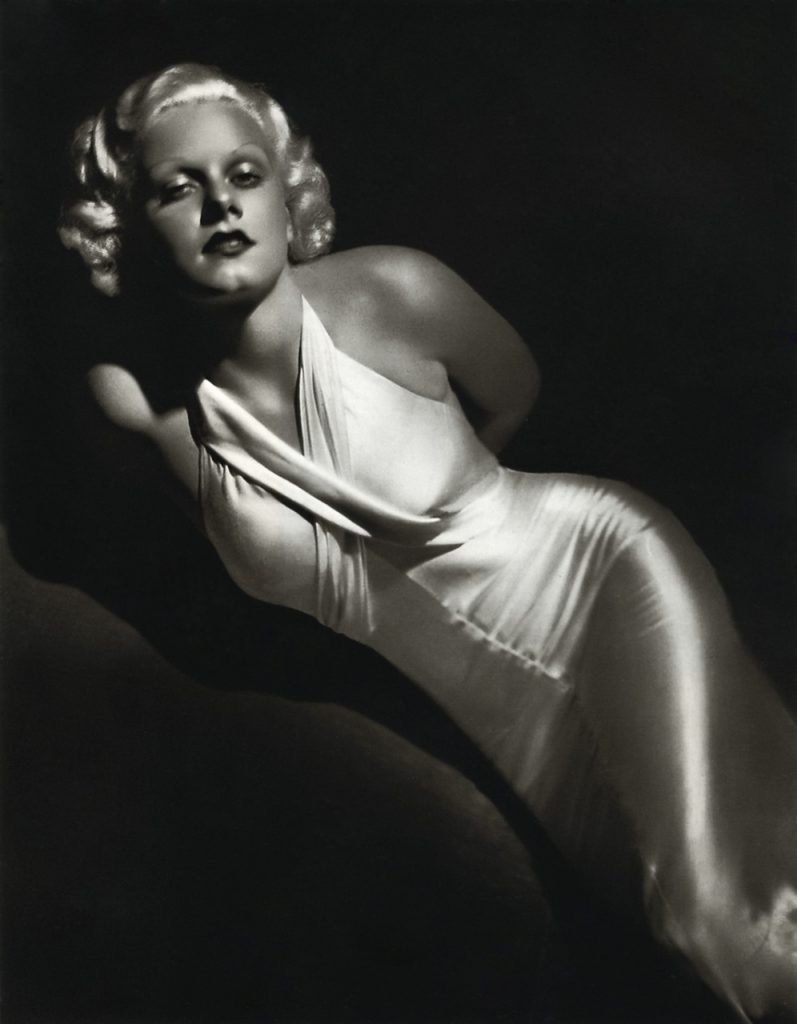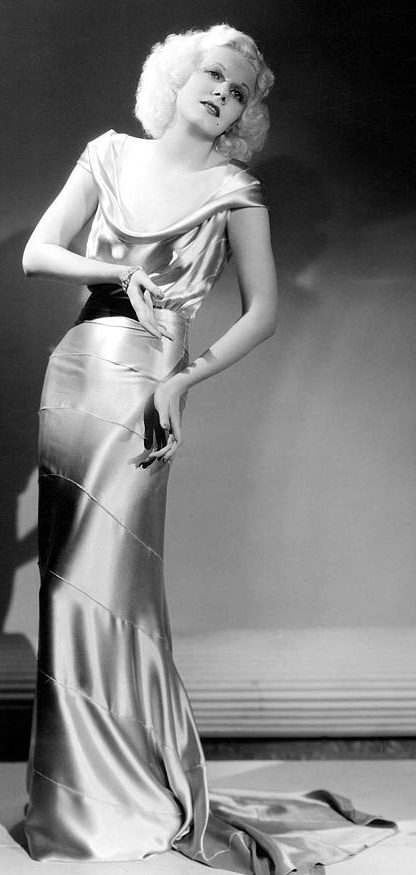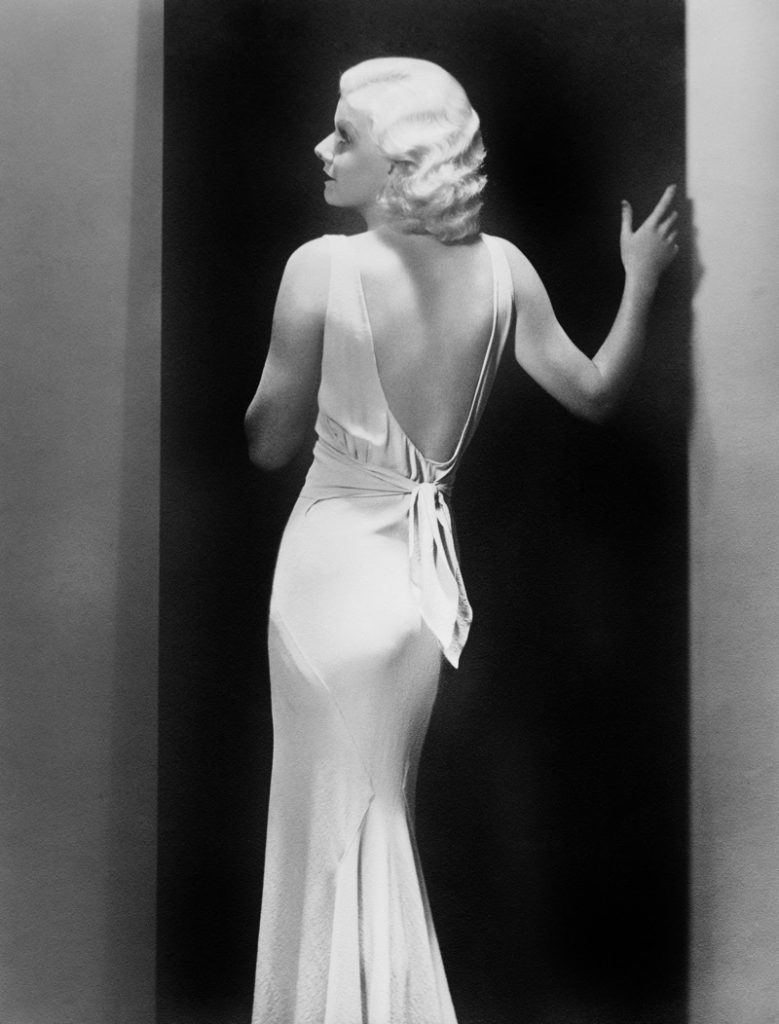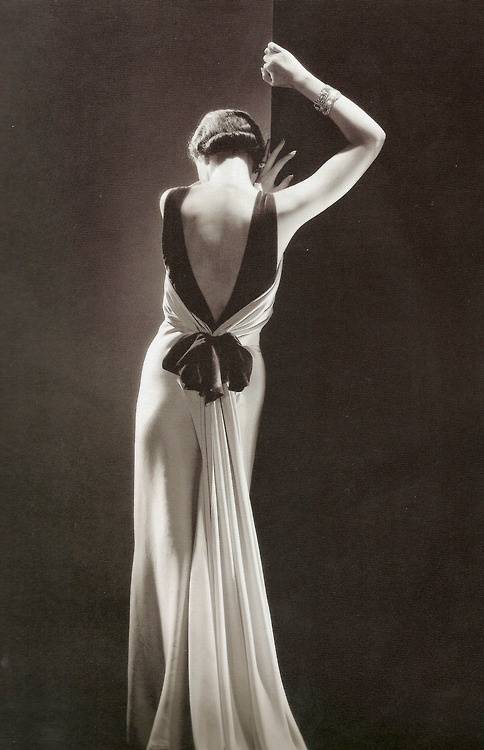 Backless bodices and floor length back sweeping skirts were a feature of evening dresses during the early thirties.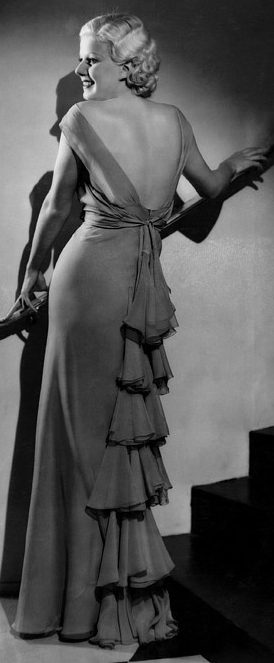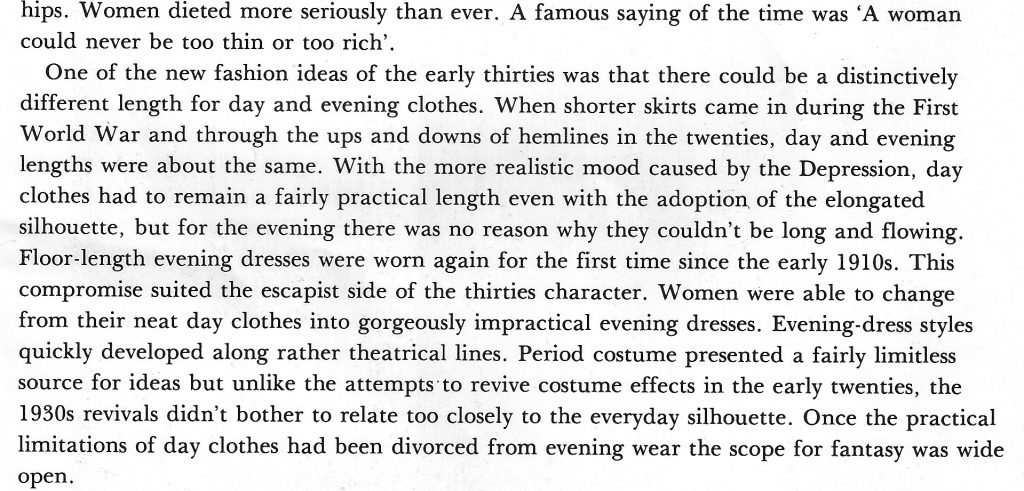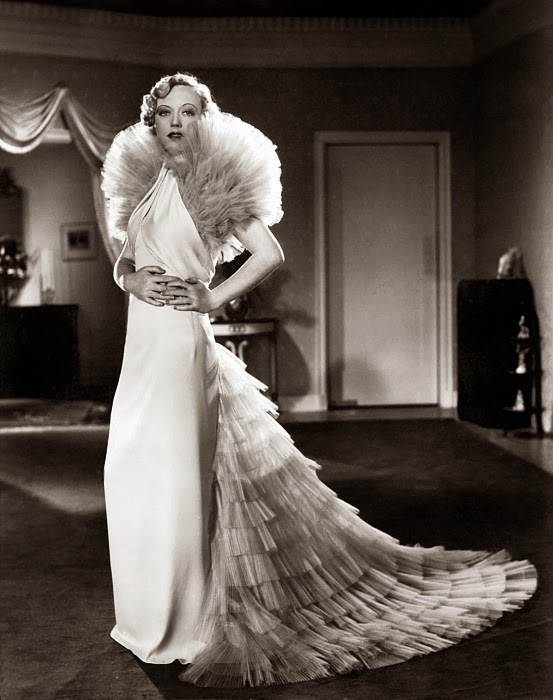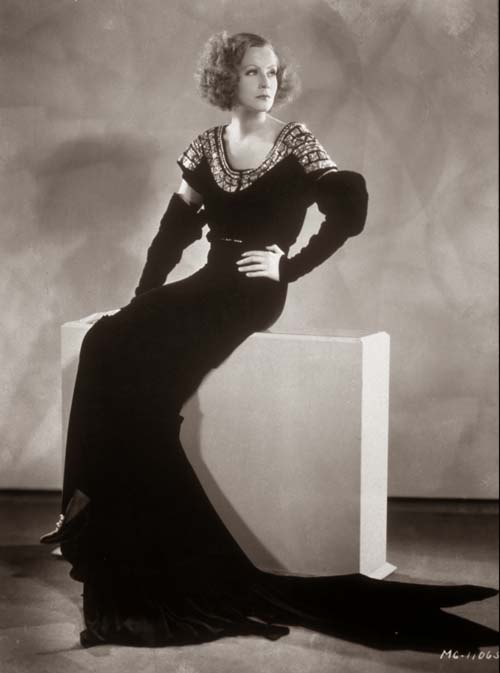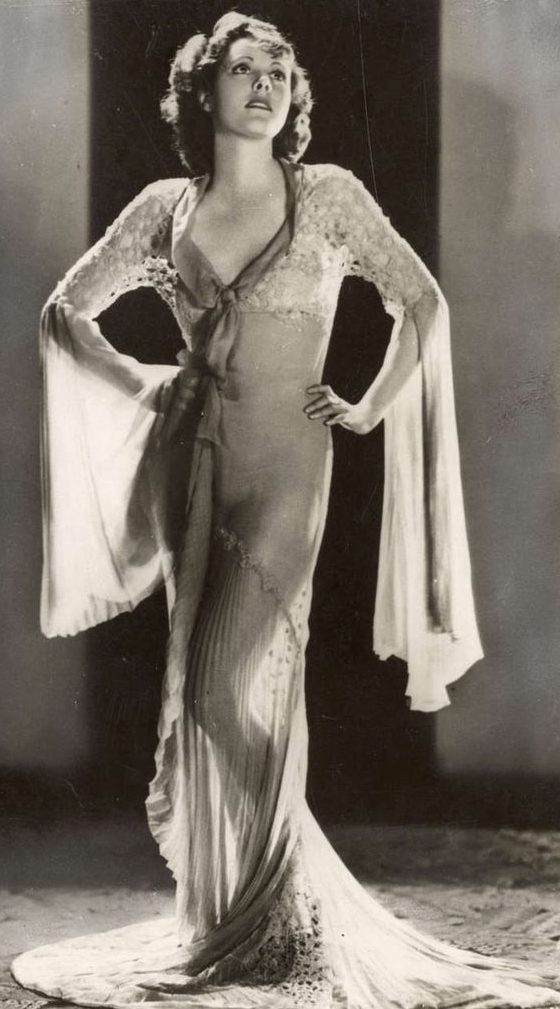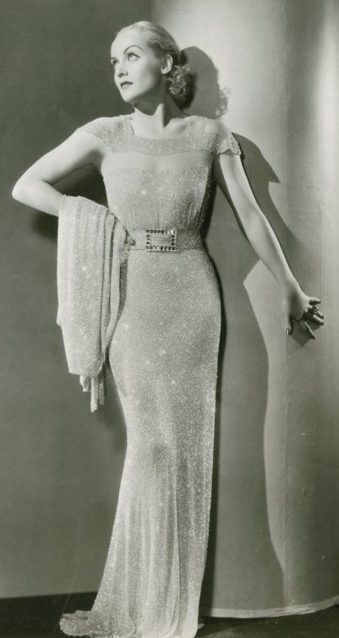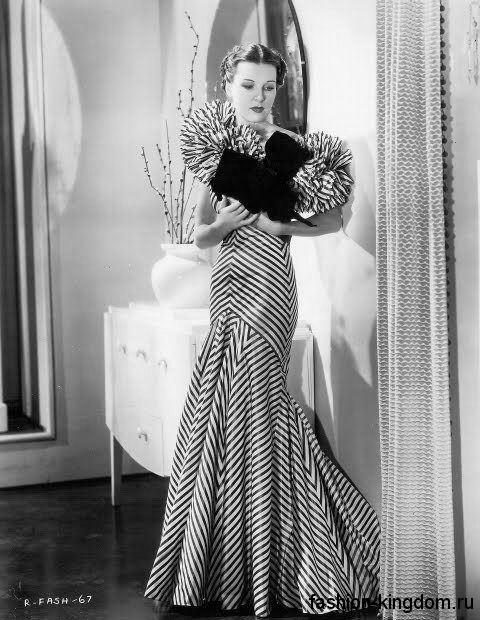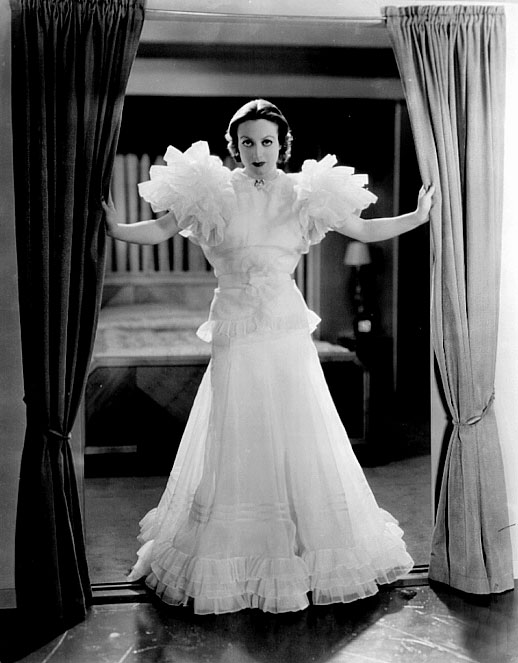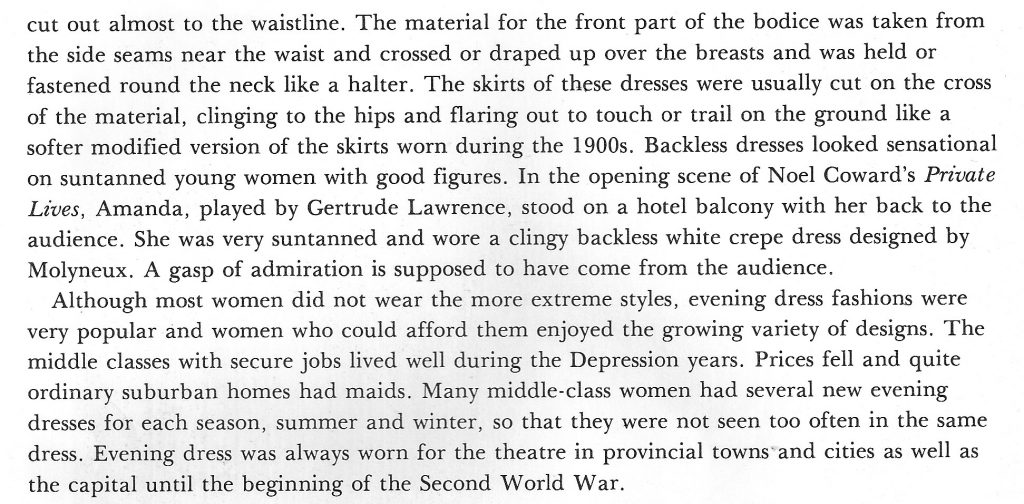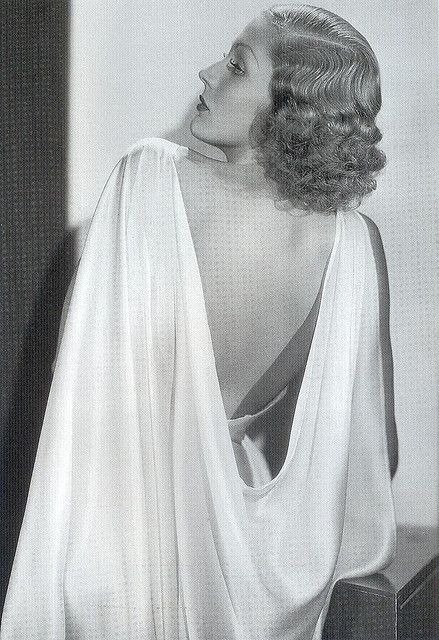 Adrienne Ames, 1930s –  Low-backed, white evening dresses were used to show off a deep tan. Film star Adrienne Ames wears a classically draped back, which could possibly have been designed by Madeleine Vionnet or Alix Barton (later known as Madame Grès). Almost sci-fi style wide sleeves made the column dresses worn for evening look slimmer and longer.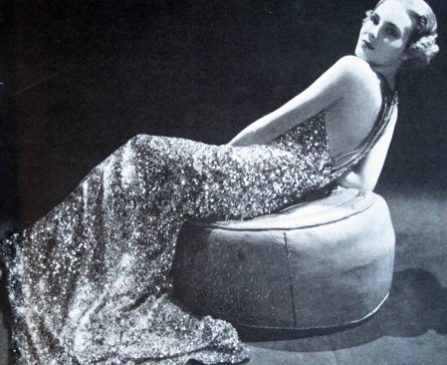 Low-backed, sequinned gown in an ad for Listerine mouthwash. Woman's Home Companion.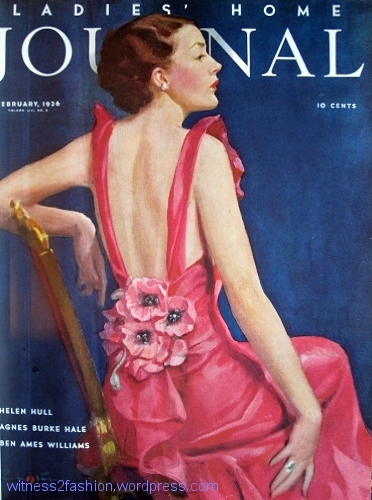 February 1936 Advertisement by Ladies Home Journal depicting the Low-Backed dress.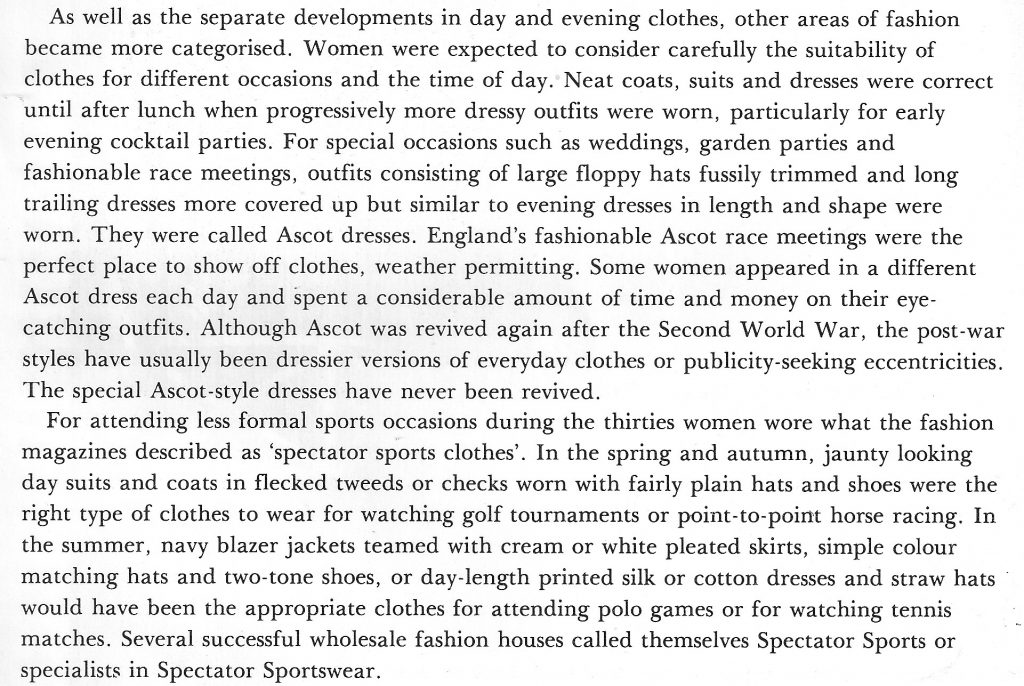 We have this pattern available at the following link:
1930s Vintage Sewing Pattern B36 BLOUSE & PAJAME PANTS (NOT pyjamas) BEACH PANTS (1798)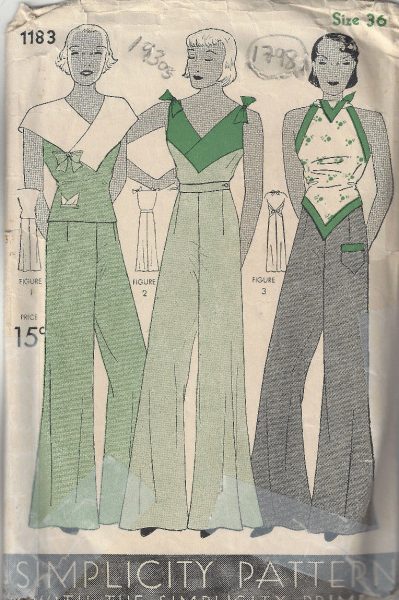 Typical 1930s Beach Pyjamas, and this pattern is available, see link above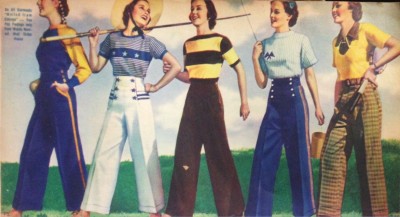 1930s Advertisement for fashionable and popular Women's Pants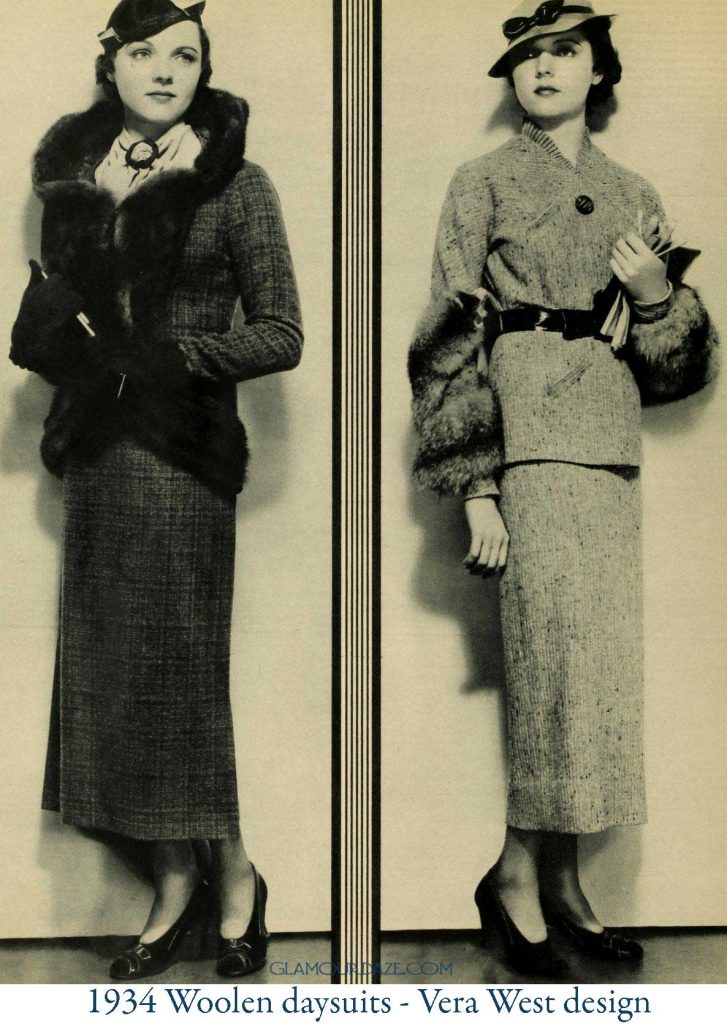 1930s Jaunty looking day suits in Flecked Tweeds or Checks worn with plain hats and shoes.
1930s women's popular sportswear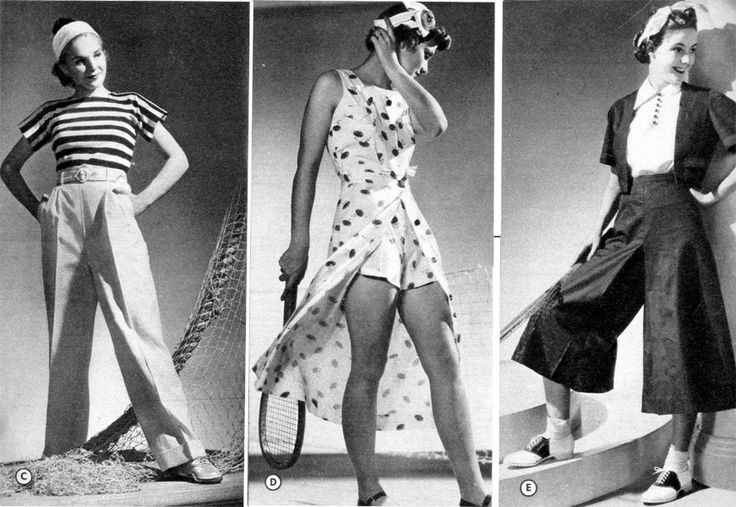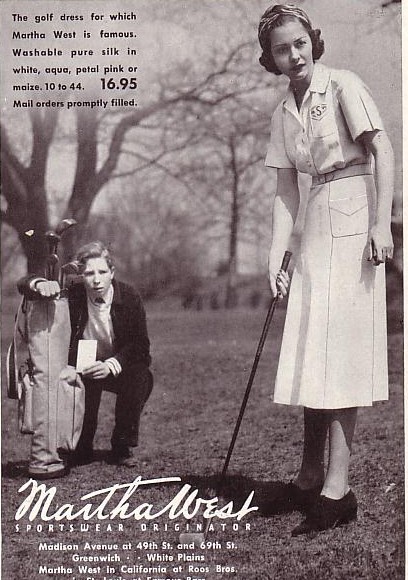 Martha West, Fashion Sports Dress advertisement, 1937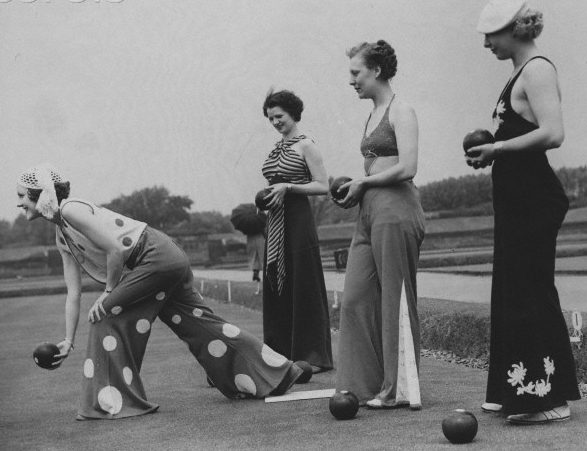 A bowls match with participants wearing the latest fashion in beach pyjamas, England, 1935.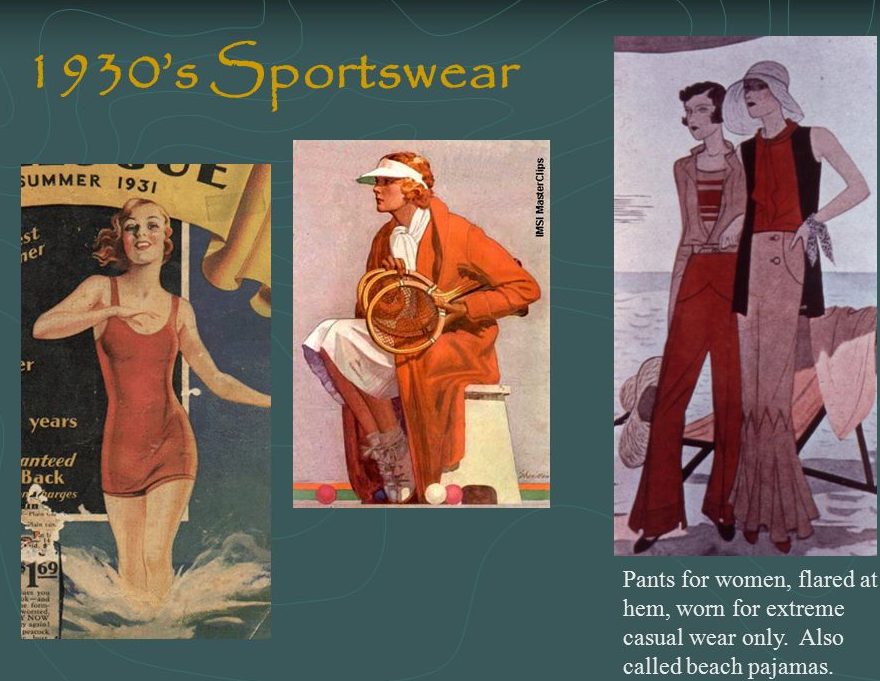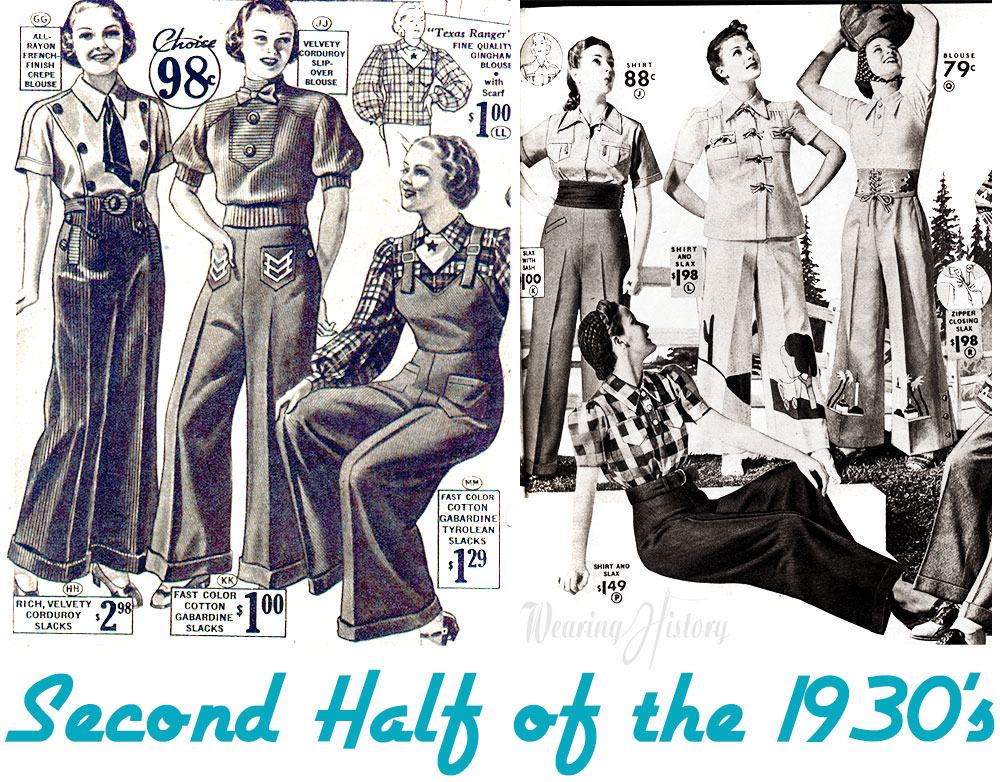 ……..saw more women wearing pants.
The Beach Pyjamas, one of my all time favorite looks from the 1930s. They actually began appearing in the late 20s but with a slimmer profile. These pictures was taken in the 1930s when Beach Pyjamas were the height of fashion, bare backed, suntanned, chic, sexy and stylish.
Left: Striped Beach Pyjamas, England 1935. Center: 1930s. Right: Beach pajamas in Monte Carlo 1930s.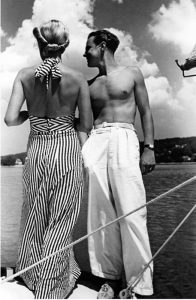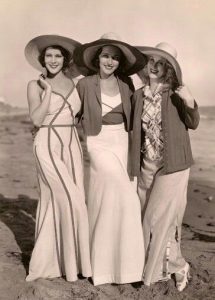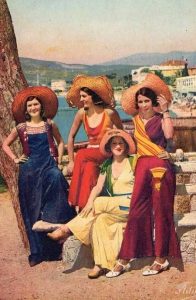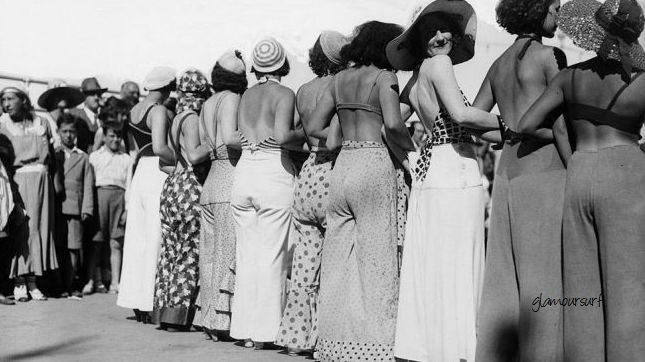 A group of women wear wide palazzo pants and bikini tops as they wander along Margate promenade in 1930.
Great innovations in fashion were seen during the Depression despite the economic hardships of the time. The abbreviated, linear forms of the 1920s quickly gave way to sinuous shapes and longer hemlines. Waistlines returned to the natural position, while remaining relaxed in fit. Designers experimented with new cuts and new materials. Silk and satin fabric was sexy and sensational in the 1930s and very popular on bias cut dresses, a method created by Madeleine Vionnet and popularized by 1930s designers like Madame Gres. For evening, the bias cut gown was favored in silk velvet or silk satin. Synthetic fabrics such as rayon and nylon were in common use for everyday garments.
Within 10 years time silk and satin would literally be banned from use in clothing, since it was the necessary fabric to make parachutes for soldiers during World War II.
After 1935, zippers were employed as a more efficient alternative to labor-intensive hook-and-eye closures. Indeed, in the hands of prestigious houses such as Schiaparelli they became design elements.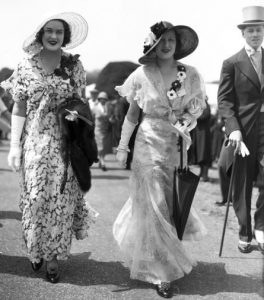 Fashions at the Royal Ascot Races, Berkshire, 14 June 1932. Large floppy hats and long trailing dresses similar in length and shape to many evening dress styles.
King Edward VIII and Mrs Simpson 1936. The younger members the British Royal Family were often photographed in casual resort clothes.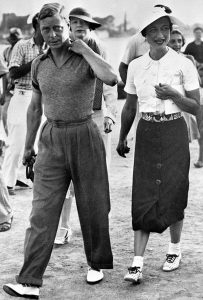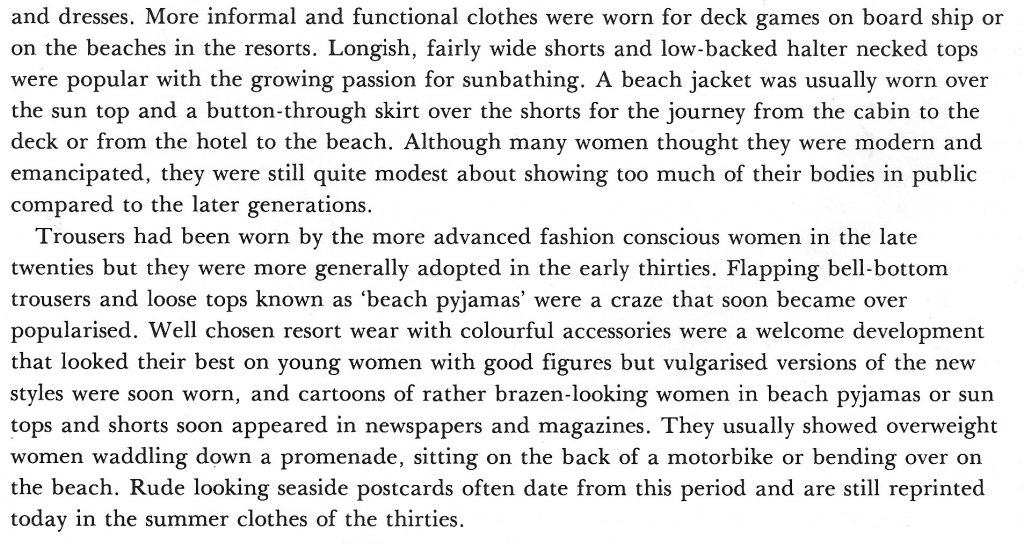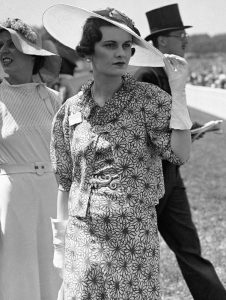 Margaret, Duchess of Argyll, Royal Ascot, 1938.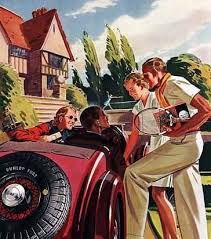 A smart couple dressed in their 'tennis whites'. Women's day skirts were calf length but tennis dresses, like this one, were well above the knee.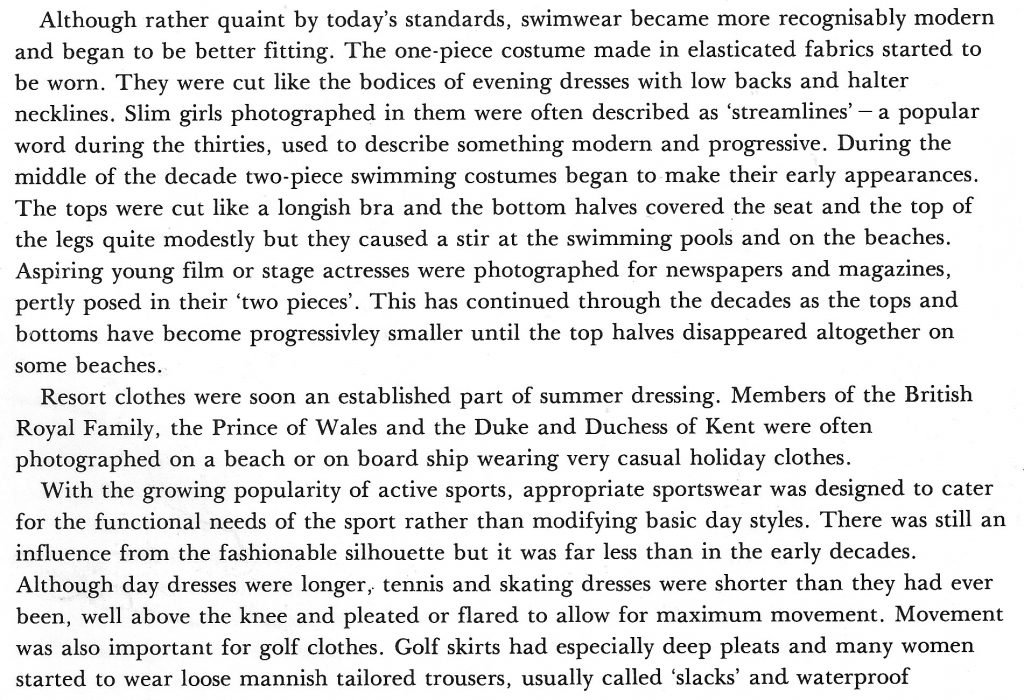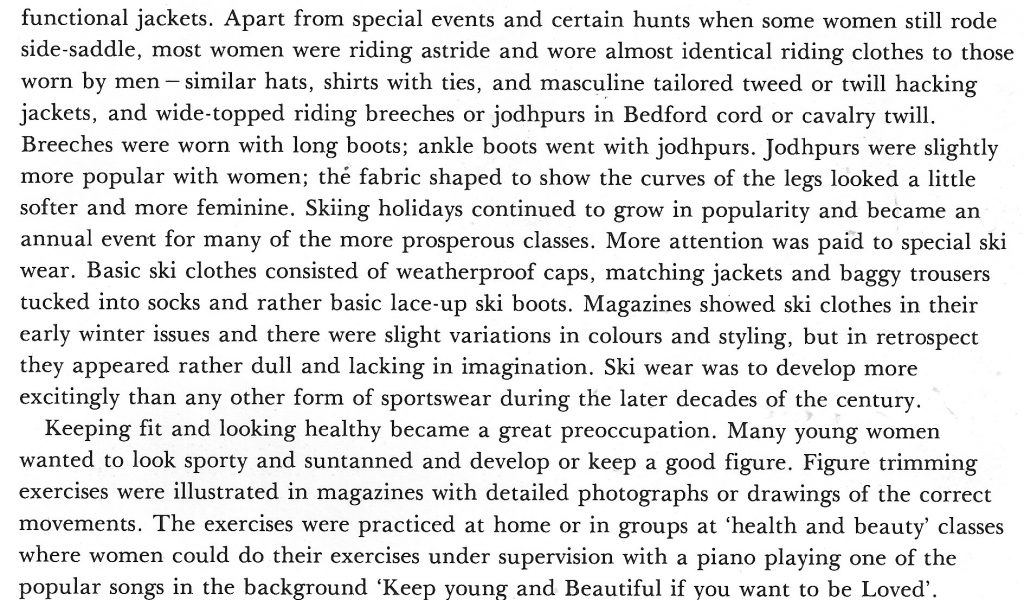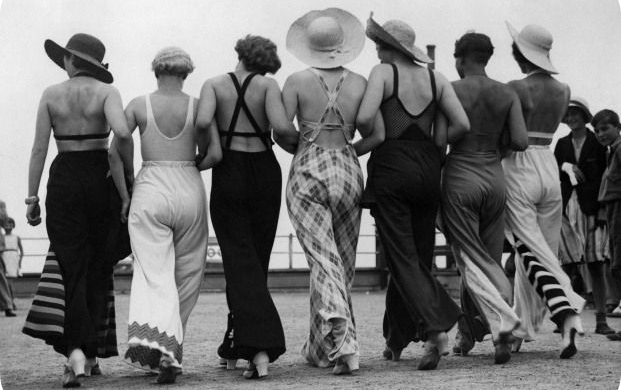 Beauty and the beach 1930s.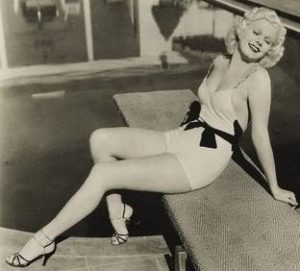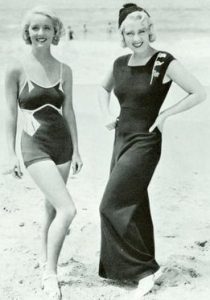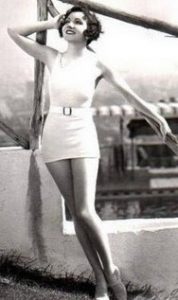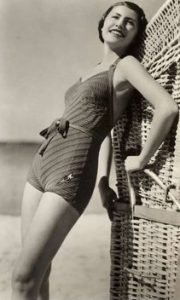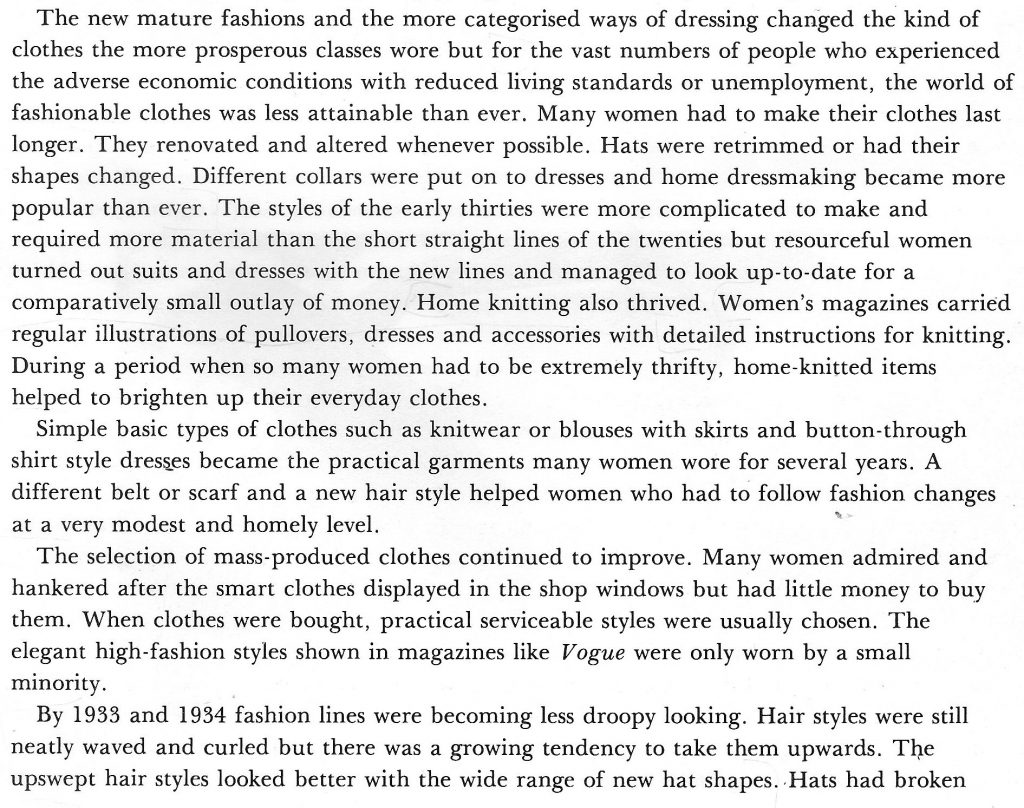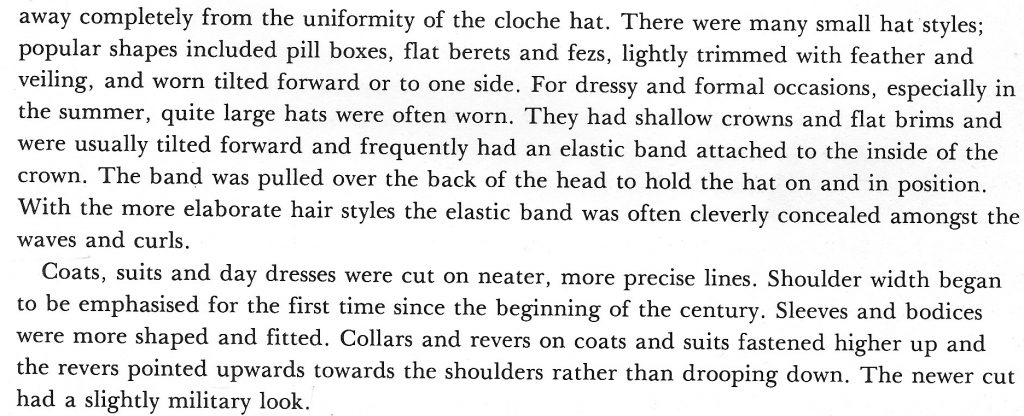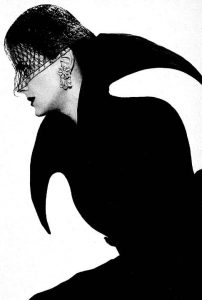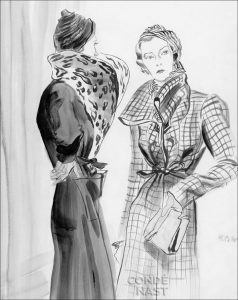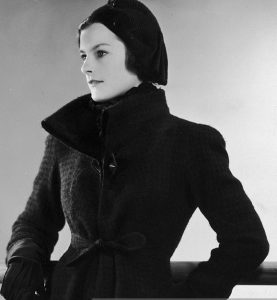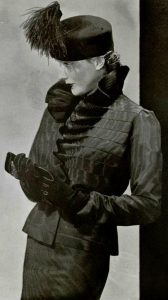 By 1934 Fashion had become less droopy. These Schiaparelli designs show the new built up shoulder lines and high collars.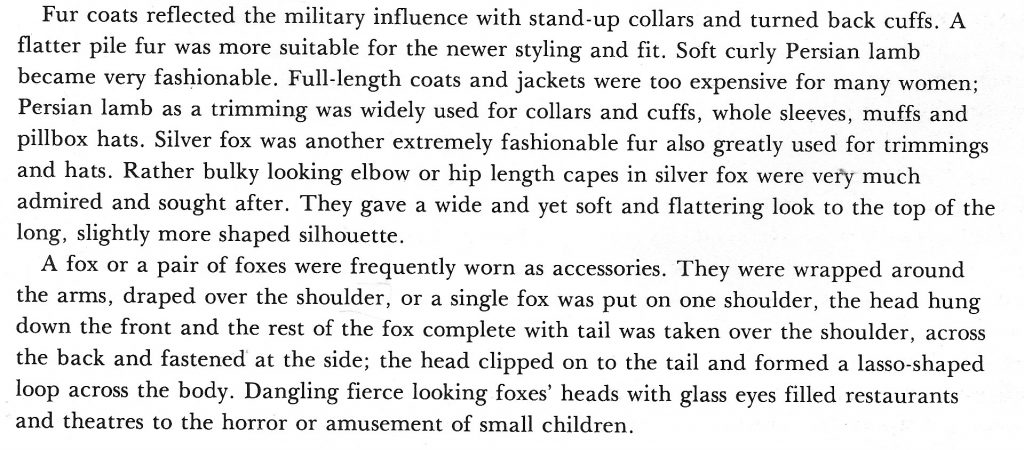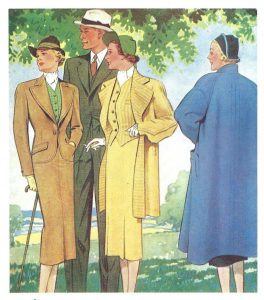 Well cut suits and coats with the wider shoulder line, shaped waists and slightly shorter skirts were popular in the later thirties.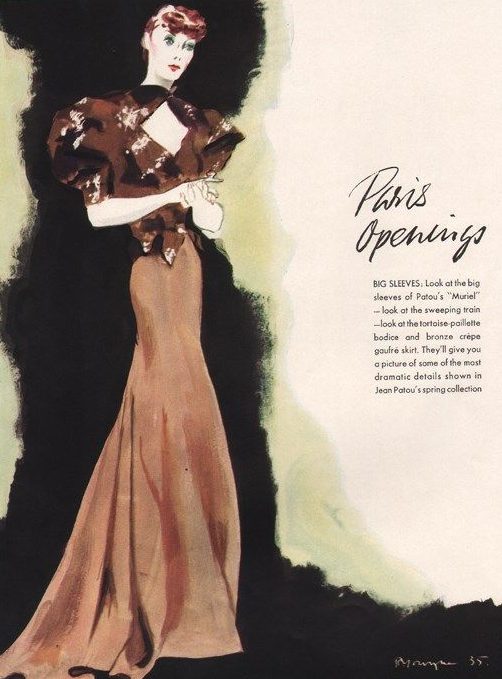 This Jean Patou Evening dress, with full sleeves and wider flaring skirt, was influenced by the styles of the 1890s.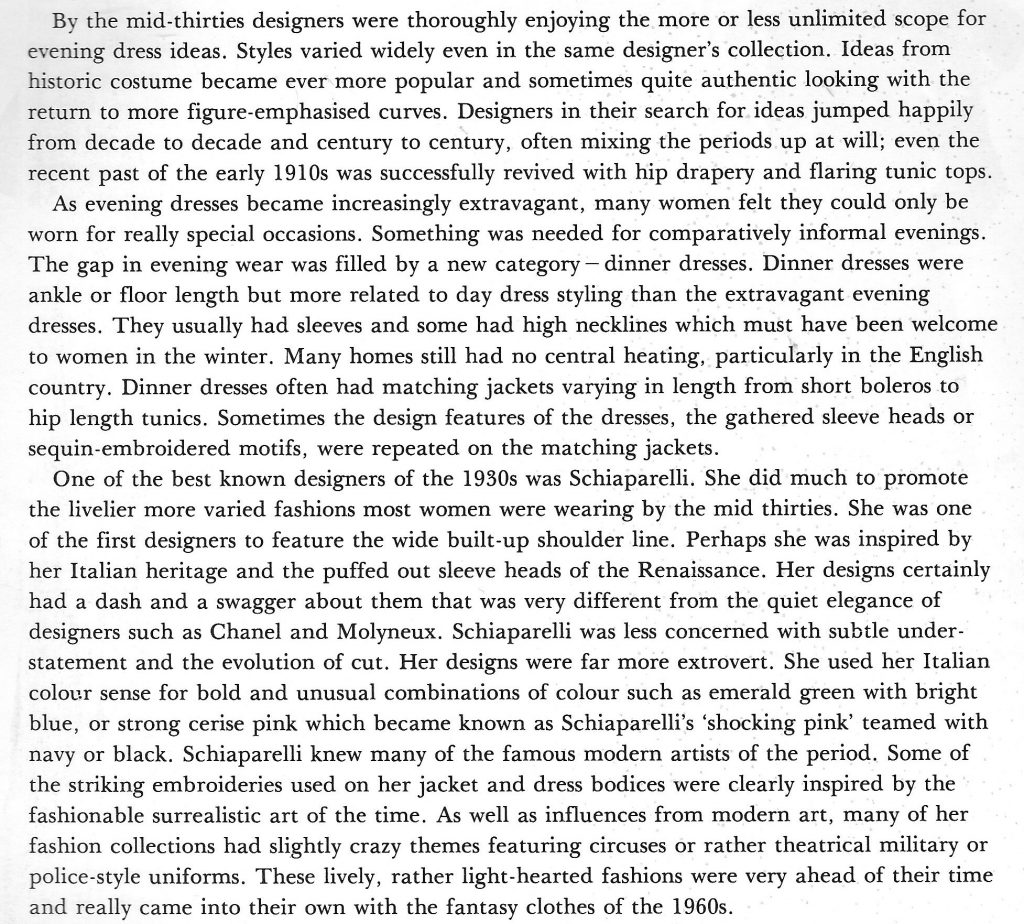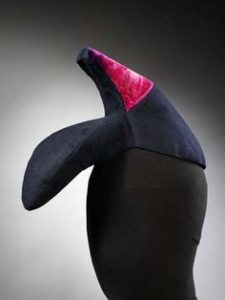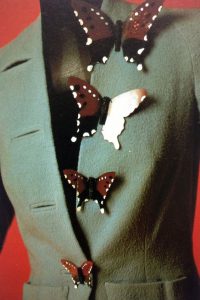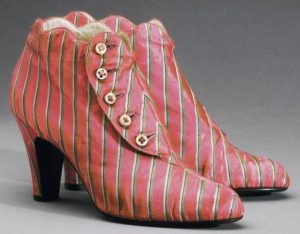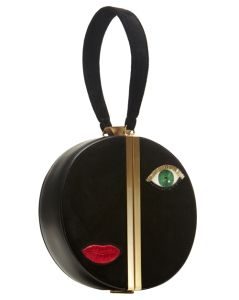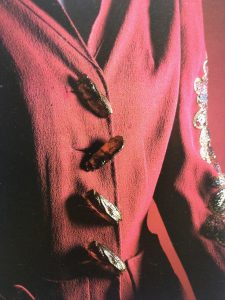 Schiaparelli's novelty design ideas such as her hats, this one known as inverted shoe (top left); suit fastened with butterfly buttons to green jacket; Winter 1939-1940, France – Boots by Elsa Schiaparelli; ELSA SCHIAPARELLI surrealist evening bag, and Schiaparelli insect buttons on red jacket.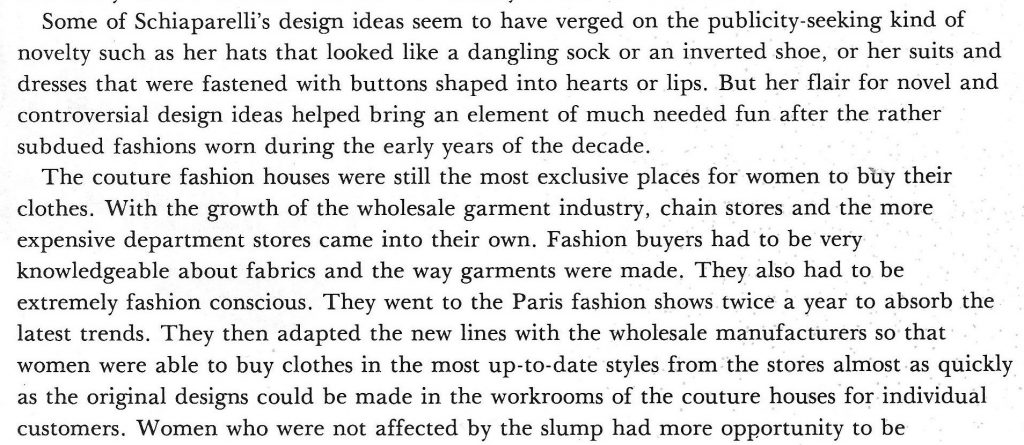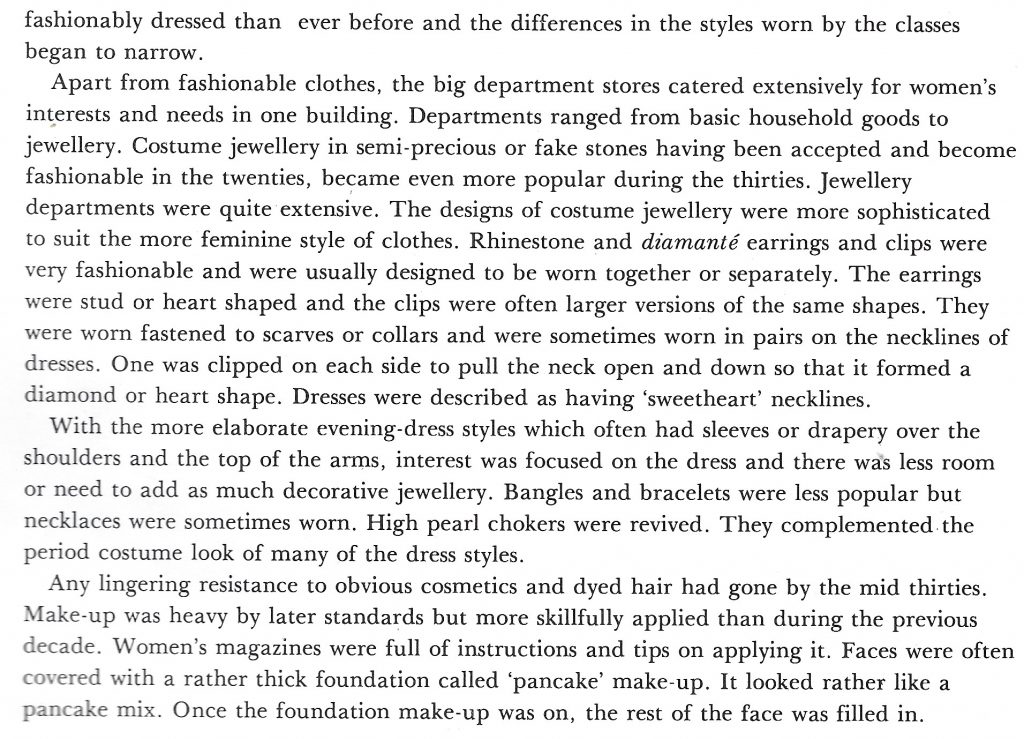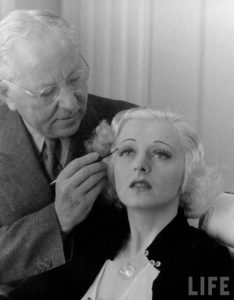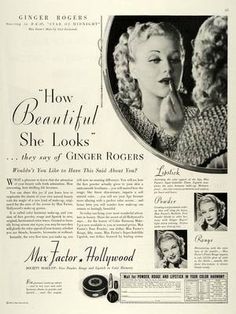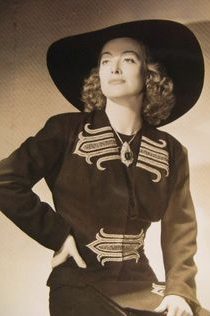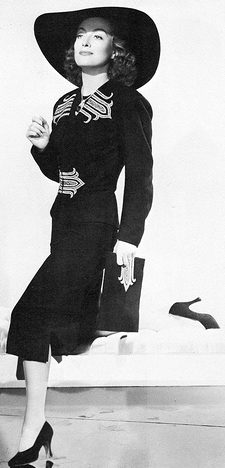 1935 Ad Max Factor Hollywood Makeup Ginger Rogers Star – ORIGINAL ADVERTISING.
Hollywood make-up artist Max Factor demonstrates the latest look in eyebrows, 1937.
Adrian, one of the best known Hollywood dress designers, created this sophisticated black wool suit for Joan Crawford for the film Mannequin, released in 1938.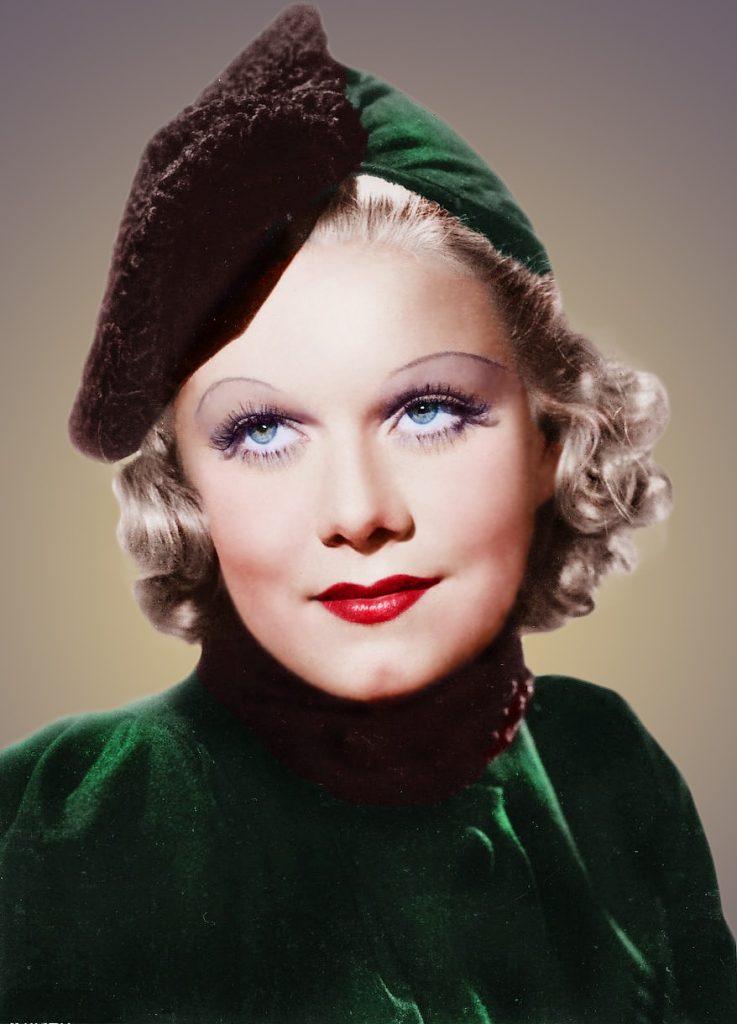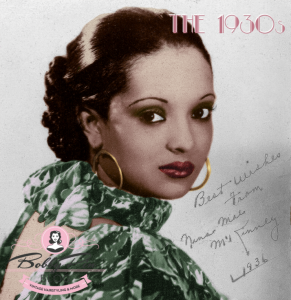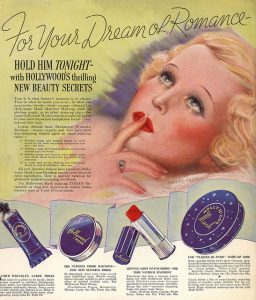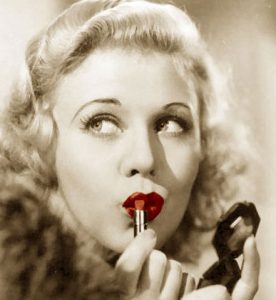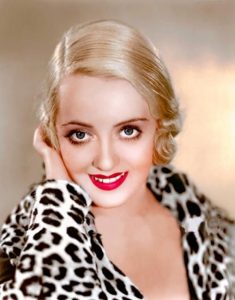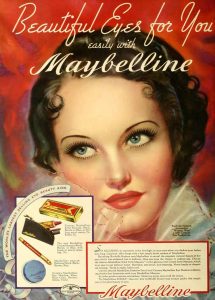 1930s make up style – Eyebrows drawn in, eyelids and lashes shaded and face dusted with powder, lips filled with a fashionable shade of red lipstick.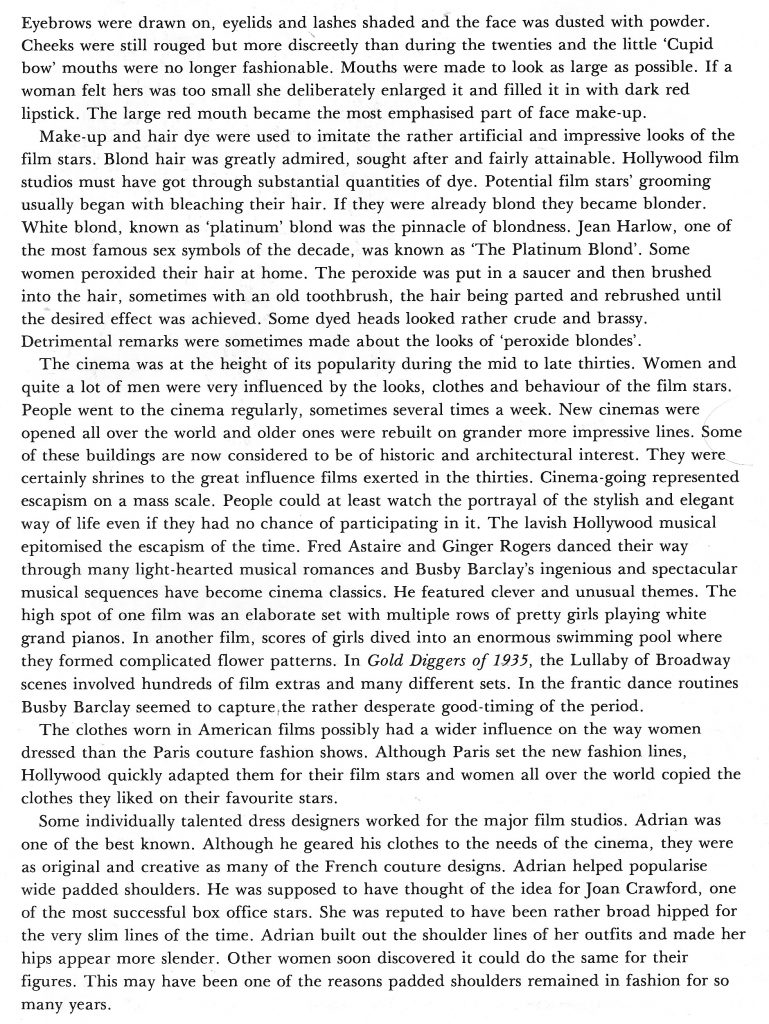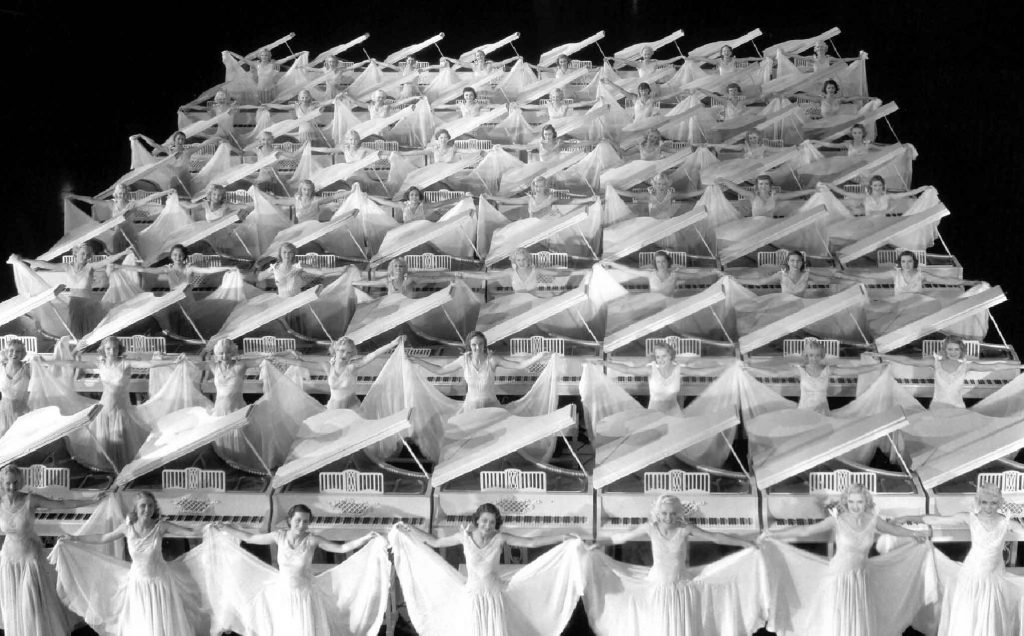 Film: Gold Diggers of 1935, famous white grand piano scene
Marlene Dietrich and Greta Garbo 1930s, were two of the most admired superstars of the thirties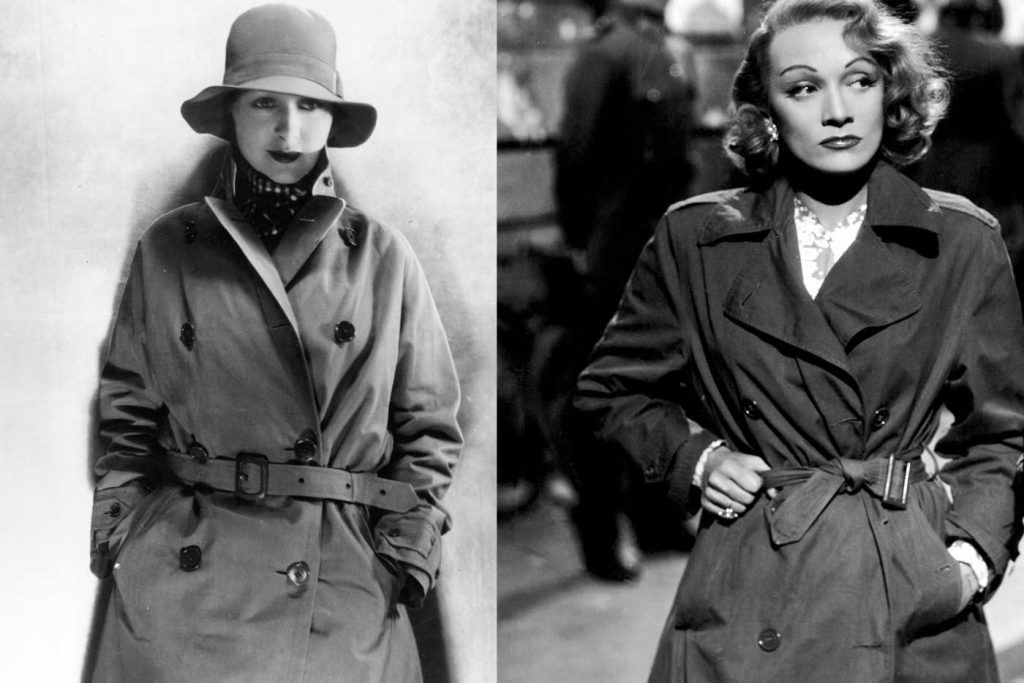 Greta Garbo and Marlene Dietrich in trench coats; many women today still wear trench coats, often with dark glasses, have their hair medium length, generally following the style Garbo and Dietrich made famous in 1930s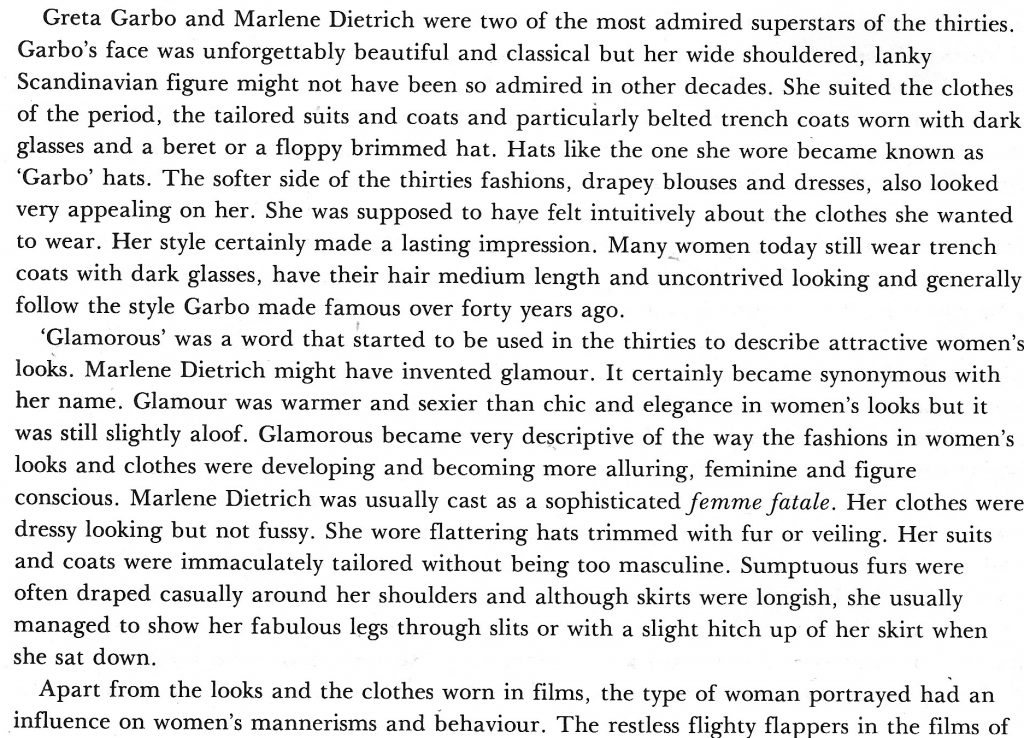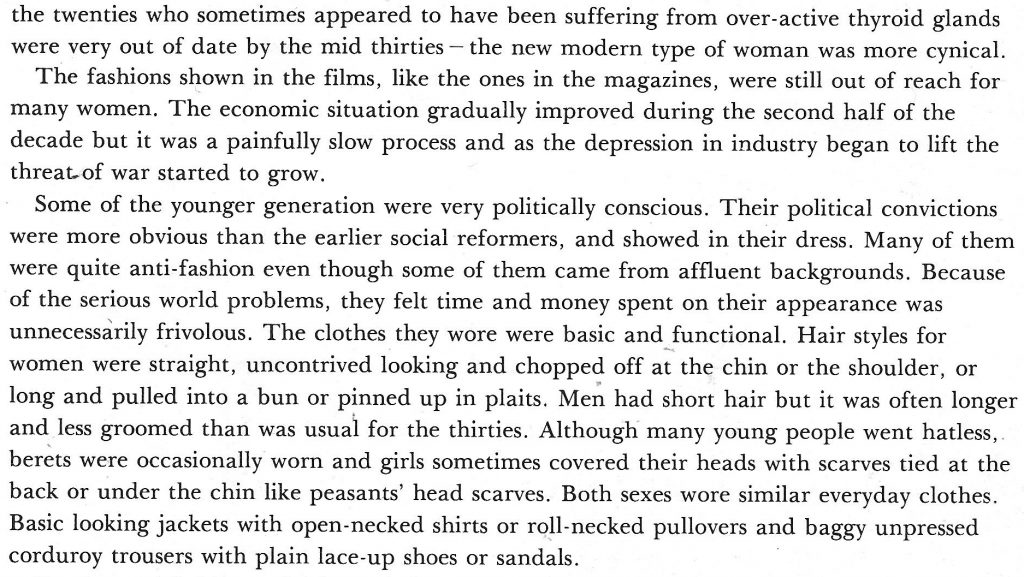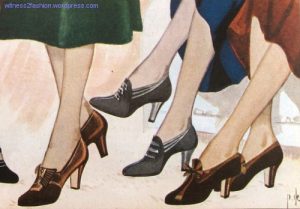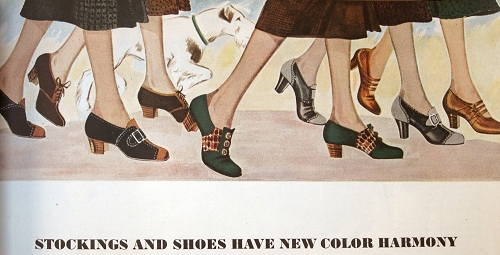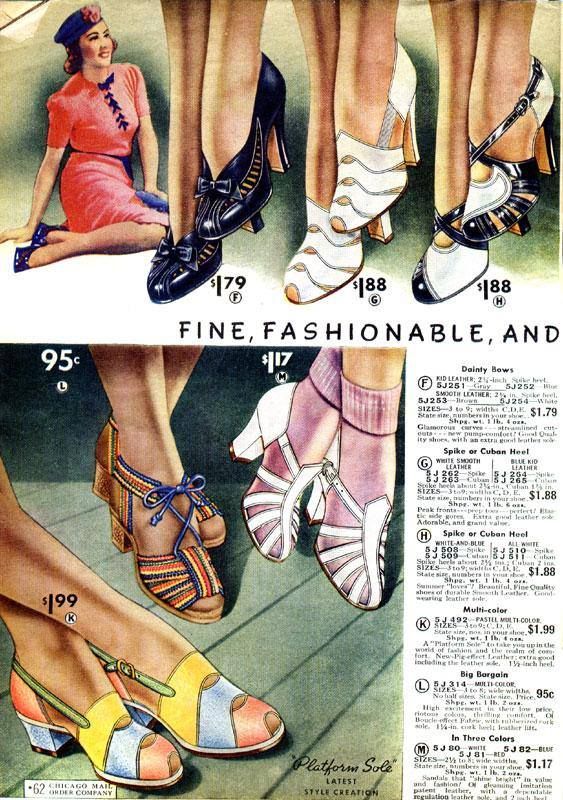 In the 1930s, the major trends for hairstyles were all about waves. With a softer look than the sleek bob and tight ringlets of the 1920s, women began wearing their hair in more feminine styles with parts sweeping to the side or down the middle.
At the beginning of the decade, short hair still reigned with men's hairstyles as well as women's hairstyles. But as the 1930s marched on, women started opting for longer hair. Below is a collection of 1930s photographs, depicting some of the hairstyles of the time, like the perm, softwave bob and the coxcomb curls, and one lady even sporting a boat ornament on her head.
Left: An ad displaying Hairstyles of 1937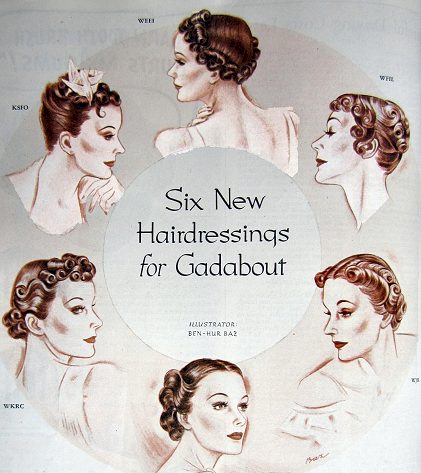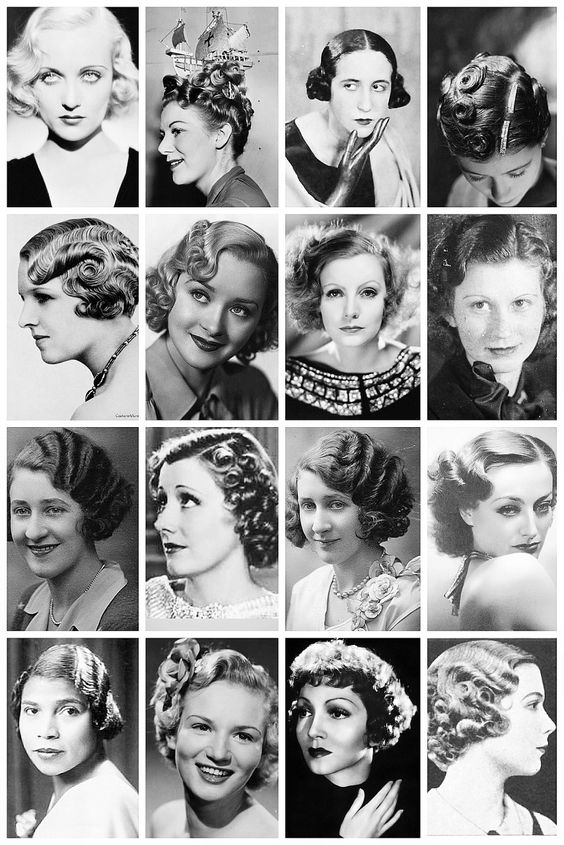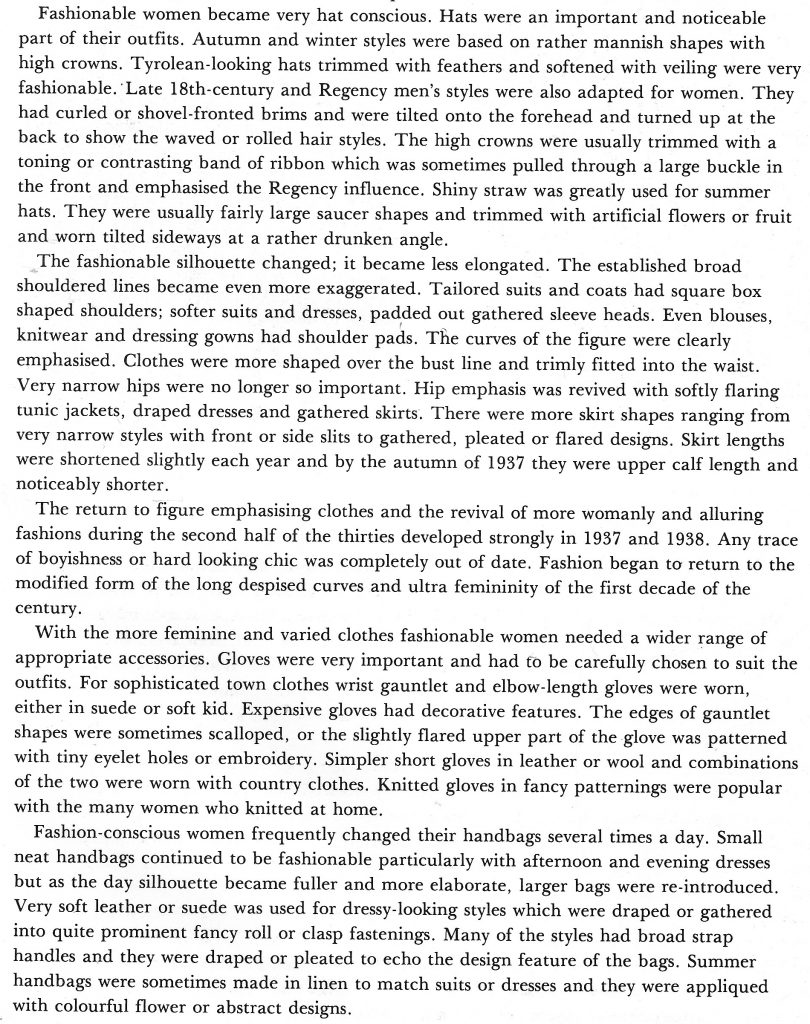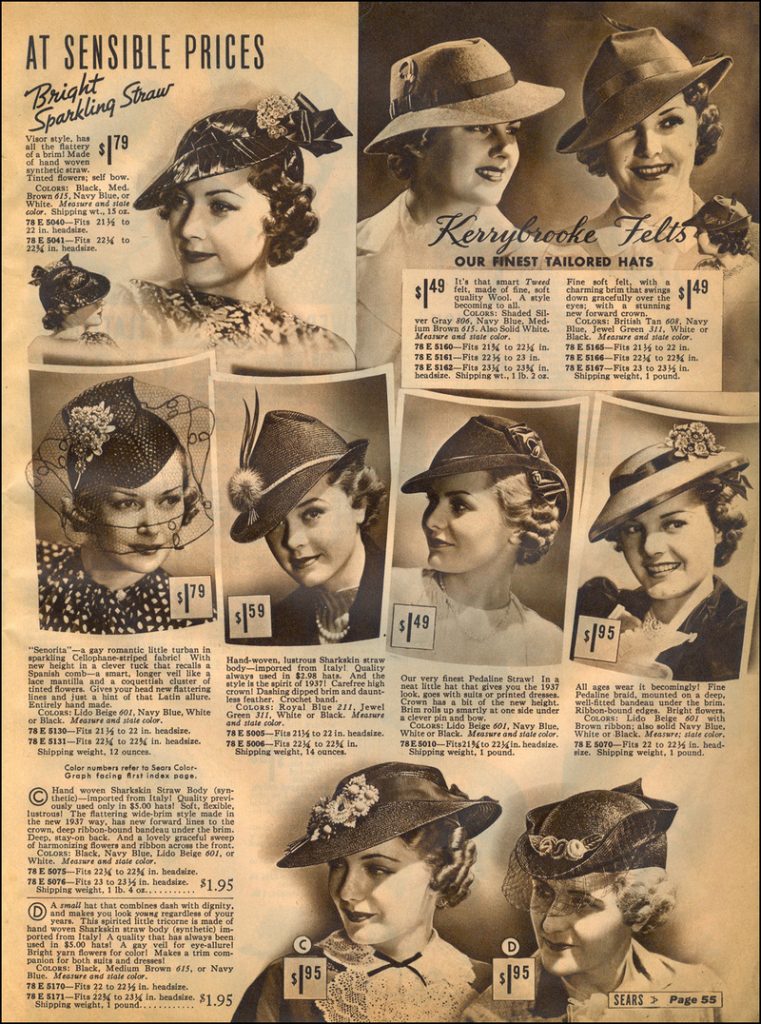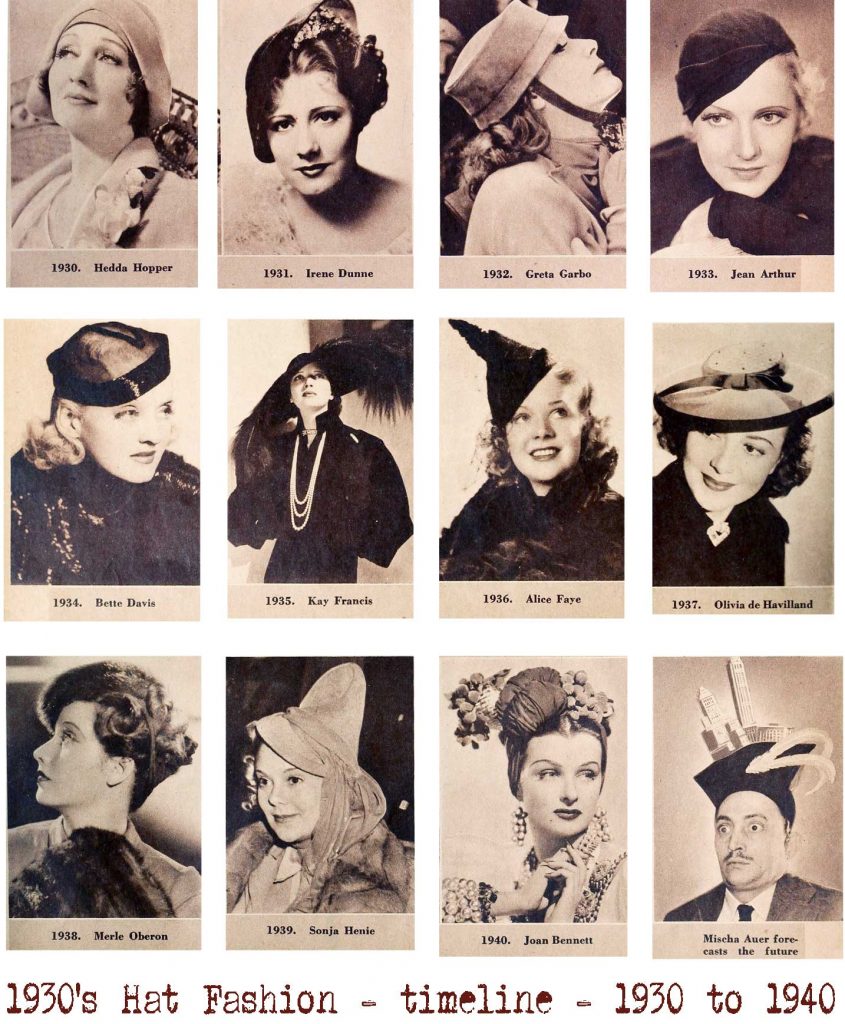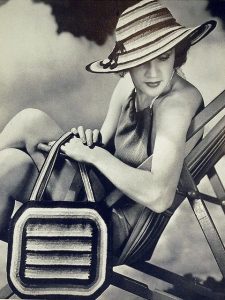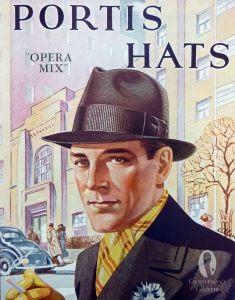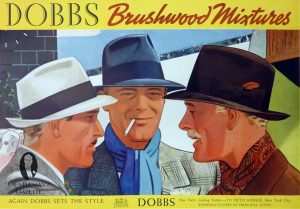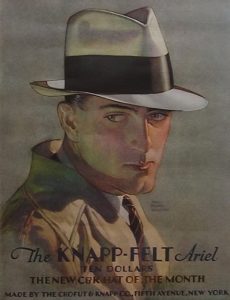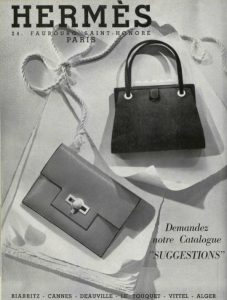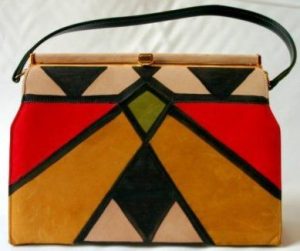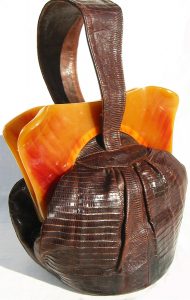 Left: Vintage leather & Bakelite handbag 1930s.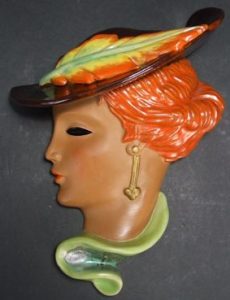 Above: Art Deco wall plaque
Above left: Ad for Hermes handbags.
Above Center: Popular fashion, Matching handbags and gloves 1930s. Above Right: Art Deco 1930s handbag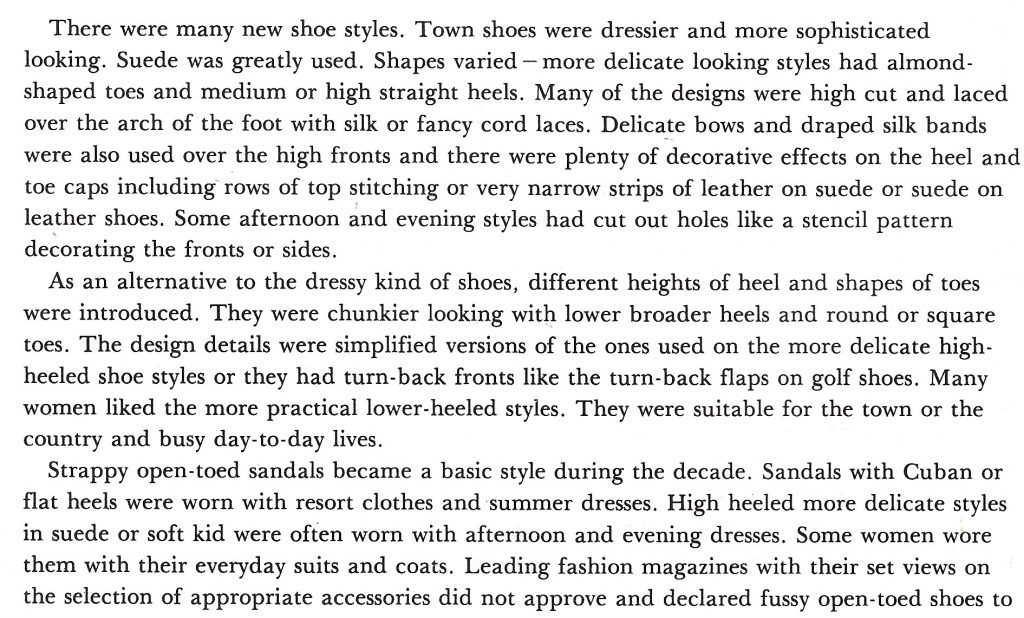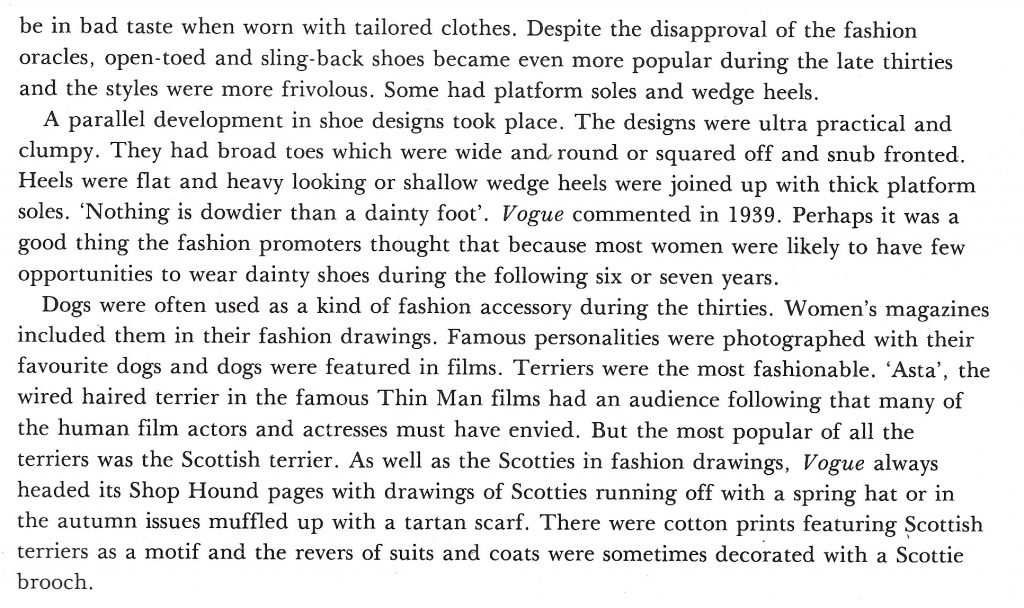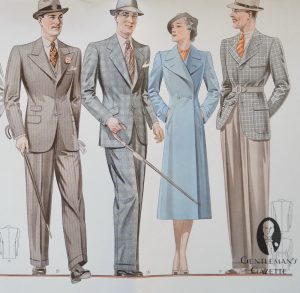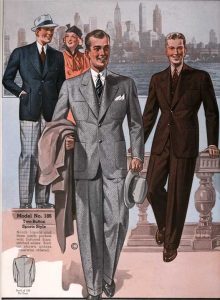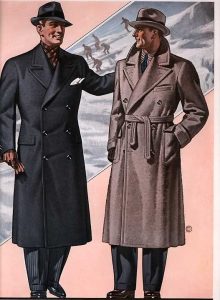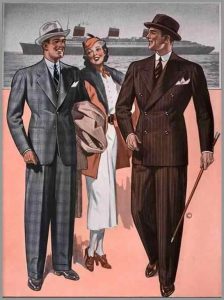 Men's suits had a broader look. Shoulders and revers were wider, trousers were cut loose and straight from the waistline to turned up cuffs.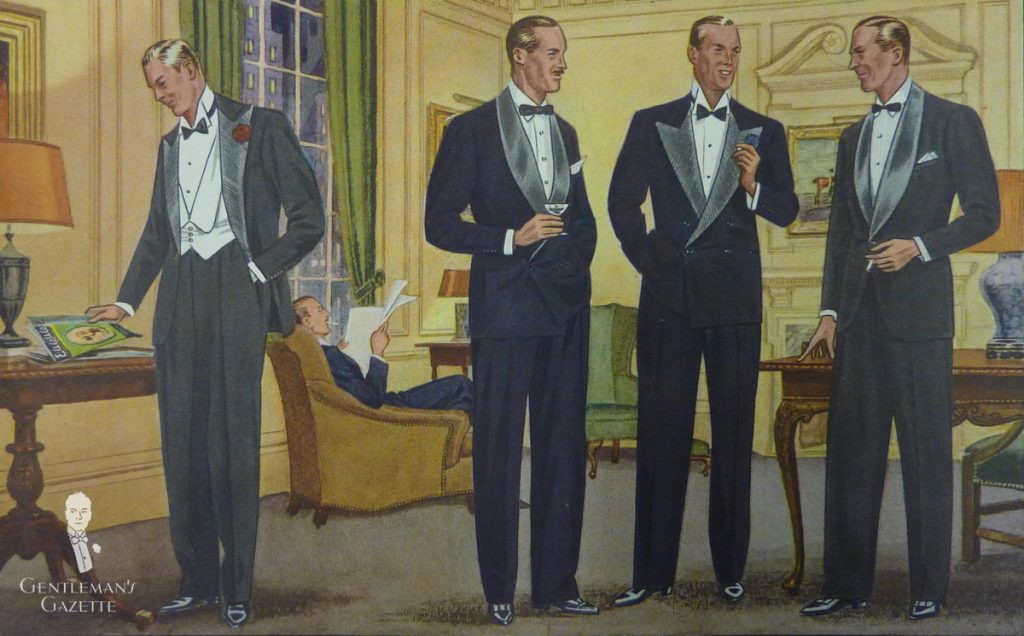 Upper-class men always changed into evening dress, even for bachelor evening's at their clubs.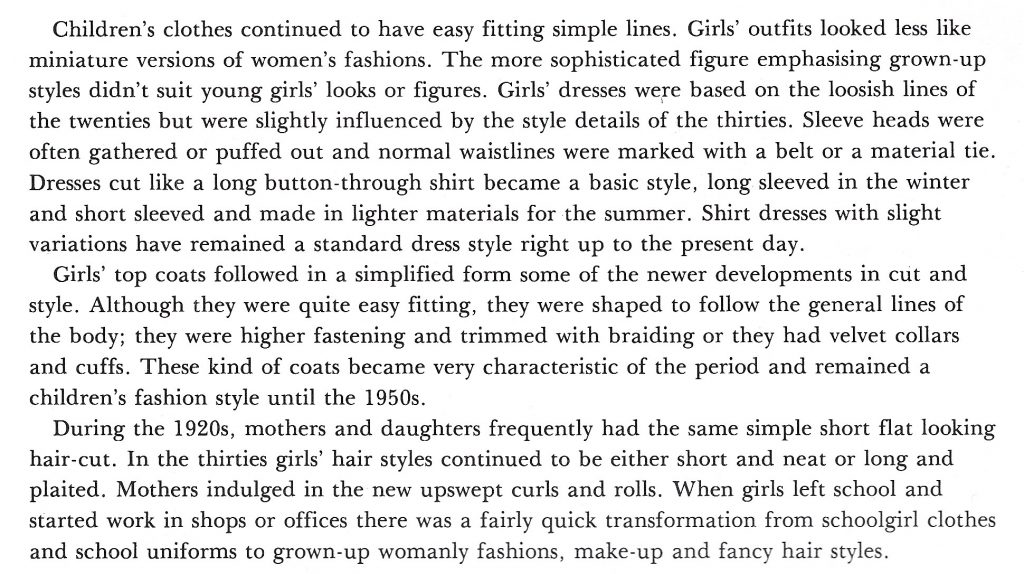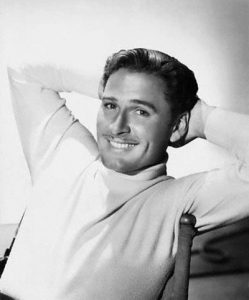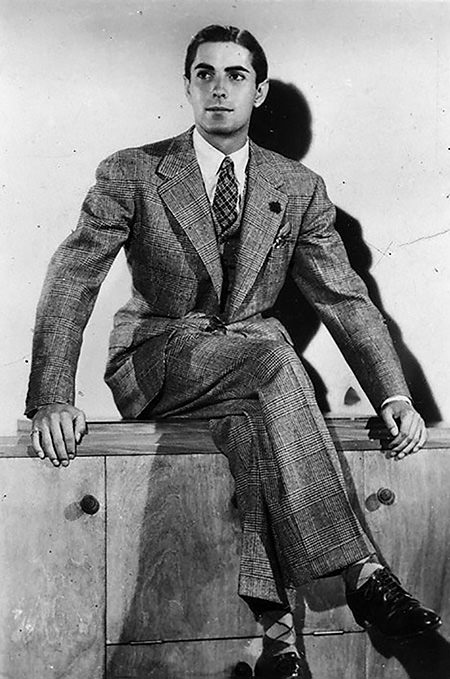 Left: Hair was still worn  very short, but more men were beginning to favour natural un-oiled styles like Errol Flynn's hair in 1938.
Right: Popular male film stars of the thirties, like Tyrone Power, were neatly turned out with conventional clothes.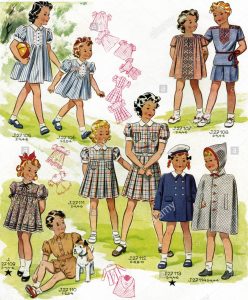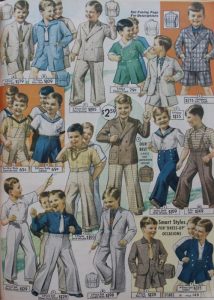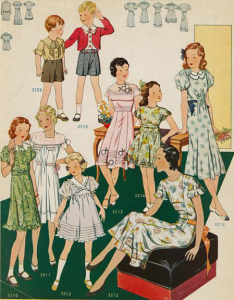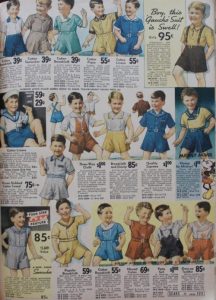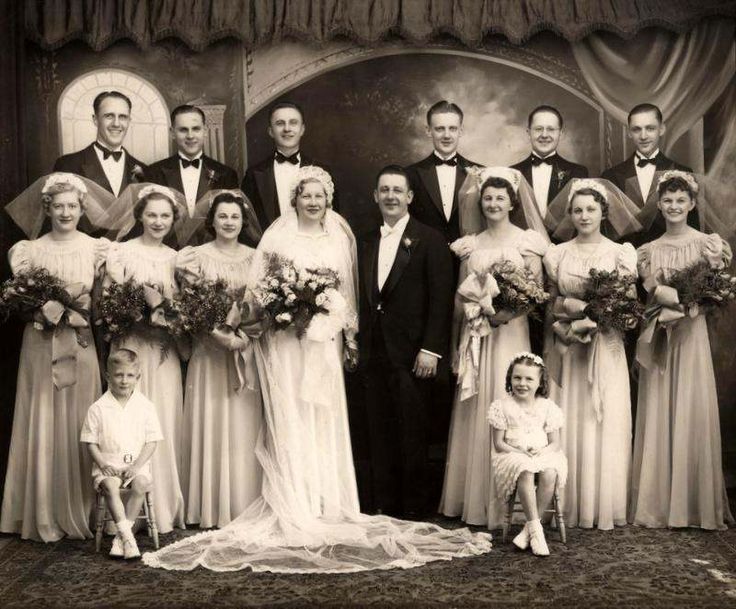 A 1930s wedding group. The bride and bridesmaids all have puffed out sleeve heads on their dresses.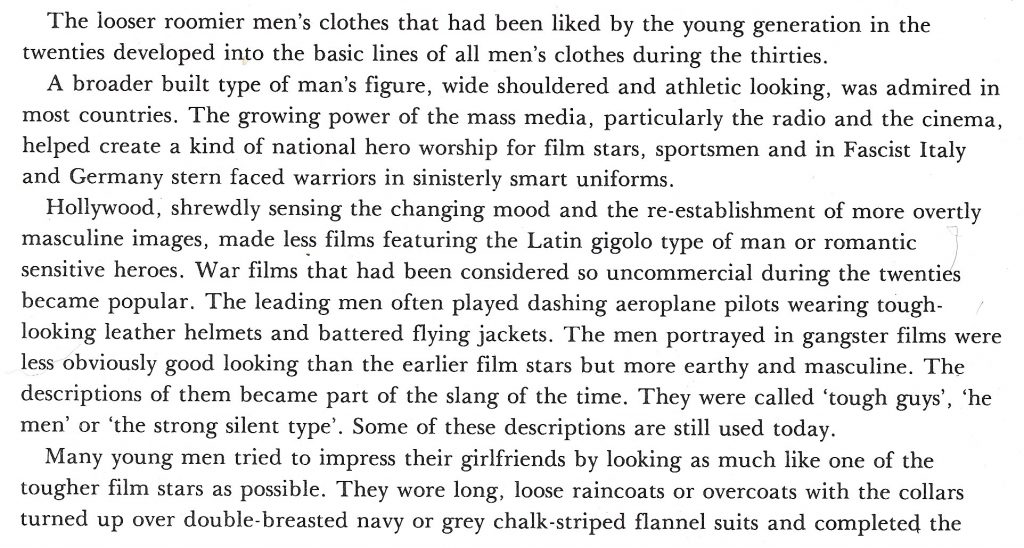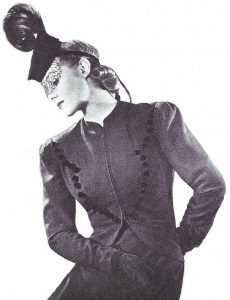 Left: The Paris Fashions in 1938 promoted the return to the hour-glass modified versions of the Edwardian styles.
Right: The eve of the Second World War, 1 September, and the neo – Victorian rival adapted for the wholesale market – rounded bust and shaped waist.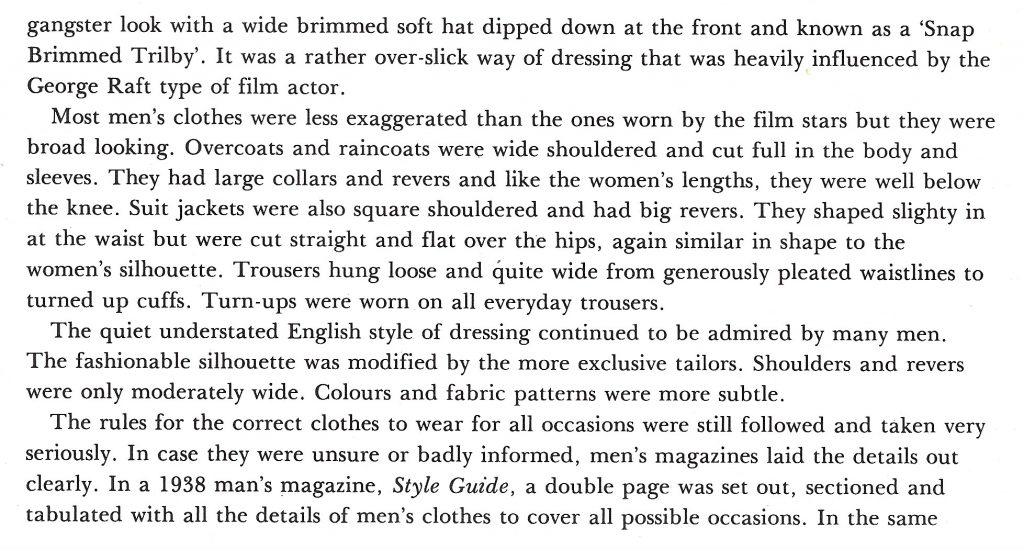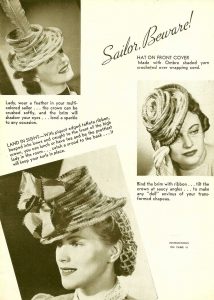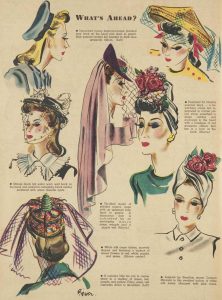 Hats were tilted forward and the rolled hair styles were sometimes covered with wide hairnets called 'snoods'. Snoods became very popular as we enter the forties.
Pictures left and right: Adverts for hats 1939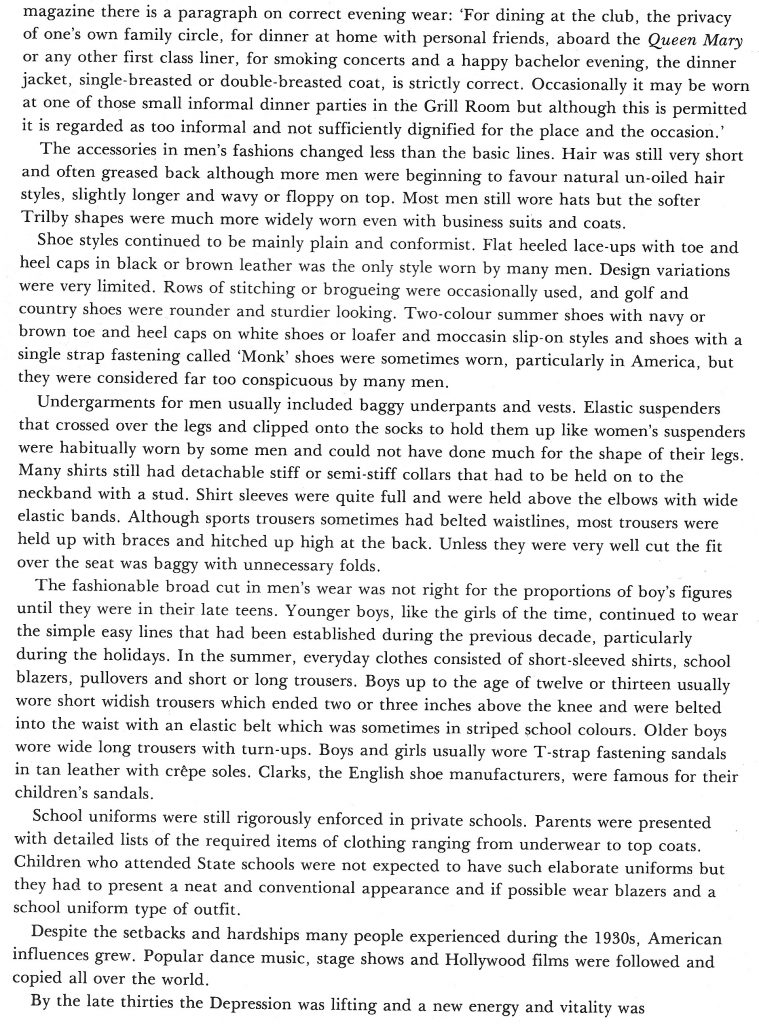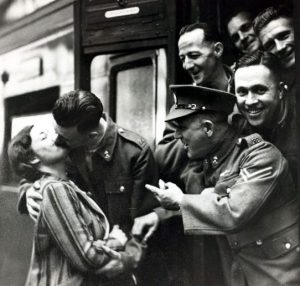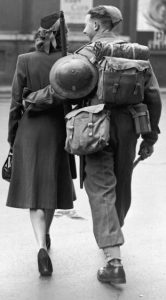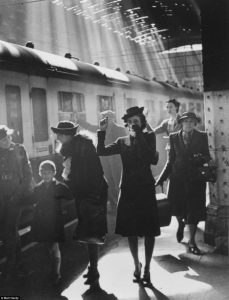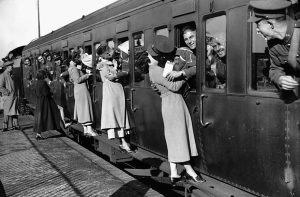 Fashion fads are forgotton and young couples are parted as the men go off to war
Above Picture 1 – Waterloo Station, London, 1939, Soldier Kissing His Girlfriend Goodbye.
Above Picture 2 – A girlfriend at a London train station arrives to bid farewell to her boyfriend as he leaves for war.
Above Picture 3 – A woman bids farewell at London's Paddington Station as a train pulls away, (wartime terminus) people bid farewell to their loved ones.
Above Picture 4 – British soldiers saying goodbye to their girlfriends before departing for war.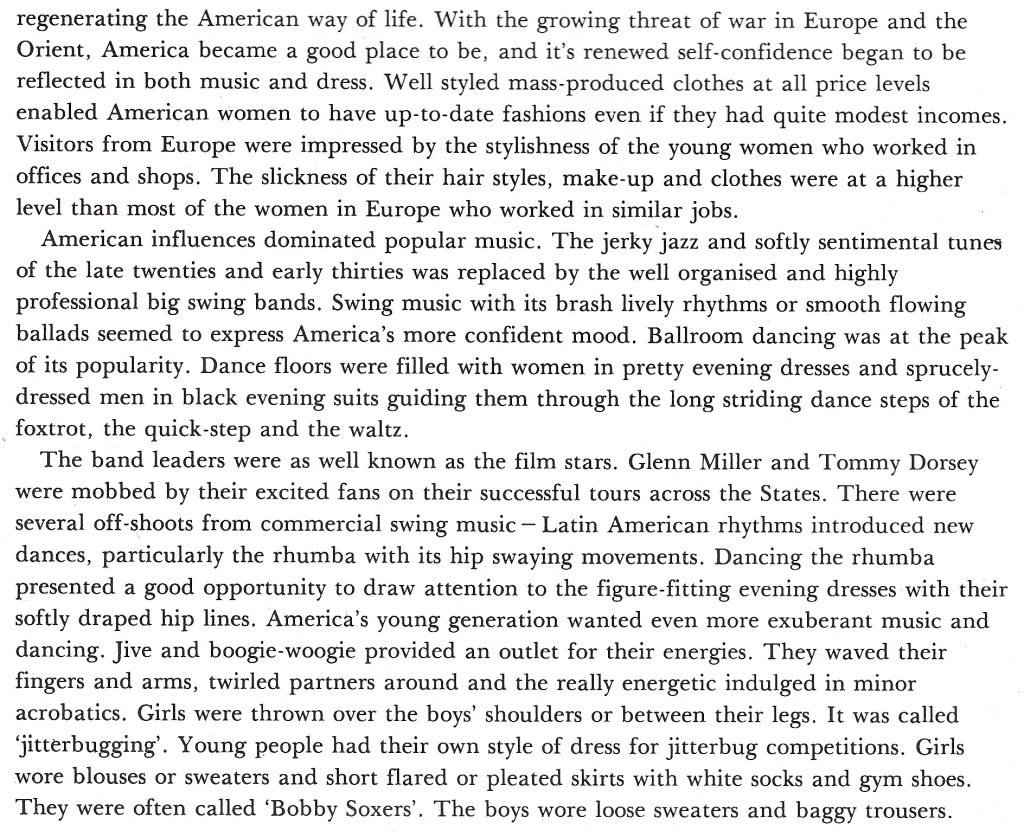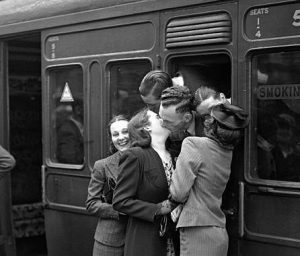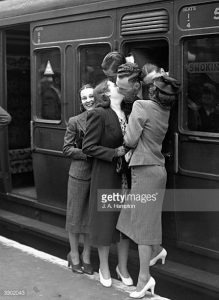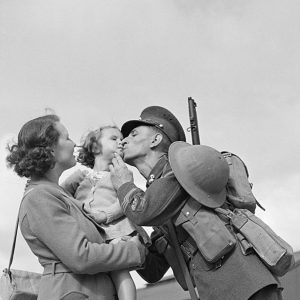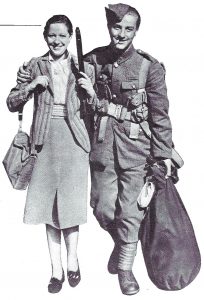 Pictures 1 & 2 – British soldiers saying goodbye to their girlfriends before leaving Waterloo Station in London for training camps
Picture 3 – A British soldier says goodbye to his wife and daughter before leaving for France, a fortnight after the outbreak of World War II, 20th September 1939.
Picture 4 – 1939 Picture Post British soldier and girlfriend, leaving for war.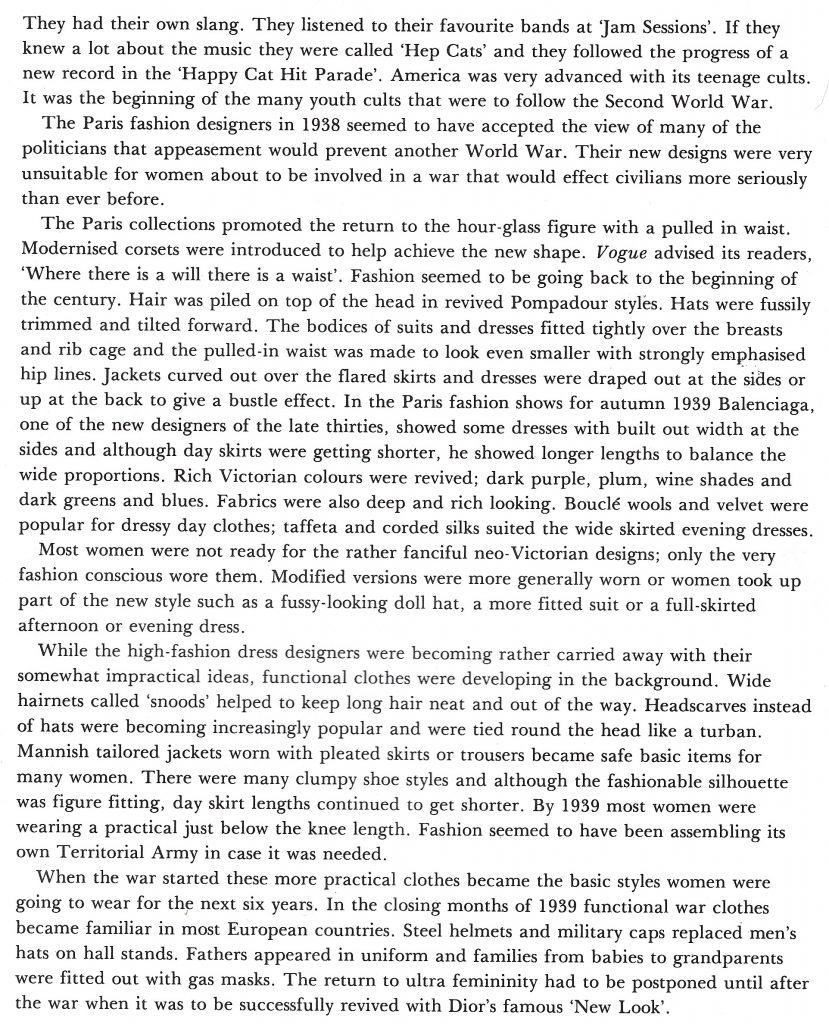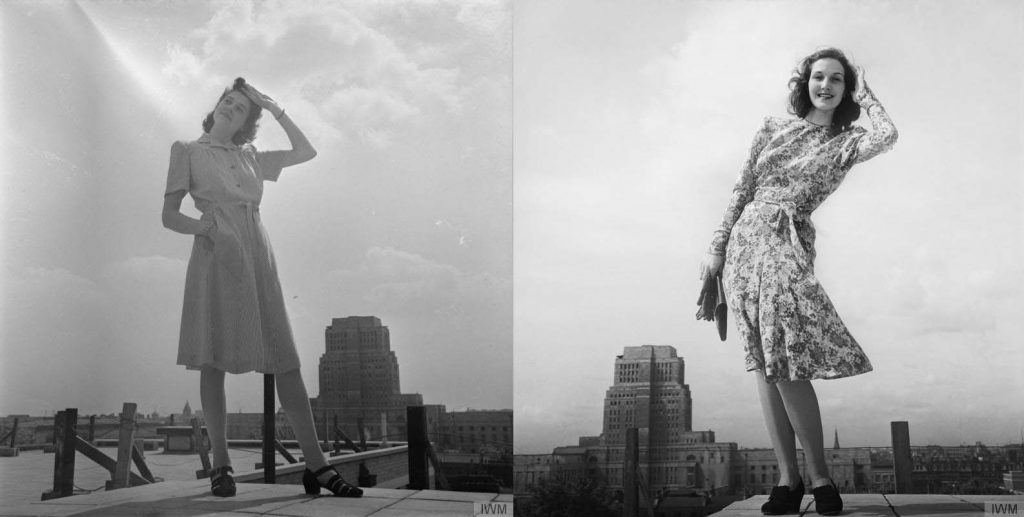 Above: When the war started these more practical clothes became the basic styles women were going to wear for the next six years. Models wear wartime dresses on a Bloomsbury rooftop. Senate House, the headquarters of the Ministry of Information, is clearly visible behind them.
Below: Women on the way to work in London, August 1939. The boxes they are carrying contain gas masks.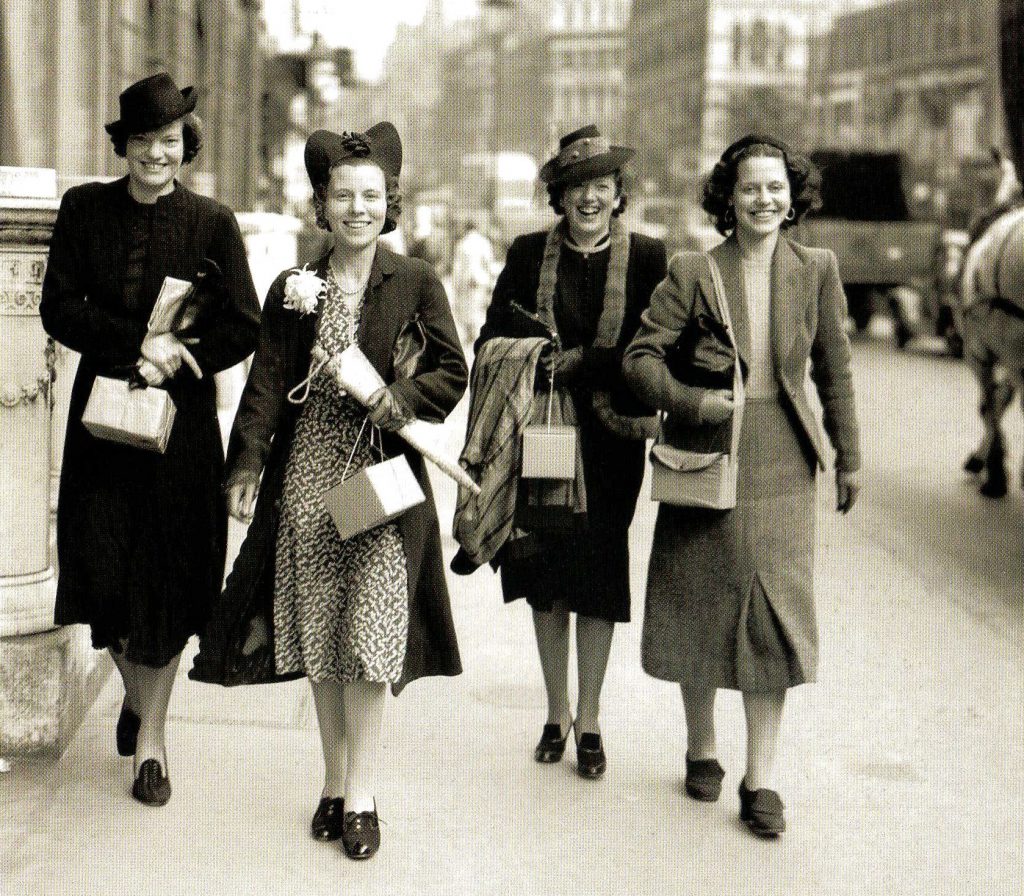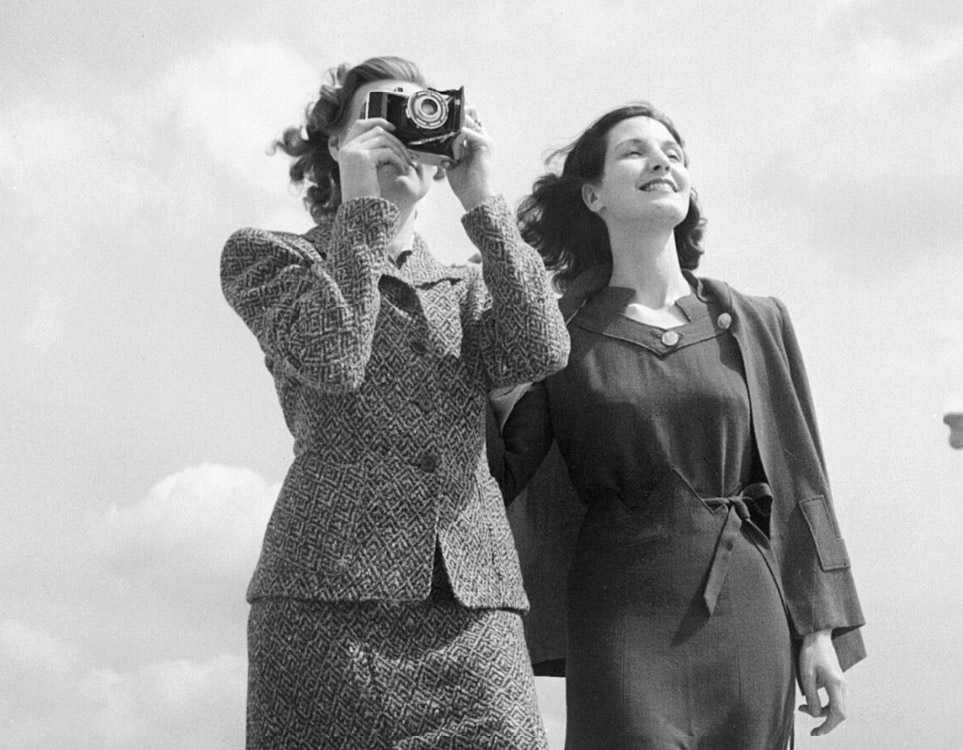 Above: Two models pose for the camera on a Bloomsbury rooftop. The model on the left is holding a camera as if taking a photograph and is wearing a blue flecked tweed Utility suit from Dereta, whilst her colleague sports an emerald green woollen frock with a matching jacket, designed by Norman Hartnell, costing 22 coupons. A barrage balloon can be seen in the sky behind them.
Propaganda at the beginning and during World War II was responsible for much of the change in society's acceptance of women in the workplace. Posters, radio programs, magazine articles, and advertisements such as these showed women in overalls and uniforms during these years for the first time. Through these media, the War Office and other agencies urged women to come out of their kitchens and move into the factories, hospitals, farms and military units. As part of the conscription requirement women had to chose whether to enter the armed forces or work in farming or industry. Women played a major role during World War II and the attitudes to the role of women in the services were changed forever.
Below: Advertising posters by the Government to encourage women to do their bit for the war effort.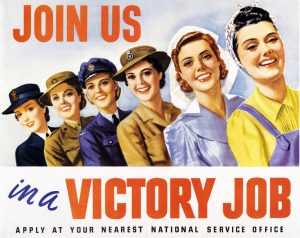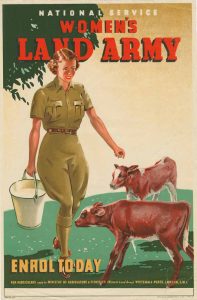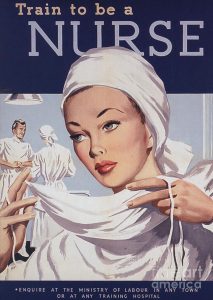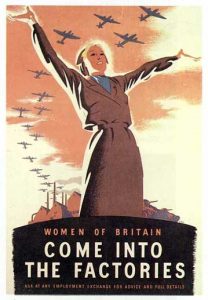 The summer of 1939 had been wonderfully sunny. Then, suddenly, that morning of September 3rd, a voice did come through on the wireless. It was the glum sound of Neville Chamberlain on the BBC, the Prime Minister in the bent-down stiff collar and undertaker's suit:
"I am speaking to you in the cabinet room at 10 Downing Street. This morning the British Ambassador in Berlin handed the German government a final note stating that, unless we heard from them by eleven o'clock that they were prepared at once to withdraw their troops from Poland, a state of war would exist between us. I have to tell you now that no such undertaking has been received, and that consequently this country is at war with Germany."
Life was changed forever!
Things to come!