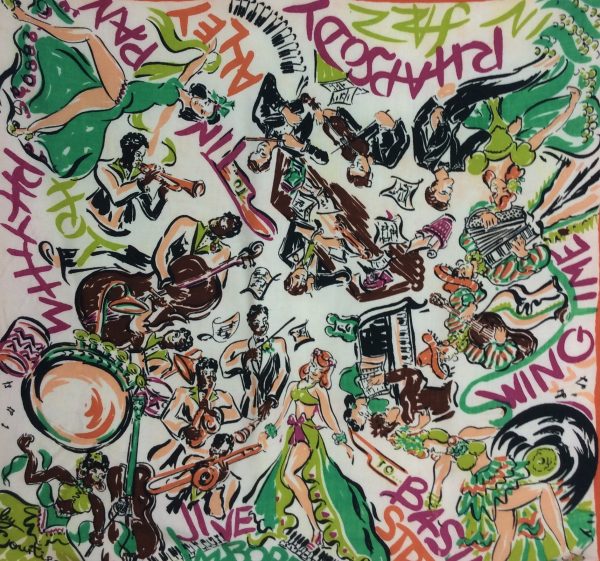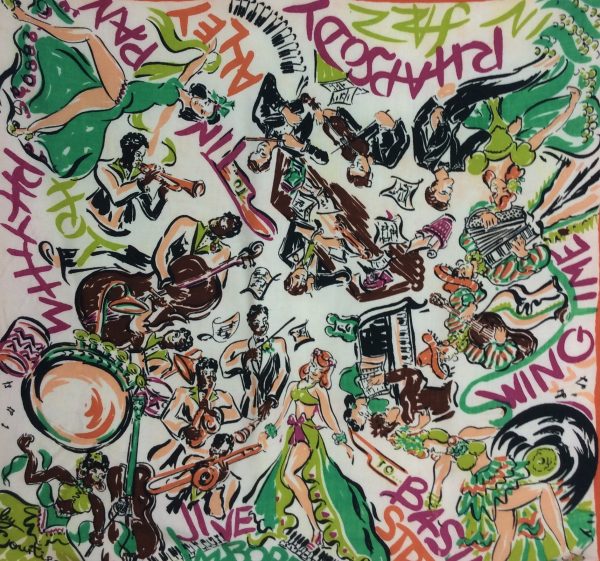 Night at Rainbow Corner (F1-40s) £12.99 per meter
£0.00
Out of stock
Description
Additional information
Description
This is one of our Reproduced Fabrics of Original Vintage Prints By The Vintage pattern Shop. We aim for our reproduced vintage fabric collection to enhance and compliment any vintage sewing project.

Fabric prints and designs are often typical of an era, and we will produce and supply an array of typically iconic vintage fabric prints to cover the period from the 1930s-to-the-1980s.
Fabric Print Name: (F1-40s) Night at Rainbow Corner

Circa: 1940s WW2

Fabric type & composition: Poly/Cotton 65/35 – Light-to-medium weight
Fabric Width: 155cm
Description:
Polyester cotton, or as its more commonly known as Poly Cotton, is a fabric made from a blend of polyester and cotton.  The blend is designed to afford the advantages of both the cotton and polyester fibers into one fabric.
It is a light to medium weight fabric, which combines the soft and moisture absorbing properties of cotton with the durable and easy/non-iron properties of polyester. This makes poly cotton fabric a durable and comfortable fabric choice for a variety of clothes.
Poly cotton Washing Instructions:
Wash 30 degrees
Can Dry Clean and Tumble Dry cool
Pricing and cut of fabric:
All fabrics are priced per meter length and there is a choice on the drop down menu to include 0.5 meters within your order.
The fabric is cut directly from the bolt roll, therefore you will receive a whole continuous piece. All fabrics will be supplied in continuous lengths for each printed design.
Website Images:
We have taken images which represent the colour as closely as possible, however the appearance of colours will always vary slightly from one computer screen to another and to the actual fabric. Please note that we have tried to make these images as close as possible to the actual fabrics, however there will be a slight variation from the picture to the actual fabric.
Additional Information
Rainbow Corner:
We named this fabric as a tribute to Rainbow Corner and to all US servicemen who fought during WW2
Wartime London dances to America's tune – a club for US servicemen, held 40s London in full swing. Situated at the Piccadilly end of Shaftesbury Avenue in London, in the old Lyons Corner House building on the corner of Denman Street, Rainbow Corner opened as the American Red Cross Club on the 11th November 1942 – eight months after the first GI landed on British soil. It became a youth culture hub during the second half of the second world war.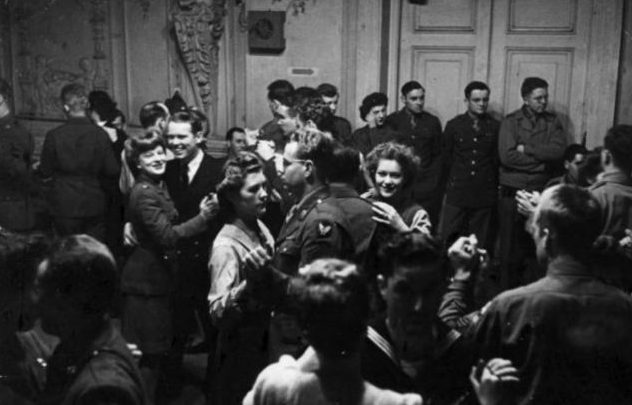 The American Red Cross' Rainbow Corner which had been opened day and night for London
The original idea was that the club would provide a simulation of home comforts for American servicemen in the UK. Open 24 hours a day, it offered recreation, first aid and sightseeing tours of London, among other facilities. More importantly, it aimed to recreate that staple of early-40s American adolescent life, the corner drug store.
In the rec rooms, GIs shot pool, played pinball and listened to the jukebox. There were two large dining rooms and a basement snack bar, which stayed open long after nearby British establishments closed at 9pm. It served waffles, hamburgers, doughnuts, coffee and endless Cokes. The club was big enough to host major bands – such as Glenn Miller's Army Air Force Band.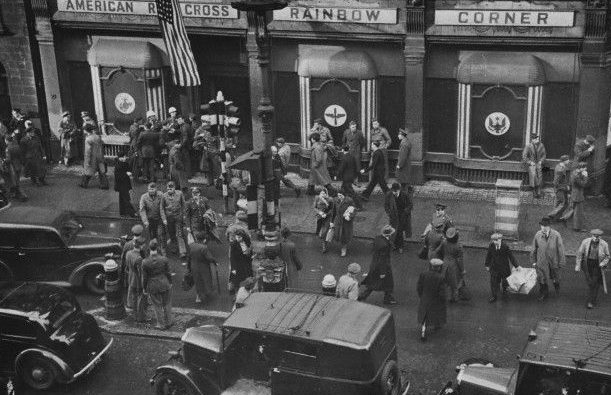 This was nothing less than a slice of authentic America dished up in the centre of London. For GIs who found life in wartime Britain slow, it enabled them to recalibrate to their own pace.
For London youngsters who strived to gain entry – in such numbers the authorities had to regularly close the doors – it represented a vision of an accelerated, exciting future. The GIs offered a glimpse of a developed, commercialised youth culture. Its allure had been triggered by the mass popularity of swing music in the late 30s.
Rainbow Corner Closes – Goodbye to Rainbow Corner
The pull of Rainbow Corner can be seen in this clip, depicting the club's closing in early 1946. Appearances by Anthony Eden and Eleanor Roosevelt emphasise the importance of US-UK relations, but the real testimony is the images of a packed dance floor inside, and outside a mini riot in the heart of London.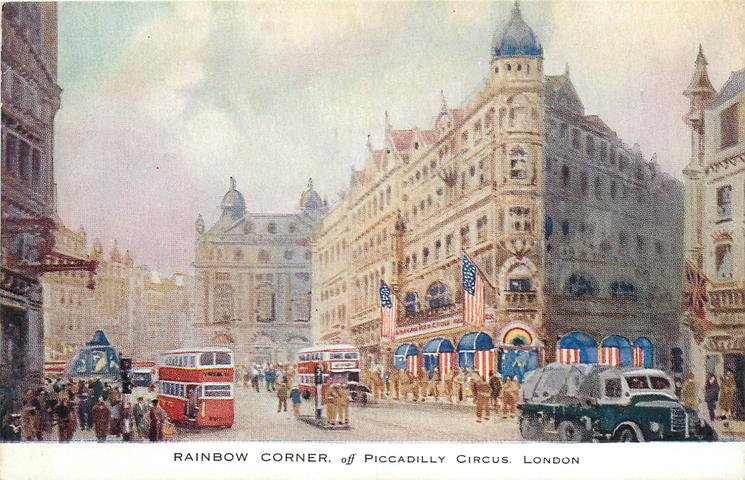 Additional information
| | |
| --- | --- |
| Metre(s): | 1.0m, 1.5m, 2.0m, 2.5m, 3.0m, 3.5m, 4.0m, 4.5m, 5.0m, 5.5m, 6.0m, 6.5m, 7.0m, 7.5m, 8.0m, 8.5m, 9.0m, 9.5m, 10.0m, 10.5m, 11.0m, 11.5m, 12.0m, Sample |