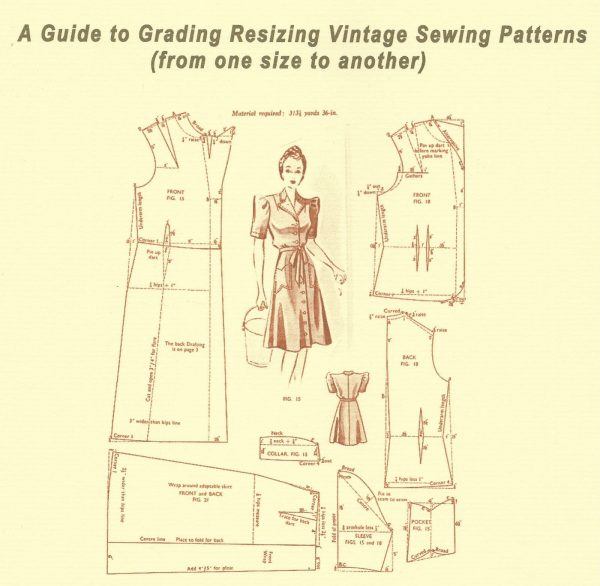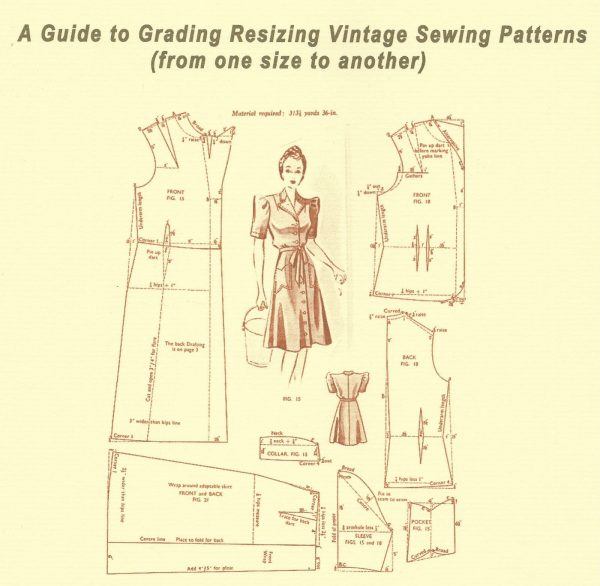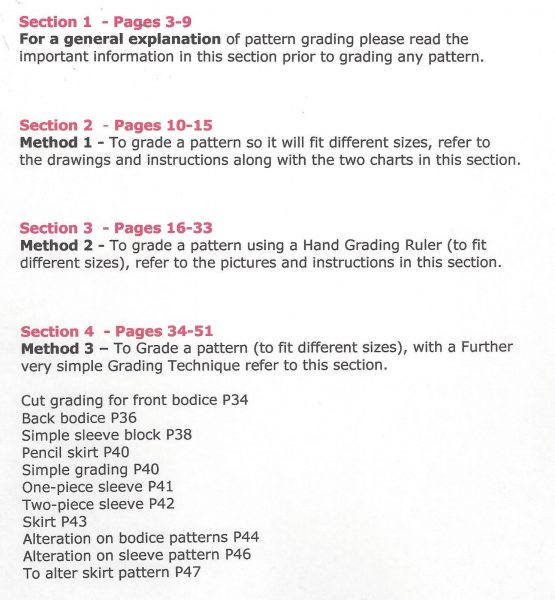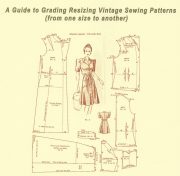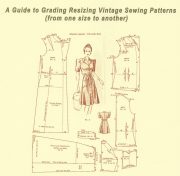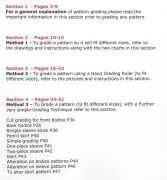 BOOKLET – "A Guide to Grading Resizing Vintage Sewing Patterns"
£7.99
3 in stock
Description
Additional information
Description
For many more Vintage Sewing patterns visit my eBay shop
'The Vintage Pattern Shop'
ITEM DESCRIPTION:

We have compiled our NEW and THIRD booklet.
The BOOKLET is named:

A Guide to Grading Resizing Vintage Sewing Patterns

(from one size to another)
Compiled by 'The Vintage Pattern Shop'. With 51 pages, it is a comprehensive, informative booklet which takes you through the required understanding of Grading Resizing Vintage Sewing Patterns. Full instructions with pictures and illustrations Comes as an A4 Plastic bound booklet.
The term pattern grading may initially conjure up visions of complicated measurements and fancy rulers, but once the basic concept is understood, the actual process of grading is easy, especially using the method outlined here in this booklet. This means that you—the home sewer, custom dressmaker, or independent designer—can do just as good a job as Vogue, Burda, Simplicity, Butterick, Hollywood and McCall's etc.
The booklet explains the thought process behind grading and will touch upon the three different methods used in the industry today. Then it will take you step-by-step through a simple cut-and-spread grading method and provide the measurements and formulas you'll need to get started. So whether you want to take a beloved pattern up (or down) a size or two, or you want to create a small line of clothing, pattern grading is an important tool. Once you understand it, you'll be able to take your sewing to the next level.

The basic concept
Historically, the science of grading went hand-in-hand with the advent of commercial patterns and the mass-production of pattern-built clothing some 150 years ago. To properly fit a pattern to a range of sizes, each pattern piece needed to be graded, or systematically increased or decreased. You too can learn to grade your collection of vintage sewing patterns with a simple-to-follow technique!

Why grade? The purpose of grading is to proportionally increase or decrease the size of a pattern, while maintaining shape, fit, balance, and scale of style details (dress, original design).
Grading vs. alteration: What's the difference?
Grading is used to increase or decrease a size, based on an average difference between sizes. Alteration or Adjustments are used to make a particular size conform to an individual's personal figure challenges.
Thank you and please feel free to ask any questions.

CUSTOMER FEEDBACK:
"If you love sewing this is a must have. What a great guide! Fast shipping.AAA+++"
"this is the business!!! fantastic guide…everything I need to know..AAAA++++++"
We also have another compiled Booklet called:
"A Guide to Adjusting and Altering Vintage Sewing Patterns"
eBay Item number: 251195050383
Compiled by 'The Vintage Pattern Shop', recently updated with further information from 63 to 87 pages, in a scrapbook style collection, it is a comprehensive, informative booklet with full illustrations, which takes you through the first positive steps toward perfecting your fitting skills by adjusting and altering Vintage Sewing Patterns. Comes as an A4 Plastic bound booklet. You will learn a logical step-by-step Adjusting, Altering and fitting methods, that will guide you through difficult areas and reinforce what you already know. Understanding the principals and fundamentals of pattern tissue adjustments can be the beginning of a whole new wardrobe of personalized Vintage Fashion. It widens your range of purchasing Vintage Sewing Patterns, giving you far more variety, choice and options!
Over the years and from my days of studying 'fashion Design and Pattern Cutting' at the London College of Fashion, I have collected on the way from various sources some brilliant information, and have compiled my favorite and most useful bits in this informative booklet to facilitate with your Vintage Sewing Patterns. Sewing Pattern adjustments are neither difficult nor time consuming once you understand the procedure – and you need only to understand the ones you require. This booklet covers aspects of the body form where most common adjustments are required. To view the full 'Contents List' detailing exactly what this booklet contains please go to the listing on eBay. Feedback Received:
"Fantastic book well worth the money x quickly dispatched x"
"A 'must have' if u r interested in retro sewing patterns. Great comms and del. A+"
"Fantastic, description doesn't do this justice – excellent"
"OMG, this book is FANTASTIC & totally IDIOT PROOF, WONDERFUL thank you so much".
"The booklet is worth a read and represents good value".
"Fabulous booklet – invaluable, easy to follow instructions. Very pleased!"
"What a brilliant booklet! Great idea from a great seller! Highly recommend!"

"Excellent and informative guide, very useful with the patterns!"
✦ Prior to leaving Neutral or Negative Feedback PLEASE PLEASE contact us first. No matter how small the issue or concern may be, it can be dealt with and resolved. We are very approachable and friendly, and only wish to give Brilliant Customer Service and Satisfaction, and where necessary will offer Service Recovery. We very much appreciate your understanding on this matter. Many thanks to all our new and existing loyal customers, 'You have been Wonderful!'
Buyer is responsible for returns costs for remorse returns. Thank you.
Additional information
| | |
| --- | --- |
| Subject | |
| Language | |
| ISBN | |
| EAN | |
| MPN | |
| Brand | |