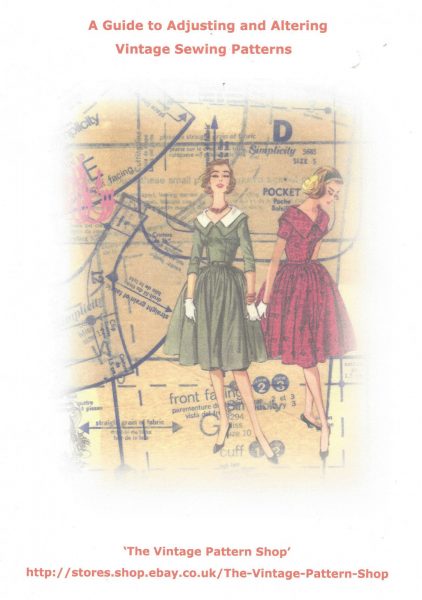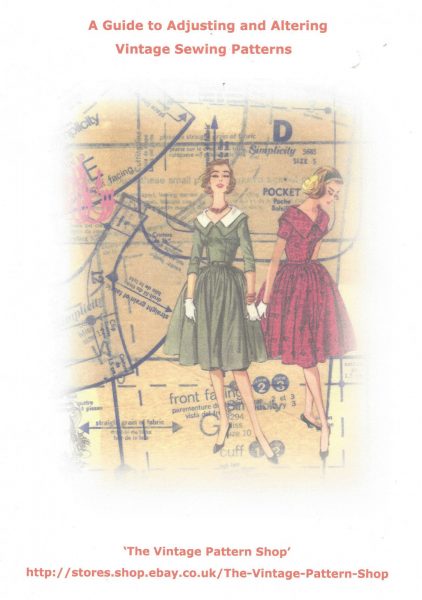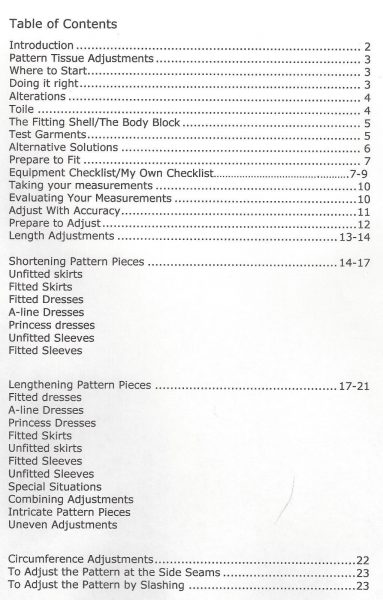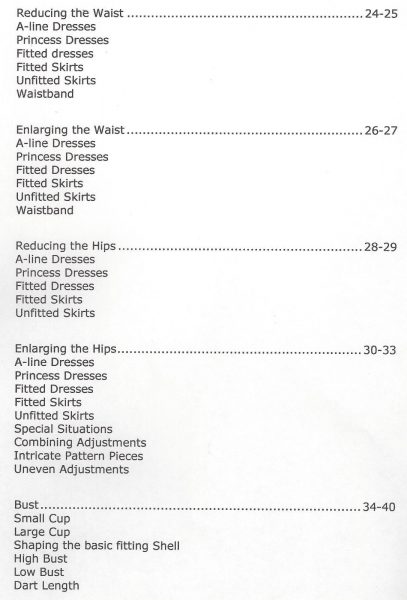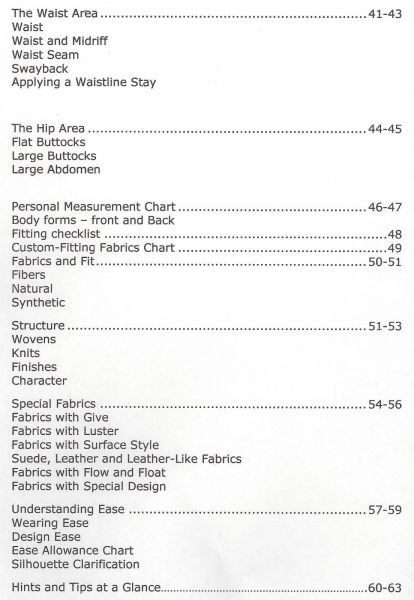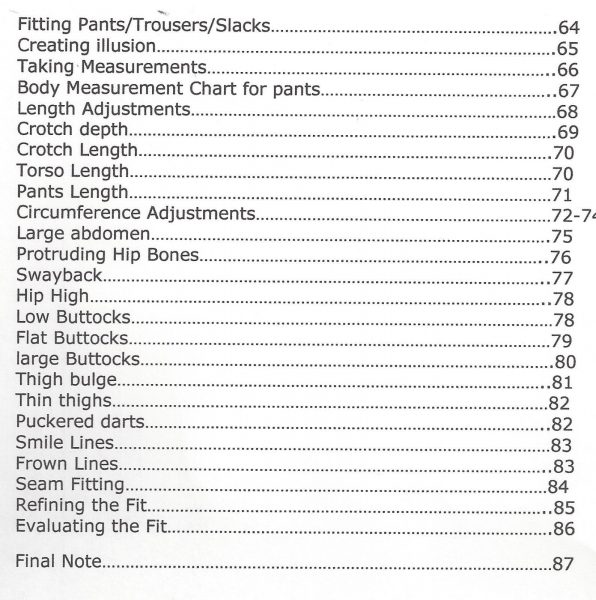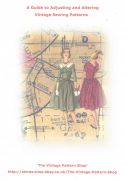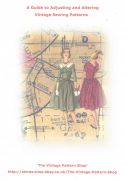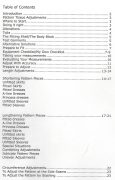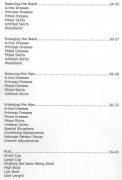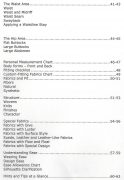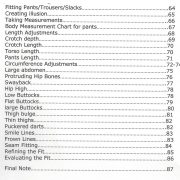 BOOKLET – 'A Guide to Adjusting and Altering Vintage Sewing Patterns'
£7.99
3 in stock
Description
Additional information
Description
For many more Vintage Sewing Patterns visit my eBay shop
'The Vintage Pattern Shop'
ITEM DESCRIPTION:

We have compiled a booklet.
The BOOKLET is named:
'A Guide to Adjusting and Altering Vintage Sewing Patterns'
Compiled by 'The Vintage Pattern Shop'. Over 87 pages of a scrapbook style, it is a comprehensive, informative booklet with full illustrations, which takes you through the first positive steps toward perfecting your fitting skills by adjusting and altering Vintage Sewing Patterns. Comes as an A4 Plastic bound booklet. You will learn a logical step-by-step Adjusting, Altering and fitting methods, that will guide you through difficult areas and reinforce what you already know. Understanding the principals and fundamentals of pattern tissue adjustments can be the beginning of a whole new wardrobe of personalized Vintage Fashion. It widens your range when purchasing Vintage Sewing Patterns therefore allowing you far more variety in your choice. You have widened your options!
Over the years and from my days of studying 'fashion Design and Pattern Cutting' at the London College of Fashion, I have collected on the way from various sources some brilliant information, and have compiled my favorite and most useful bits in this informative booklet to facilitate with your Vintage Sewing Patterns.
Sewing Pattern adjustments are neither difficult nor time consuming once you understand the procedure – and you need only to understand the ones you require. This booklet covers aspects of the body form where most common adjustments are required. See attached pictures of the Contents list.
Any Questions please ask
PLEASE NOTE: This booklet is far more extensive than the booklet included in each pattern that we sell. The booklet that you get with each pattern does have some information on Adjustments, however does not go to the extent that this booklet involves. This is far more detailed, informative, technical and more descriptive with lots of Diagrams
.

Feedback Received:

"OMG, this book is FANTASTIC & totally IDIOT PROOF, WONDERFUL thank you so much".
"Excellent waited a long time for something like this dressmakers dream AAAAAAAAA"
"Informative & well-written.Nice accompaniment to pattern purchase.Thanks so much"
"full of information on altering vintage patterns. cant wait to start thank you"
"Excellent item and service! It helped me to resize my pattern to fit me!!!!"

"Just what you need to help alter vintage patterns!"
"The booklet is worth a read and represents good value".
"Delighted with the Book!! – excellent service and comms. too = Thankyou"
"What a brilliant booklet! Great idea from a great seller! Highly recommend!"
"The book is wonderful! Very professionally put together.Highly recommended".
"Brilliant booklet – full of useful info"

"Fantastic book well worth the money x quickly dispatched x"
"everyone should have this book. lovely"
"A 'must have' if u r interested in retro sewing patterns.Great comms and del. A+"
Very useful guide to working with vintage patterns!
Fab product – fantastic service again! The one to use – gr8 quality. Thanks
Great book!
Excellent service. Very quick delivery & exactly as described. Thank you so much
Excellent service, would recommend, will buy again
Informative guide, well presented. Thank you
This book is perfect! Will use it a lot
Great eBayer. Very helpful. Highly recommended. Many thanks.
great book – lots of handy hints – thanks
Just received guide. Brilliant, will be invaluable. Many thanks
Arrived promptly, brilliantly designed book, very very helpful, thank you x
Table of Contents
Introduction
Pattern Tissue Adjustments
Where to Start
Doing it right
Alterations
Toile
The Fitting Shell/The Body Block
Test Garments
Alternative Solutions
Prepare to Fit
Equipment Checklist
Taking your measurements
Evaluating Your Measurements
Adjust With Accuracy
Prepare to Adjust
Length Adjustments
Shortening Pattern Pieces
Unfitted skirts
Fitted Skirts
Fitted Dresses
A-line Dresses
Princess dresses
Unfitted Sleeves
Fitted Sleeves
Lengthening Pattern Pieces
Fitted dresses
A-line Dresses
Princess Dresses
Fitted Skirts
Unfitted skirts
Fitted Sleeves
Unfitted Sleeves
Special Situations
Combining Adjustments
Intricate Pattern Pieces
Uneven Adjustments
Circumference Adjustments
To Adjust the Pattern at the Side Seams
To Adjust the Pattern by Slashing
Reducing the Waist
A-line Dresses
Princess Dresses
Fitted dresses
Fitted Skirts
Unfitted Skirts
Waistband
Enlarging the Waist
A-line Dresses
Princess Dresses
Fitted Dresses
Fitted Skirts
Unfitted Skirts
Waistband
Reducing the Hips
A-line Dresses
Princess Dresses
Fitted Dresses
Fitted Skirts
Unfitted Skirts
Enlarging the Hips
A-line Dresses
Princess Dresses
Fitted Dresses
Fitted Skirts
Unfitted Skirts
Special Situations
Combining Adjustments
Intricate Pattern Pieces
Uneven Adjustments
Bust
Small Cup
Large Cup
Shaping the basic fitting Shell
High Bust
Low Bust
Dart Length
The Waist Area
Waist
Waist and Midriff
Waist Seam
Swayback
Applying a Waistline Stay
The Hip Area
Flat Buttocks
Large Buttocks
Large Abdomen
Personal Measurement Chart
Body forms – front and Back
Fitting checklist
Custom-Fitting Fabrics Chart
Fabrics and Fit
Fibers
Natural
Synthetic
Structure
Wovens
Knits
Finishes
haracter
Special Fabrics
Fabrics with Give
Fabrics with Luster
Fabrics with Surface Style
Suede, Leather and Leather-Like Fabrics
Fabrics with Flow and Float
Fabrics with Special Design
Understanding Ease 57-59
Wearing Ease
Design Ease
Ease Allowance Chart
Silhouette Clarification
Hints and Tips at a Glance
Fitting Pants/Trousers/Slacks
Creating illusion Taking Measurements
Body Measurement Chart for pants
Length Adjustments
Crotch depth
Crotch Length
Torso Length
Pants Length
Circumference Adjustments
Large abdomen
Protruding Hip Bones
Swayback
Hip High
Low Buttocks
Flat Buttocks
large Buttocks
Thigh bulge
Thin thighs
Puckered darts
Smile Lines
Frown Lines
Seam Fitting
Refining the Fit
Evaluating the Fit
Final Note
THE END
We also have another Booklet, please see the following:
We are pleased to have finally compiled and listed our NEW and SECOND Booklet, named:
"A Guide to Fabrics when using Vintage Sewing Patterns"
eBay Item number: 251337189719
Compiled by 'The Vintage Pattern Shop', 75 pages, 19 Chapters, it is comprehensive and thorough. Learn to distinguish fabric characteristics and quality by a thorough understanding of the components that have combined to create it, and you will be one step closer to the custom fit of any vintage sewing pattern you are seeking. This Booklet will help you!
You the vintage dressmaker is an artist who can choose fabrics and vintage designs that will combine to make a garment that you will be proud to wear. An important aspect when making clothes from a bygone era is the choosing of the right fabric. A knowledgeable seamstress understands the strong influence fabric can have on a finished garment, including the fit. If you do not have this knowledge, then by reading this booklet you will benefit by a basic understanding of the fibers, structure and finishes, all of which contribute to the individual characteristics of a wide range of fabrics covered in this booklet, all of which can be used when working with vintage sewing patterns.
Todays fabric are extensive and completely in tune with fashion and can easily be used with Vintage Sewing Patterns. Each vintage pattern comes with fabric suggestions, which are suitable to make up the style, in order to re-create the designers intentions. Faced with such a variety of fabrics, choice can be bewildering and names often confusing. I have compiled this booklet to help as a handy reference to dressmaking fabrics and fibers.
The booklet begins with a list of materials, so you can see at a glance what section to look under. Next come fabric descriptions of generic fabric terms and designs. These are followed by details of individual qualities, divided into topical groups and listed alphabetically within each chapter. Included towards the end of this booklet are further chapters about Fibres, Trade Names, Fabric Structure & Character and Popular Fabrics of individual eras from the 1930s-to-1970s, all to facilitate when sourcing for modern day fabrics for your Vintage Sewing Patterns.
To view the full 'Contents List' detailing exactly what this booklet contains please go to the listing on eBay.
✦ Prior to leaving Neutral or Negative Feedback PLEASE PLEASE contact us first. No matter how small the issue or concern may be, it can be dealt with and resolved. We are very approachable and friendly, and only wish to give Brilliant Customer Service and Satisfaction, and where necessary will offer Service Recovery. We very much appreciate your understanding on this matter. Many thanks to all our new and existing loyal customers, 'You have been Wonderful!'
Buyer is responsible for returns costs for remorse returns. Thank you.
Additional information
| | |
| --- | --- |
| Subject | |
| Language | |
| ISBN | |
| EAN | |
| MPN | |
| Brand | |