INTRODUCTION
Paper patterns were first manufactured in the middle of the 19th century. The first paper patterns were designed by Ellen Curtis Demorest. Starting in 1860, these patterns were sold through a magazine, Mme. Demorest's Mirror of Fashion.
Vintage sewing patterns open up a whole new world of collecting for someone interested in vintage fashion. Some collect vintage patterns because they want to reproduce the styles of days gone by for their wardrobes. Others collect them because these slim envelopes filled with tissue give a glimpse into a lifestyle that many of us no longer have the luxury to live. They are, in, and of themselves, a documentation of fashion sewing of the past. The artwork on the envelopes can also be a thing of beauty to behold all by itself.
For those who cannot find the vintage styling they want in their size, fabric, or price range, vintage patterns afford the ability to have exactly what one wants, the way one wants it, whether one sews it up at home or retains the services of a custom clothier. Even if the pattern doesn't have the proper size specifications, a skilled seamstress or tailor can make adjustments to fit any body type or size. Patterns can also be used as a starting point or "inspiration" for a modern garment.
Other related items that can be collected along with vintage patterns are old pattern books from fabric stores and departments and monthly or quarterly pattern magazines that were issued by the pattern companies. These publications are invaluable tools for designers, students of apparel design, the custom clothier who specializes in vintage fashion, and the vintage fashion enthusiast.
We will be adding further information on this subject over the next few months in part sections. The sections will be on the drop-down menu on the section of History Of  Vintage Sewing Patterns. Keep looking!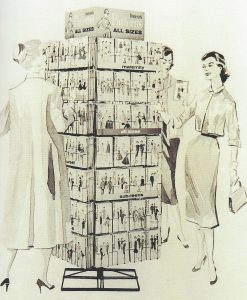 When home dressmaking was at it's most popular and it was highly fashionable to make your own garments, women were spoilt for choice when it came to buying sewing patterns and fabric. Haberdashery shops were present in most towns and villages throughout the UK. Dressmaking, haberdashery products and sewing patterns were elaborately displayed and set to sell to the consumer, as seen in the picture above. You very rarely see that now! Haberdashery departments in large stores pulled in the female consumer and was considered a most important part and dedicated area of the store.