Vintage Sewing Patterns: 1940s Revival
Hannah Greenwood
As with every era, the 1940s featured a particular silhouette that women could create through their clothing. During this decade, it was popular to have wide padded shoulders, contrasted with a nipped-in waist. Full hips were accentuated with clothing in order to achieve the hourglass look. During and after the Second World War, clothing was more practical, and this included reusing other materials due to the rationing that also had an impact on the availability of fabric.
Dresses and Skirts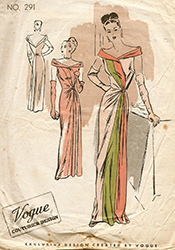 Partly due to the practicality of fabric rationing, day dresses became shorter, at around knee-length, and this also meant that sleeve length was shorter, becoming cropped at the wrists, or even capped at the upper arms. Like shoulder pads, sleeves were often puffed up with gathering at the top. Necklines came in a wide variety, including square, slit, sweetheart, keyhole, shirred, cross front (wraps). Alternatively, evening dresses allowed a bit more skin exposure with spaghetti straps, halter-necks, and other interesting designs to reveal shoulders. To create your ideal vintage dresses and skirts from the 1940s, opt for fabrics such as rayon, which was a new synthetic invention at the time.
Tops and Bottoms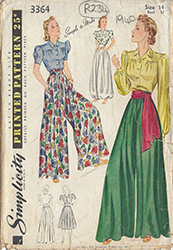 Combining both tops and bottoms, women's suits were increasingly popular due to both their comfort and practicality, where women would mix and match skirts, blouses and jackets. The popular two piece skirt suit was known as a 'Victory' or 'Utility' suit, and tended to be A-line rather than pencil. Post-war, pleats were added in as rationing was no longer an issue. Trousers also became acceptable for women to wear in the 1940s, as safe clothing was required when working in factories, so what started as an issue of practicality became more fashionable. Trousers were high-waisted, with full legs with wide cuffs. For an authentic look, use cotton, denim or wool blends when using your vintage pattern. Overalls and coveralls also became a popular item that started out due to practicality – made famous with the image of Rosie the Riveter, now a symbol of women's empowerment.
Coats and Jackets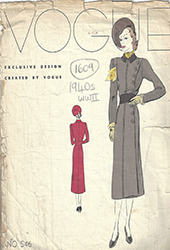 The bolero jacket was a popular design at the time, featuring short, rounded edges, usually worn over a blouse unbuttoned, with long, narrow sleeves.  Coats were generally very square and plain, with large buttons. They were available down to the knee, as well as short box coats, which featured a cape-like design with big bell sleeves. See our range of vintage 1940s jackets and coats patterns for inspiration.
Other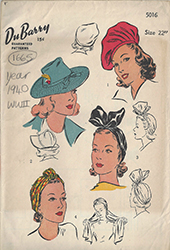 The bikini was invented in 1946, so swimwear saw a mixture of one-pieces and two-piece costumes for the first time, with the bottoms coming high up to the waist, with a maximum of four inches between the top and bottom. Headwear had a lot of variety, but new designs included the beret, the turban, and fascinator-style hats with netted veils. As with the famous Rosie the Riveter, scarves became popular due to the working woman's need for practicality. Gloves also continued to be mid-arm length, usually in a simple and plain design with neutral colours. Handbags were larger than the clutches of the previous decade, inspired by military service messenger bad, they had long shoulder straps with a flat envelope design. See our 1940s patterns for lingerie, nightwear and swimwear for inspiration, as well as our range of patterns for hats and accessories.
Contact Us
If you would like to create the 1940s look with our range of vintage sewing patterns, and you'd like any more information, please get in touch through our web contact form, or by emailing us at thevintagepatternshop@yahoo.com. You can also reach us directly by calling us on either (+44) 1621-331441 or (+44) 7595261171. A member of our team will be happy to help you with any questions you have about our 1940s vintage patterns or any other eras.