Vintage Sewing Patterns: 1930s Revival
Hannah Greenwood
In the 1930s, women's fashion saw a lot of changes, sparked by The Great Depression. Low economy meant that women were looking for ways to save money and look good, and it was during this time that factory-made clothes became more popular that tailor-made outfits. Less expensive fabrics were more common, such as cotton, and crepe and other crinkled fabrics, as well as the use of zips rather than buttons. At The Vintage Pattern Shop, we stock a lovely range of 1930s patterns to allow you to get the complete look.
Tops and Bottoms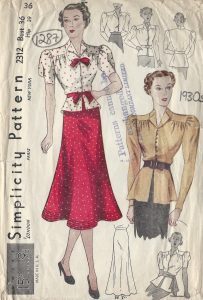 When looking at the top half, shoulder padding was popular, and this area of the body was often accentuated with big collars. In certain situations, tops and blouses were acceptable to wear with skirts and trousers. For example, beach pyjamas or palazzo pants were a popular choice, featuring a high waist, and wide-leg trousers. Other trousers included jumpsuits and overalls as a look, where the tops and bottoms were all-in-one. On our website, you can view these distinctive vintage blouse and trouser sewing patterns. 
Dresses and Skirts 
Dresses and skirts followed the slim silhouette that was in vogue at the time, with high waistlines often cinched in with belts and long puffy sleeves.  The length would commonly fall below the knee for day dresses. House dresses would often be made from cotton, whilst afternoon dresses (suitable for outdoor wear) would be made of silk or rayon crepe instead. For evening gowns, the length would stretch to the floor, and fabrics such as chiffon and satin would be used to create a flowing, but clingy dress. Backless gowns are often seen as signature pieces of the time. 
Jackets and Coats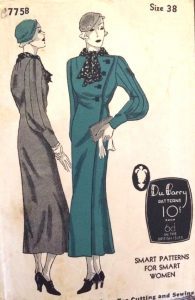 As can be seen by our range of 1930s coat patterns, jackets and coats often fitted the silhouette of the dresses that were in fashion, often featuring the nipped-in waist, and large lapels, sometimes made with detachable fur collars. However, wider swagger coats, and capes were also popular choices. For practicality, raincoats were made with rubber, and a new style included transparent coats that meant clothes could be seen underneath. 
Lingerie and Nightwear 
For undergarments, thin slips were uses, as well as wide short-style knickers. Dressing gowns and nightgowns mimicked the style of evening dresses, stretching to the floor, featuring the same high-waisted belt details, as you can see in our range of 1930s vintage lingerie patterns. 
Accessories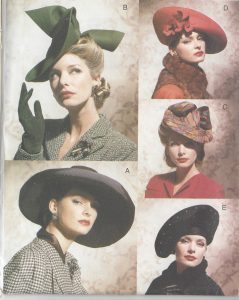 Many of the accessories popular from the 1920s carried on through the 1930s, and hats were a popular choice. The "slouch" hat evolved out of the cloche hat, worn with a larger brim and positioned low on the face. Hats could transform a simple dress into an outfit at the height of fashion. 
Contact Us 
If you would like to find out more about 1930s fashion and our available patterns, please feel free to fill out the web contact form, or email us at thevintagepatternshop@yahoo.com. You can also call us directly on either (0044) 1621-331441 or (0044) 7595261171.